From festive bakes and edible gifts to the big feast, we've pulled together all the answers, tips, recipe inspiration and advice you need for a delicious and stress-free Christmas.
Planning
This month-long checklist will see you through December and ensure you're prepared for the big day!
Looking for some homemade decorations to get things going? This stunning wreath is the ideal way to welcome guests to your home.
Now, onto the really important stuff — the food!
---
Party favourites
It's just not a party without some great food and drink. No matter what kind of shindig you're throwing, our easy party nibbles, drinks and cheeseboard ideas will make sure everyone leaves happy.
Canapés
Kick the festivities off with some easy-to-make nibbles that'll have everyone impressed.
Drinks
Cheeseboard
Is it even Christmas without a cheeseboard? (Spoiler: no.) Whatever your preference, here's how to curate the right cheeseboard for you and your guests. First, check out our tips for putting it together, then choose one of the styles below!
---
The Christmas feast
Before you embark on making the most special meal of the year, read through our top tips for making sure you time everything right.
Starters
Have you thought about what you'll serve for your Christmas starter? Here's some food for thought to help you choose, and some recipe inspiration below.
The turkey
The ham
There's nothing more mouthwatering than a rosy pink, perfectly cooked ham with a sweet, sticky glaze. This back-to-basics recipe is ideal for beginner cooks and can be tweaked to fit your preferences.
This sweet and sticky option uses pineapple juice to add a mild tropical sweetness — we guarantee you'll love it!
For a more adult flavour, check out this whiskey-glazed ham, one of our all-time favourites.
Alternative mains
If you're looking to change it up this year, look no further.
Never made roast beef before, or struggle to get it right? Follow our back-to-basics roast beef for mouthwatering results, or add a flavour-packed herb crust.
For more inspiration on adding that little something extra to your roast beef, click here.
A whole salmon always makes an impressive main course. A whole salmon packed with lemon, herbs and spinach, then wrapped in puff pastry? Even better! Our salmon en croute is a genuine showstopper.
Getting it right for meat-free eaters
Whether you're hosting vegan or vegetarian guests, or you're a meat-free visitor to someone else's home, make sure you take these things into consideration. Ready to get menu planning? Nobody will feel left out with one of these gorgeous meat-free main ideas:
The potatoes
Anyone in Ireland will tell you the spuds are one of the most important components of any dinner, including the Christmas feast. Follow our easy recipes below to make sure yours are the talk of the table.
The veg
The extra bits
Get stuffed: Unsure whether to cook your stuffing inside the bird? This article has everything you need to know, as well as plenty of recipe ideas to get you started.
It's all gravy: whether you're after a traditional turkey gravy, a vegetarian alternative or a smart veggie-based saucethat's suitable for vegans, the most important thing is to make more than you think you need — people will want seconds!
---
Baking up a storm
Christmas cake: Making your Christmas cake ahead of time is one of the nicest way to get into the festive spirit. Here's our best basic recipe and some tips to help you get started. Left it too late? This cheat's version will save the day!
Gingerbread house: Making a gingerbread house is a fun activity to do with the kids. Make sure your foundations are solid with our easy guide! Need your gaff to be gluten-free? No problem.
Christmas pudding: Purists can find our traditional pud here, or try this extra fruity spin on it using apple cider. Not a fan of the usual puds? Find three of our favourite alternatives here, or treat the grown-ups to this Baileys and coffee delight!
Mince pies: There's nothing better than the smell of homemade mince pies wafting from the oven! Here are a few of our favourite versions: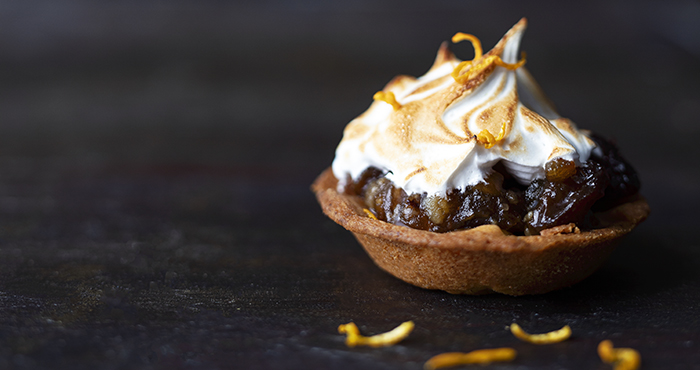 Trifle: Find our traditional sherry trifle here, or try one of our fun alternatives below!
Showstopper cakes: Many people aren't fans of the traditional Christmas cake — so why not pull out all the stops and create a real showstopper instead?
---
Edible gifts
We love a good homemade present here in Easy Food HQ, and — of course — ours are always, always food-related. If you love the idea of making something tasty for that someone special, read on for inspiration…
Wishing you a wonderful, food-filled festive season, from all of us here at Easy Food.