Tick the ingredients you need to add your shopping list.
Put the dried fruit, orange zest, orange juice, whiskey, butter and brown sugar in a large pan set over a medium heat. Bring to the boil, then lower the heat and simmer for five minutes. Tip the fruit mixture into a large bowl and leave to cool for 30 minutes.
Preheat the oven to 150˚C/130˚C fan/gas mark 2. Line a deep 20cm cake tin with three layers of parchment paper, then wrap a double layer around the outside and tie a string around to secure.
Add the remaining ingredients to the fruit mixture and stir well, making sure there are no pockets of flour. Spread the batter into the tin and smooth the top with a spatula. Bake in the centre of the oven for two hours.
Remove the cake from the oven and poke holes over the top. Spoon over a few tablespoons of whiskey and leave the cake to cool completely in the tin.
To store, peel off the parchment paper, then wrap well in cling film. Feed the cake with 1-2 tablespoons of whiskey every two weeks, until you ice it. Don't feed the cake for the final week to give the surface a chance to dry before icing.
To decorate the cake, brush all over with a little melted jam. Lightly dust your work surface with icing sugar and roll out the marzipan to a circle, large enough to cover the top and sides of the cake. Lift the marzipan by folding it over the rolling pin and drape it over the cake. Smooth the marzipan down the sides of the cake, then trim away any excess from the bottom.
Brush the marzipan all over with the remaining apricot jam, then roll out 1kg of the fondant icing and, using the same method as for the marzipan, cover your cake with the icing. Trim the edges and smooth out any marks with the palm of your hand, rubbing the icing to give it a shine.
Brush some of the raspberries with a bit of the beaten egg white, then toss gently in caster sugar.
Tie the ribbon around the base of the cake and top with the raspberries, pine leaves or any decorations you prefer.
Nutrition Facts
Per Serving 886kcals, 35g fat (9.9g saturated), 135.7g carbs, 57.9g sugars, 8.6g protein, 7g fibre, 0.24g sodium
Popular in Cakes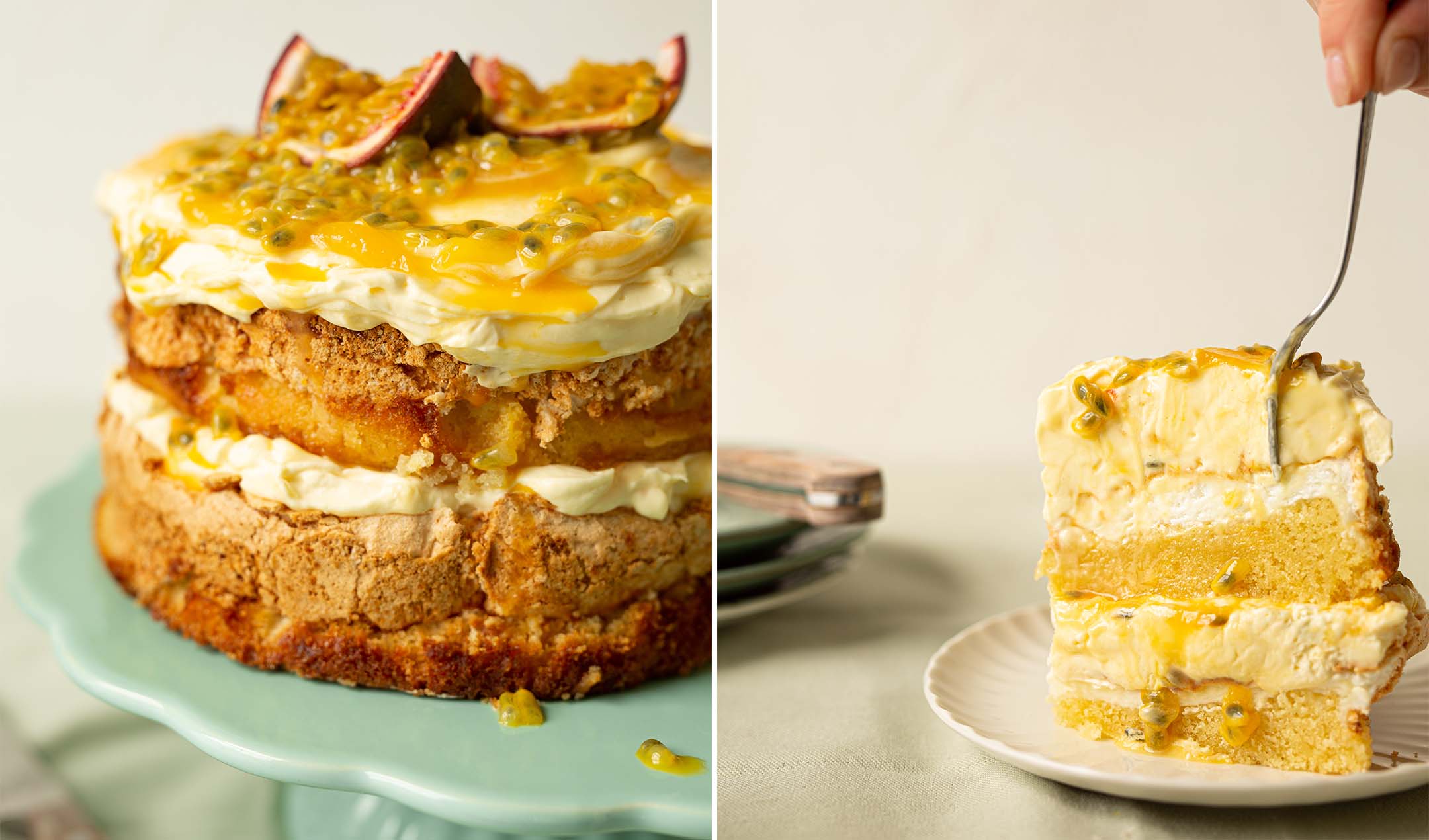 Passionfruit meringue gateaux