Everyone needs a bit of comfort food in their life from time to time, and that's okay! Whether it be a cold and blustery afternoon, the end of a draining work week from hell or perhaps you simply have the Tuesday blues — we've all been there. Here are 22 of our favourite recipes, perfect for that very occasion!
This classic Bolognese is even better than your mom's recipe. Don't believe us? Try it for yourselves and report back — we'll wait!
If you're looking for that super comforting, nutritious, veggie-friendly dish, then this is the recipe for you!
Who doesn't love a homemade Buffalo chicken sandwich to perk themselves up with at the end of a dreary, Tuesday evening? Nobody, that's who.
We love how well the delicious mushroom sauce pairs with the steak in this foolproof recipe. The perfect combination of meaty and creamy — yum!
Don't like sharing? Treat yourself to a quiet moment, a steaming cup of coffee and this chocolate chip cookie for one.
If you're sick of getting takeaways, then this is a great alternative! This crispy Asian pork dish is so tasty, and easy to make at home.
Sometimes simple is best — which is definitely the case when it comes to this minimal recipe!
This casserole is the perfect comfort food for a cold night in, and it's a great way to include extra vegetables and make sure you're getting enough nutrients.
Looking to add a touch of indulgence to your lunchtime? This classic French sandwich ticks all of the boxes; cheesy, meaty, carby and, without a doubt, tasty.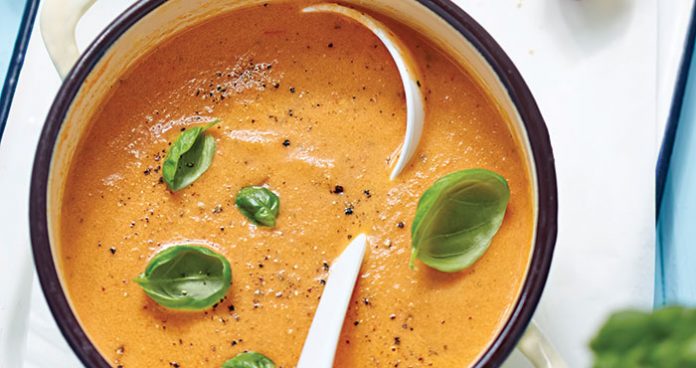 Feeling a bit under the weather? Eat some soup. Want to warm yourself up after being out in the the rain? Eat some soup. Recovering from a weekend full of never-ending indulgences, and looking for a bowl full of comforting, health-boosting nutrients? You guessed it — eat some soup.
Double-fudge peanut butter brownies
If you love a nutty brownie, then you'll love this recipe. Plus, they're slightly less guilty than your regular brownies — win/win!
Veggie chilli fries
If you're a vegetarian spice-lover, then this is the meal for you! Full of flavour and oh-so-comforting.
Instead of heading down to your local chipper on a Friday night, opt for this gorgeously satisfying, homemade version. It really does taste just as good — if not BETTER than — the real deal!
This traditional Italian dish will quickly become a family favourite! Not to mention, this recipe is perfect for batch cooking — simply whip up your lasagnes on a Sunday night, leave them to set and then portion them out (or leave whole, whichever you prefer), wrap them up and pop in the freezer, ready to take out and defrost whenever you're in need of that burst of comforting, beefy and creamy flavour.
Ireland is famous for its excellent beef and stout, and this dish has the best of both!
Few foods scream comfort food more than a cheesy/creamy baked potato, perfectly seasoned and topped with crispy bacon bits and chopped spring onions.
I mean… need we say more?
Fun to make and healthy to eat, what's not to love about this healthy version of one of our favourite curries?
Everyone knows that burgers and chips are a match made in heaven, but have you ever tried combining the two?!
Good for the soul and so good to eat, you'll love this comforting soup!
Mac 'n' cheese is a comfort food staple, and adding broccoli can really elevate and bulk up the dish — plus, you can feel a little virtuous that there's veg included.
At long last, we have the homemade spice bag — the truly perfect accompaniment to a lazy night in. Imagine yourself sitting in front of the TV with your feet up and a bag full of delicious spicy goodness in hand… perfection!
Want even more 'comfort food' inspo? Check out our 'comfort food' recipe category here!