We'll be the first to admit that food is a massive part of our Christmas celebrations. From the turkey to the ham, from the sprouts to the roasties, the sauces and the stuffings, the puddings and the starters and everything else in between — we love it all! However, the same question always arises each year… what to do with all of these leftovers? There's no need to panic; these 18 delicious recipes are perfect for using up those extra servings and are great for cutting down on food waste too.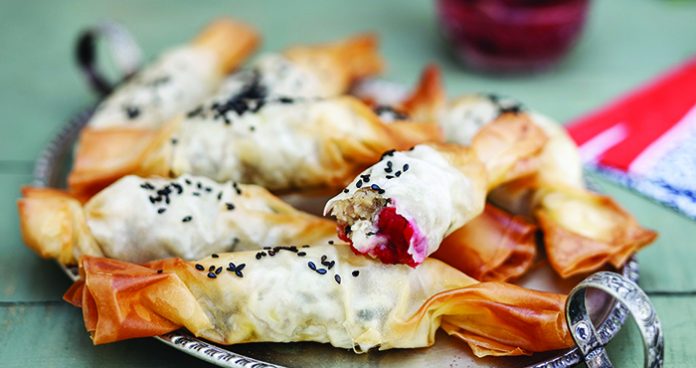 An Easy Food classic — these mini filo pastry parcels are ideal for using up those Christmas leftovers. They're also perfect canapés for any post-Christmas or New Year's parties.
Picture yourself settling in on St. Stephen's Day, and tucking into this ultimate leftover Christmas sandwich, complete with all the trimmings; turkey stuffing, ham and cranberry sauce, fit between two slices of fresh batch bread, slathered in real butter and mayo. Anyone else drooling?
People often struggle to know what to do with all of their leftover Christmas cake. Yes, they make great gifts, and it would absolutely be strange to not have one in the house on Christmas Day. However, many people don't actually like this festive cake! That's where this deliciously fresh and fruity concoction comes into play — it's easy, quick and only requires five ingredients to make!
Not only is this family-friendly recipe a fantastic way to use up your leftover turkey and cranberry sauce, but it's also great for using up that roll of puff pastry you've had lying around your freezer for who knows how long, and taking up space — win/win!
Got a ton of leftover veg you don't know what to do with? Don't fret, just make these satisfying root vegetable and bean cutlets. They make a tasty and nutritious post-Christmas lunch or supper — ideal if you're looking for something a little lighter after all of that over-indulgence.
This flavoursome loaded loaf will fill the family and get rid of your leftover ham and potatoes all in one go. What more could you ask for in a breakfast feast?
We think it's fair to say that Christmas dinner just wouldn't be the same without your deliciously crispy, goose-fat roast potatoes, which can often lead to your heaping bowl of mash getting neglected and leaving you with an impressive amount of leftovers. To make the most of your mash, whip up these little mash potato balls for a super tasty savoury treat.
This is a brilliant recipe for using up not only your leftover ham and sprouts, but also any dregs of white wine you might have taking up space in the fridge. This wholesome dinner is such a comforting meal, sure to satisfy the whole family!
If you find yourself getting bored of eating Christmas dinner over and over again in the days following the big event, then why not switch it up and opt for this creamy sprout and parsnip gratin instead? It'll get rid of any lingering veg and is sure to satisfy the tastebuds!
Okay, so you were left in charge of the starters and maybe you overdid it with the prawn cocktail. Got a ton of leftovers? Then these prawn tacos are the perfect recipe for you — they're full of flavour, fun to make and offer a refreshing change of pace from your regular diet of post-Christmas dinners.
This recipe is the definition of 'warming'. The comforting combination of the leftover turkey, peas and onions smothered in a layer of creamy béchamel sauce and then covered by a delicious layer of cheesy mash potatoes is the ultimate warming meal. Make it for your family this post-Christmas season and thank us later.
Are you taking part in dry January and worried about the amount of partially empty bottles of wine in the bottom of your fridge that need drinking? Worry not — this veggie cassoulet is perfect for finishing off those bottles of white and for making use of any leftover carrots you may have lying around after Christmas.
Be honest — have you ever thought about putting ham and mushroom sauce on your pancakes instead of lemon and sugar? We know it sounds unusual, but don't knock it until you try it. The cheesy sauce on top really elevates the dish from being a weird breakfast concoction to a delicious tea-time treat.
Looking for a tasty and satisfying healthy option to help you get rid of the mammoth amount of leftover turkey. Give these light turkey lettuce cups a go by simply swapping out the turkey mince in the recipe for shredded cooked turkey breast and heat until warmed through.
We know how easy it is to get over excited when you're doing the big shop before Christmas, and perhaps an extra packet or two of pre-made sausage rolls just fell into your trolley completely unbeknownst to you. Listen, it happens to the best to us. Want to free up space in the fridge and get them out of sight? This sausage roll eggy bread is a must-try! The perfect post-Christmas breakfast bake.
Another Easy Food classic — this simple curry is ideal for getting rid of that leftover bird, plus it's great for batch-cooking! Make a large quantity to save yourself from having to cook a fresh dinner during the days following Christmas.
Sometimes after a heavy session of over-indulging on sugar, carbs and alcohol we like to reset our bodies with some good old fashioned nutrients. This club salad ticks all the boxes. It's super fresh and full of flavour — just what you need after the festive feast.
This one is for those of you who may have to pop into work during the holidays. It may be stressful, it may be exhausting, it may even be lonely, but at least this spicy wrap made from the Christmas ham leftover will keep you company on your lunch break, right?