2019 was another great year for us at Easy Food, where we got the chance to write and cook hundreds of more delicious recipes for our devoted readers. There were plenty of fan favourites, like our retro Baked Alaska, or our quick and easy pea, pesto and prosciutto gnocchi, and there were a whole lot of office standouts, like our 'Zahra Bake Off' winner's oat crunchies, or the show-stopping 'After Eight' cake which had  everyone swarming into the test kitchen for the chance of a slice!
With the year finally coming to a close, we found it incredibly interesting to hear what our most popular recipes were, according to you guys. Without further ado, here's a list of our top 10 most viewed recipes on our Easy Food website.
We absolutely love this chocolate biscuit cake recipe, and so do a whole bunch of you apparently! What's not to love? It's super simple, with ingredients made up from store-cupboard staples, and is the perfect make-ahead dessert.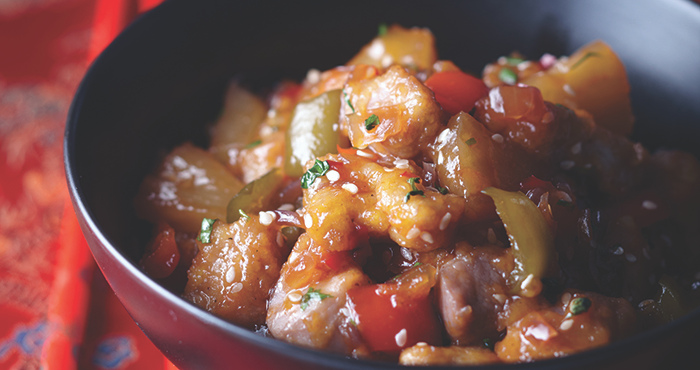 You guys really loved this classic Chinese 'fakeaway' recipe, and we can't say we blame you! Who wouldn't love crispy chicken pieces encased in a sticky sweet and sour sauce and mixed in with tasty veggies and rice? This delicious dish to sure to satisfy those takeaway cravings every single time.
You guessed it — another 'fakeaway' favourite! The spice bag holds such a special place in so many Irish people's hearts, which is why we were moderately unsurprised that it made the top 10. If you're looking for a cheap, homemade version of your favourite Saturday night treat, then this is the recipe for you.
We loved bringing it back to basics this year, and showing people how easy it really is to perfect the (often daunting) basics. Poached eggs can seem like a feat in themselves for kitchen newbs, which is why were were super delighted to hear that they made our top 10 list!
Everyone loves a family favourite weeknight staple that's neither taxing on time or on your budget. This meal really does tick all of the boxes — unsurprisingly resulting in it making the list!
This one goes out to all of the cheesecake-lovers. This light and indulgent desert is the ideal make-ahead cake, perfect for whipping out at the end of a dinner party when you're too exhausted from the stress of hosting or too merry from the celebratory glasses of wine to even think about preparing and serving up a sumptuous treat for everyone to enjoy. Instead, simply pull this out of the fridge, slice up and dive in!
Pancakes can be a hot topic, and are often finicky to get right. With so many different recipes out there, we were pretty chuffed that our ultimate pancake mix recipe made the cut. Not only is this foolproof recipe the perfect Sunday morning brekkie, but it can also be made up to 48 hours in advance, allowing you to savour every bit of those weekend lie-ins!
Looking for an utterly delicious and low-fat curry option to add to your weekly recipe repertoire? Well, then look no further then this creamy turkey kofta curry. which is full of flavour and packed with protein!
If a soup can warm you up, make you feel cosy, healthy and comforted all at the same time, then we reckon this hearty mushroom soup has really earned its spot on our top 10 list. This is one of our favourite winter warmers, perfect for perking you up whenever you feel like you might need a little boost of nutrients!
Our list of top 10 most viewed recipes would not be complete without at least one traditional Irish bake — and none of them deserved it more than this delectable cheese and onion soda bread. We're pretty proud of our Irish roots and the variety of top-quality food produced here, and we're delighted that this list reflects that. If ever you wanted to replicate your granny's perfect soda bread loaf, with an added depth of flavour, then this is the recipe for you!