Busy week ahead and not sure what to plan for dinner? We've got you covered with a handy meal plan that's packed with flavoursome, nutritious and easy to prepare dishes.

Kick off the week with this perfect meat-free Monday dish. It's a hearty vegetarian curry that's packed with flavour and goodness, plus the naan bowls add a little fun.

These wholesome, protein-packed burritos are ready in just 30 minutes, plus leftovers are great to take for a tasty lunch the following day.

A vegetarian twist on a classic favourite, this one-tray meal couldn't be any handier. It also brings a little something different to the table to get you over that mid-week slump.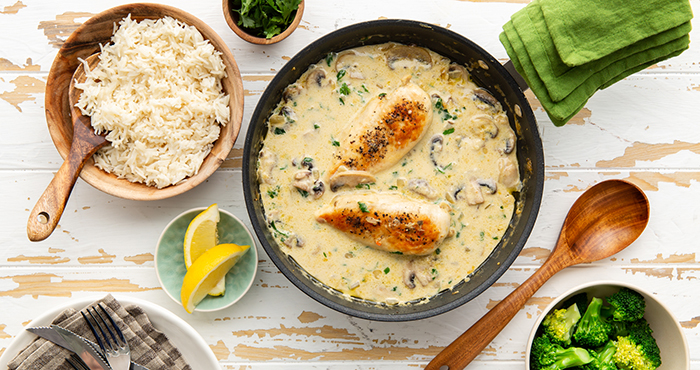 Bursting with flavour, this comforting and satisfying creamy mushroom chicken dish is exactly what you'll need on a Thursday evening – it's a real hug in a bowl.

A healthier alternative to its fish-shop counterpart, this quick and easy fish sandwich is the perfect Friday-night treat. Serve with chunky chips and you'll have a delicious meal that will rival any takeaway.

When you've got a little more time to muster something up, this rich and tasty pie is what you'll want to tackle. It's the ultimate comfort food and is exactly what you'll want to tuck into after a day spent out and about.

Love cheesecake but too busy to make a full one from scratch? Then this is the recipe for you. All the components of a traditional cheesecake, whipped up in a fraction of the time!

If you usually have roast chicken on a Sunday, why not switch things up and serve ham instead? Swap the traditional honey glaze for this full-flavoured, Cajun-spiced version. Leftovers make great lunch sambos too!

Remember rocky road loaded with Malteasers and marshmallows? Well, you probaby don't remember just how easy they are to make! Check out the recipe right here. You won't regret it.
Hungry for more weeknight meal ideas? Check out our full recipe collection here.