Tick the ingredients you need to add your shopping list.
For the naan bowls:
For the curry:
Preheat the oven to 200°C/180˚C fan/gas mark 6. Lightly grease six small ovenproof bowls or individual pie dishes (each around 700ml in capacity).
In a bowl, stir together the flour and salt. Stir in the yoghurt, then knead for 3-4 minutes to form a stiff dough. Once the dough comes together, wrap it in cling film and set aside for 30 minutes.
Unwrap the dough and place on a floured work surface. Divide into six equal portions and roll each one out into a disc about 18-20cm in diameter. Use the discs of dough to line the prepared bowls.
Bake for 20 minutes until golden and puffed. Remove the naans from the bowls, transfer to a wire rack and allow to cool. They should retain the shape of the bowls.
Meanwhile, make the curry. Heat the oil in a large saucepan and cook the onions with some salt and pepper for 5-6 minutes until softened.
Add the garlic and ginger and cook for 30 seconds, then stir in the curry paste and  cook for two minutes, stirring.
Add the stock, coconut milk, tinned tomatoes, sweet potato, cauliflower, green beans and baby corn. Bring to the boil, then cover with a lid and simmer for Naan bowls with veggie curry 10 minutes until the vegetables are just tender but still retain some crunch.
Stir in the ground almonds and lentils and season to taste. Simmer for 3-4 minutes longer until warmed through. Add a squeeze of lemon juice.
Serve the curry in the naan bowls, with or without rice.
Nutrition Facts
Per serving: 704kcals, 39.3g fat (19.1g saturated), 77.1g carbs (12g sugars), 18.5g protein, 12g fibre, 0.734g sodium
Popular in Indian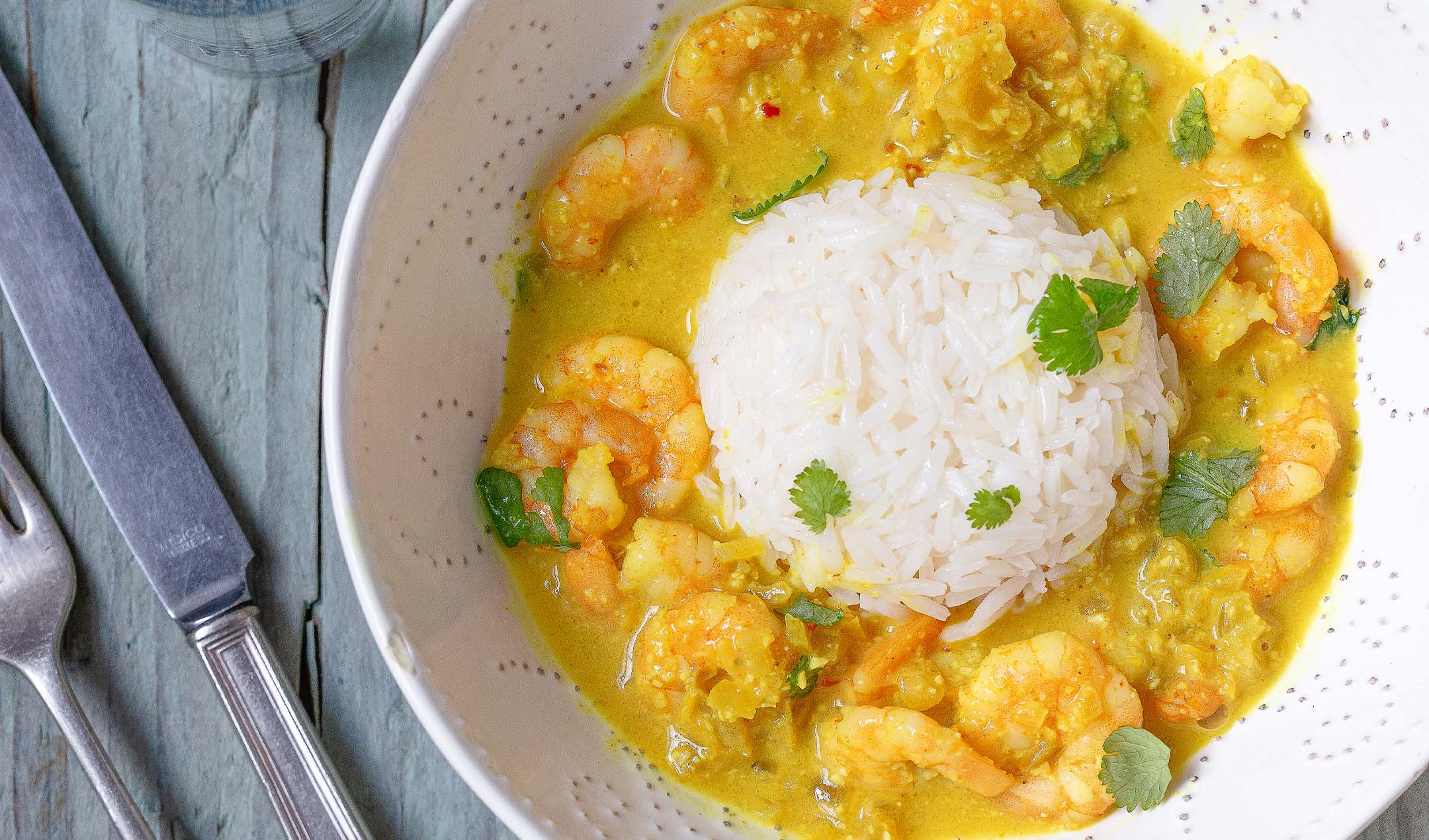 Quick prawn korma