We can't travel right now, but our tastebuds can! Use your mealtimes to transport yourself to more exotic surroundings — from the safety of your kitchen. This week, we're craving Indian flavours…
Curries
Let's start with everyone's favourite Indian dish, good old chicken tikka masala. Find the classic version here, or check out our lighter take on this comforting curry below.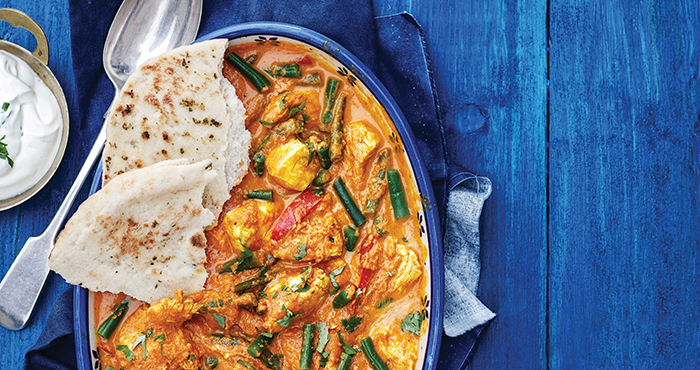 If protein-packed poultry is your jam, this turkey kofta curry is a great way to make use of lean, healthy and budget-friendly turkey mince.
Seafood lovers will enjoy this tasty prawn curry, richly flavoured with aromatic spices and with a cooling hit of creamy coconut milk.
In the mood for red meat? Try this spicy Indian lamb curry, slow-cooked for the most tender lamb and deep flavours.
For the real heat champions out there, this fiery beef vindaloo is an absolute must. Simmered with tomatoes and vinegar, it's tangy, tender and ideal for any chilli addict.
Goat is one of the most commonly-consumed meats in India, and — thanks to amazing producers like Broughgammon — is becoming more popular here, too. If you're on for trying something different, check out this flavoursome goat curry with Irish flatbreads. Can't get your hands on goat? You can easily substitute lamb.
Veggie favourites
Indian cuisine is known for its quality vegetarian food, with a culture that treats meat-free meals with the same care and consideration as those containing meat. Here are a few of our favourite veggie-friendly options…
Whether as a meat-free main or a delicious accompaniment to another curry, this mildly spiced coconut and spinach dhal will put a smile on everyone's face.
Chana masala is one of the most simple Indian meals you can make, and a great way to feed the family on a budget — or when you don't want to venture to the shops.
Fans of the Indian cheese paneer will appreciate this clever oh-so-creamy take on the classic tikka masala, made in the slow-cooker for added convenience.
Another cheese-based option, this fun twist on the usual paneer masala uses squeaky, salty Halloumi (although you can use still paneer if you prefer).
We adore cauliflower and — of course! — potatoes, so aloo gobi is one of our all-time faves.
A bit on the side
No Indian fakeaway is complete without rice, naan and other nibbles!
Start with this Indian rice, just like you'd get in the takeaway; crispy fried onions optional, but HIGHLY recommended.
Look, there was absolutely no way we were putting together a collection of Indian fakeaway recipes without including a garlic butter naan. Priorities, people!
Is your mouth on fire from that vindaloo? Add a cooling, creamy contrast with this cucumber raita.
Fancy a nibble starter? Check out these mildly spiced sweet potato samosas, best enjoyed with mango chutney.
We hope you enjoy your virtual trip to India. Stay safe, stay well-fed.