This week, we're taking a good, hard look at our pantry shelves and making the most out of those handy storecupboard ingredients, which are both incredibly versatile and budget-friendly. Check out our weekly meal plan below, for plenty of quick and easy recipe inspo!

The beauty of this warming recipe is that it can easily be adapted depending on your taste buds. Fancy some hearty veggies? Add in roasted carrots and parsnips. Craving a meatier flavour? Throw in shredded chicken or crispy bacon. The options are endless!

If you're looking for a super indulgent, quick and easy meal to treat yourself to this week, then you really can't go wrong with this sumptuous and creamy stroganoff recipe. Taking just 20 minutes to prepare from start to finish, this speedy dish is definitely one to keep in your regular rotation.

A tasty twist on an Italian classic, this family-friendly recipe is extremely budget-friendly, featuring plenty of storecupboard ingredients and pantry staples.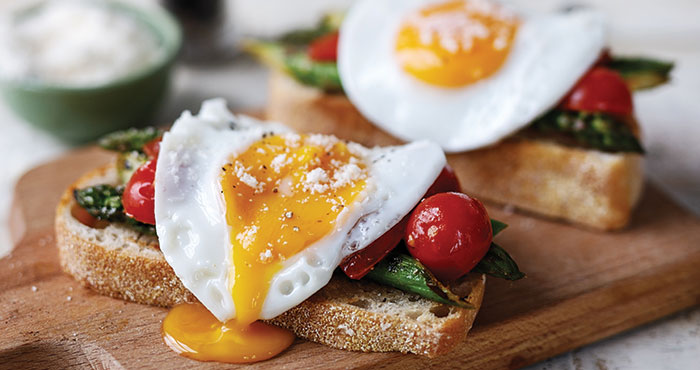 Brunch for dinner is one of our favourite kinds of comfort food, which is why lately we're finding ourselves turning to this simple and satisfying recipe, time and time again.

Instead of phoning up your local takeaway this Friday night, why not whip up this hearty, wholesome beef and peanut stew? It's the perfect, warming dish to get stuck into in front of the fire, while you wait for The Late Late Toy Show.

We love a one-pan wonder; they're super easy to put together and require very little washing up afterwards. That's why we're currently obsessed with this sausage and chicken bake, which is both low in calories and saturated fat.

The chimichurri sauce in this delicious dish is bursting with flavour thanks to the variety of herbs and citrus elements – making this lamb dinner a true taste sensation!

If you have a sweet tooth craving that you just can't ignore, then these peanut butter and jam bars are just what you need. Made using condiments already sitting on your shelf, these decadent delights are freezer friendly and perfect for batch cooking.

You won't find any eggs or dairy in these vegan-friendly chocolate biscuits, which pack quite a punch! To make them gluten-free too, simply swap out the baking powder for a gluten-free alternative.
Hungry for more? Check out our full freezer-friendly recipe collection, here.