Tired of trying to figure out what to have for dinner, day after day? We've got you covered with this cheap and cheerful meal plan, which is filled with nourishing, family-friendly recipes that can be whipped up in a pinch.

Kick off the week with this meat-free Asian dish, which shines a light on the humble cabbage. Not a spice fan? For a cooler flavour, simply swap out the sriracha hot sauce for sweet chilli sauce or minced garlic.

This adaptable recipe works well with almost any leftover cooked meat. Try shredded leftover roast chicken, turkey or ham. You could even opt for rotisserie chicken.

If you're looking for a low-fat, high-protein and high-fibre midweek meal that takes just 30 minutes to make from start to finish, then this is the recipe for you!

If you're trying to sneak nutrient-rich vegetables into your diet, then this super simple pasta bake is a must. It's utterly delicious, yet filled with leeks – which are in season and at their peak right now!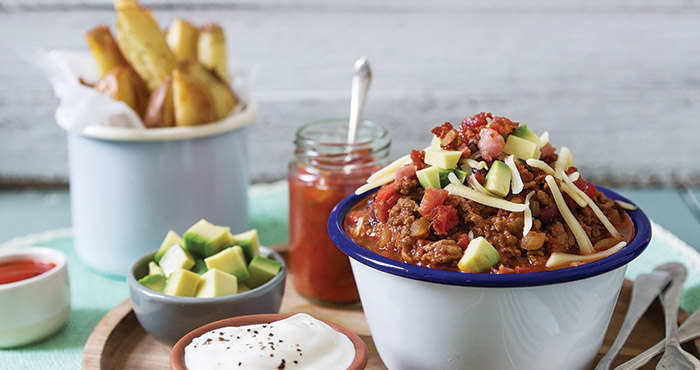 Don't have any red wine lying around? No worries – dark beer or beef stock can be used as an alternative if you wish.

Skip the Saturday night takeaway, and instead indulge in this sumptuous chicken traybake, which is low in saturated fat and high in protein.

Everyone will be running toward the table when they hear that these tender, hearty lamb chops are up for grabs! Just what we need on a lazy Sunday afternoon.

Can't keep the sweet cravings at bay? These chocolate, nutty puff pastry pinwheels call for just three ingredients, making them the perfect treat if you're in a pinch.

Pancake Tuesday might still be a few weeks away, but that doesn't mean we can't enjoy a few practice batches in the meantime! These chocolate berry crêpes are an absolute dream.
Hungry for more? Check out our full collection of budget-friendly recipes, here.