There's nothing more comforting than a Sunday roast dinner. Whether you're an old hand or you're getting ready to cook your very first roast for your family, read on to find all the basic recipes, tips, twists and inspiration you need.
---
The meat
Let's start with the classic roast chicken, a staple on many a Sunday table. There's nothing quite like the smell of a freshly roasted chicken, bringing many of us back to our childhoods. If it's your first time, check out our
back-to-basics recipe
to guide you through the process. When you've mastered that, you may want to add something extra; try
roasting the bird over root vegetables
for a delicious all-in-one dinner; add flavour with a
garlic and herb cream cheese
mixture; try something completely different with this
Indian-spiced alternative
; or really embrace the advent of autumn with this fabulous
squash, sage and barley combination
.
[caption id="attachment_41570" align="aligncenter" width="700"]
A beautiful combination of autumnal colours and flavours.[/caption]
---
If you're more in the mood for red meat, this
sticky orange glazed ham
might be just what you need; if orange isn't your thing, you'll find other ham-worthy
glazes here
. For a special occasion, this
garlic and herb roast beef
is a show stopping centrepiece, with alternative
crust ideas here
. We're also low-level obsessed with this
sausage-stuffed pork loin with roasted apples
, the perfect balance of sweet and savoury, while this
roast stuffed pork steak
is ideal for two people or a smaller family.
[caption id="attachment_42834" align="aligncenter" width="700"]
Our top tip? Make this for just two people so you can enjoy the leftovers in a sambo.[/caption]
---
The spuds
Having a roast without spuds is practically illegal here in Ireland. Obviously, the classic choice is roasties; if yours never turn out quite as crisp as you'd like them to, click
here for our step-by-step guide
. Our all-time favourite roast potatoes are
cooked in goose or duck fat
for that perfect golden crunch — it's definitely worth making more than you think you'll need!
[caption id="attachment_32585" align="aligncenter" width="700"]
Those crispy edges, though.[/caption]
[caption id="attachment_35573" align="aligncenter" width="3657"]
This is a great make-ahead trick to avoid panicky, last-minute mashing.[/caption]
If you're more in the mood for buttery mash with your roast dinner, we can't blame you — there's almost nothing better. Perfect your mashed potato method with our
easy guide here
, and then save yourself the last-minute madness by prepping them ahead and baking along with your roast. Trust us: the only thing better than creamy mash is a
baked creamy mash
with a golden, lightly crisp topping.
---
Gravy and stuffing
Both very necessary in order to qualify your meal as a full roast dinner, gravy and stuffing are easier to make at home than many people realise. You'll return to this
classic gravy recipe
again and again, while this
vegetarian version
is an easy way to take care of any non-meat-eaters at the table. If you're making roast beef or lamb, you may prefer to go for a
rich red wine jus
. When it comes to stuffing, our
classic thyme and onion
never fails to please.
[caption id="attachment_35854" align="aligncenter" width="5011"]
Thyme and onion: the king of stuffings.[/caption]
---
The veggies
Last but definitely not least, your roast dinner won't be complete without some properly tasty vegetables. Step away from the over-boiled carrots! Instead, try these 
roast carrots with a herby gremolata
 or opt for a selection of 
tarragon-mustard vegetables
. For something richer, this
winter vegetable gratin
provides all the creamy comfort food you could ask for — and also makes a fantastic vegetarian main dish. If you fancy something completely different, we highly recommend this
braised lettuce
recipe.
[caption id="attachment_37440" align="aligncenter" width="700"]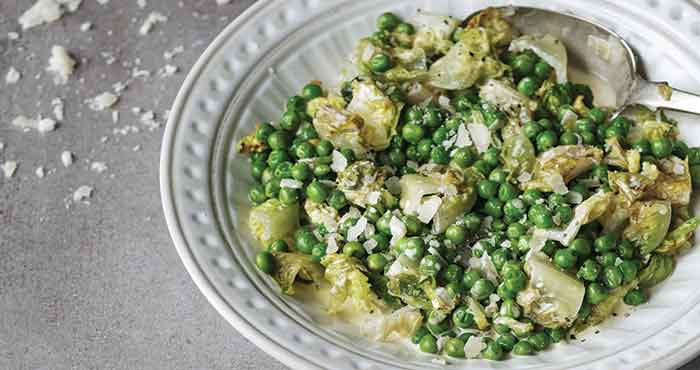 This new way to prepare lettuce combines creaminess and crunch.[/caption]
---
What's your favourite roast dinner? Are you Team Roasties or Team Mash? Is there ever such a thing as too much gravy? Tag us in your creations on social media @easyfoodmag — we love to see what you're cooking.
Popular in Irish
Lemon sole with dillisk butter