A picnic is one of the most wholesome ways to spend a day in the sun and we have some top tips on packing for a successful (and filling) day. We know that planning is the key to a great picnic, so let's get your cooler box ready!
Sandwiches, cold salads and icy drinks are the go-to picnic staples and should be packed in a cooler box that contains 25% ice and 75% food and drinks; make sure to keep the box in the shade once you reach your picnic spot. Finger foods and sandwiches that are easier to transport are ideal, but stay away from ice cream, cream-based cakes and any desserts that are fragile to avoid a mess or a . . . desserpointment.
Make a day by the sea (or in the park) extra special with these picnic bites…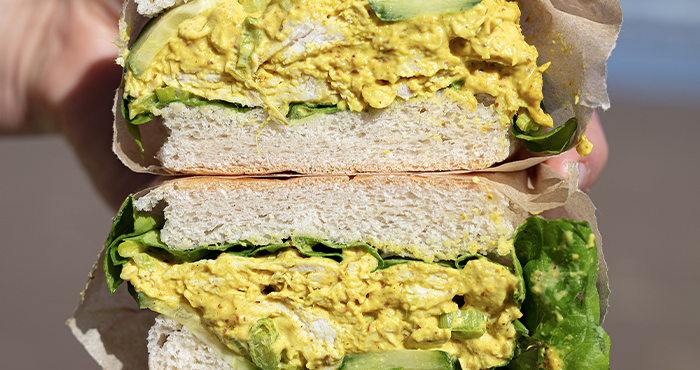 Coronation chicken is an old classic and a fantastic way to make use of your leftover roast chicken. It adds some light spice and fruity flavours to a sandwich or it can be used in salads and jacket potatoes! The curried mayo is best made ahead of time to let the flavours combine. Ideally make it a minimum of one hour before you need it and keep in the fridge.

Hand-held meat pies make for perfect picnic food: they're filling, can be made ahead of time and keep mess to a minimum.

These mini veggie quiches are a creative way to incorporate veggies into your picnic spread. Our recipe here can be used as a guideline: use whatever veg (or meat) you have on hand and you're good to go!

A vegan version of the classic, this sandwich is packed full of flavour, protein and veg. The chickpeas and onion mixed with mayonnaise could fool any tuna sandwich lover and is guaranteed to have you looking forward to lunch. During preparation, you can use a food processor to pulse the beans, then add the remaining ingredients and pulse again a few times to reach your desired consistency.

A moreish treat made with just four ingredients, these vegan shortbread biscuits remind us of their classic counter parts often stored in tins on the press shelf. They are best paired with a warm cuppa, watching the sunset in your favourite picnic spot.

This showstopper of a dessert is sure to impress at your next picnic. With only six ingredients, it's so simple you can make it with the kids! These are best transported in a cooler bag. If you don't have a cooler bag, adding a sandwich bag of ice to your picnic basket helps to keep these chilled.
For more handy picnic ideas, don't miss our 10 smart tips for your best summer picnic.