The answer to your snack attack
We all have days where lengthy cooks and washing up just isn't what you fancy – and the fridge seems filled with ingredients just begging to take up hours of your day. An easier way, you ask? Well, we've got one! When the hunger pangs strike, we have the perfect answers to attack snack time, that will leave you feeling fuelled the whole day and keep both kids and adults happy!
These flapjacks are the perfect fibre-filled snack to pack for work or school. You can add in any nuts or dried fruits that take your fancy, for a snack that leans lighter on butter and syrup than its traditional counterparts.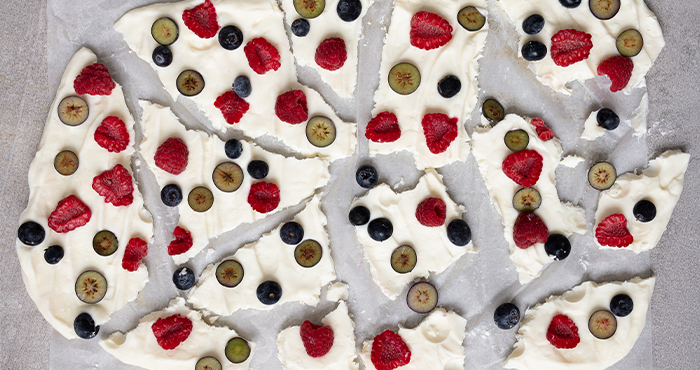 Frozen yoghurt bark is the perfect sweet summer snack; quick and simple to make, and mind-blowingly refreshing! Spread your favourite yoghurt on a tray, top with your favourite fruits, dark chocolate bits, nuts and seeds – and then freeze. Oh, and then enjoy!
A twist on a much-loved classic, this carrot hummus can be used as a spread on crackers or bread, or as a dip for veggies. Because it's sweeter with carrots, we recommend adding a squeeze of lemon – and it's delicious made with sweet potato, too…
These three-ingredient cookies are the perfect snack for anyone who reaches for the peanut butter when the craving hits. They're gluten free, and guaranteed to tickle the taste buds of young and old alike!
These stunning scones are just begging to be slathered in butter and jam – guilt-free indulgence at its finest! They're the perfect way to use up any leftover sweet potatoes sitting in the back of your cupboard, and make for a nutritious snack or breakfast on the go.