Now that summer's finally rolled around, it's all about the fresh produce the season brings. We love little more than visiting the local grocer's to see all the fresh fruit absolutely glowing on the shelf — though going home to work with it is right up there! This is the time to tackle berry bakes and your fresh cream pavlovas, taking advantage of the finest Irish fruit you can get your hands on. And it's with that in mind that we're going to show you the different ways to handle your fruit and how to really make the most of it.
'Tis the season
When it comes to working with fresh fruit, you should always try to work with what's really and truly fresh; this will ensure you have the highest quality fruit, and get the most flavour from it. For example, if the primary flavour in your bake is strawberry, now is the time to get baking, as they're at their most flavoursome and shining with a rich red colour. There ain't no strawberry like a Wexford strawberry if you're buying, but if you're in the right area why not revisit childhood traditions and pick some for yourself?
Waste not, want not
If you find you have loads of fruit at home and it's about to go off, don't waste it — bake it! Bananas are always the first ones to turn, but overripe bananas are ideal for making banana bread. Bananas are also often used as a substitute for eggs in baking, and are a foundational ingredient in many recipes.
If you find you have an excessive number of apples, make stewed apple or an apple sauce. The same principle applies to berries; blend them to make a coulis or a smoothie. Another great way to use up fruit is to make a crumble. The options are endless, so give that fruit a good home in a brilliant baked treat!
Prep it, prep it good
Stay sharp
When chopping any fruit, it's important to use a sharp knife; a blunt knife will rip through the fruit, tearing its tissue, losing juices and causing the fruit to spoil faster. A serrated knife is great for tougher fruits like pineapples, apples etc., but be aware that a serrated knife will cause more juice to come out of the fruit.
Water is key
When working with fruits like apples and pears, placing the chopped fruit in a bowl of cold water is a great way to prolong its freshness. You can prepare your fruit in advance by storing it in a bowl of water in the fridge; just be sure to change the water when necessary!
Apples on acid!
A little lemon in your bowl of cold water is a smart trick to stop apples from browning; you can also do this by rubbing half a lemon over the fruit. Don't overdo it, though; you don't want the lemon to overpower the natural flavours of the fruit.
Chopping small
Larger chunks of fruit in your bake might look appealing, but if the fruit is heavier than the batter then it may sink. Cutting your fruit into smaller pieces before adding it to the batter is best; if you feel there simply has to be more, then decorate with some extra when the bake is finished.
Preservation
It's important to preserve all this beautiful fruit while it's in season — so if you wish to recreate your bake later in the year, you'll need to save the fruit now! Here are some great ways to do it…
Freeze frame
Freezing your fruit is a great way of preserving its flavour without adding any extra sugar or additives. Here's your step-by-step guide on how to do it best:
Wash and dry your fruit thoroughly (kitchen paper works best)
If the fruit has a skin, peel it and remove any bruises or marks.
Cut your fruit into uniform slices or chunks.
Pat the fruit dry with some kitchen paper, aiming to remove as much moisture as you can.
Place the fruit onto a lined baking tray, in a single layer. Cover with cling film and freeze overnight.
Remove the tray from the freezer, gently remove the fruit and transfer it to a freezer bag. Remove as much air as possible from the bag before putting it into the freezer. The fruit will last for 6-9 months in the freezer.
Be a little jammy!
Jam-making is one of the oldest and best ways to preserve seasonal fruit — and you can get creative with it, too. Don't have enough blackberries? Then just add some apples: delicious! Jam is not only great for preserving fruit, it's also an excellent way to recycle old jars, and even makes for delightful personal gifts. Hurray for jam!
Drying
Dried fruit is full of flavour, and makes a sweet little snack. Dehydrating fruit removes all of the water along with bacteria, yeasts and mould that live in the moisture, altering texture and amplifying flavour in the process. You can dehydrate fruit in the oven by setting it at a low temperature for a long period of time. Not only does dried fruit taste delicious, it's also very pretty — so it's perfect for crafts like wreath making!
Working with dried fruit
Baking with dried fruit is a great way to add a little bite to a bake. Rehydrating fruit can add more flavour, so choose any dried fruit you like and soak it in liquid for a few hours or overnight. This will help to keep a cake moist, especially a traditional fruit cake. If you've previously found that fruit sinks to the bottom of your cakes, try dusting the soaked, drained fruit in flour before adding it to the batter; the flour will help the fruit from sinking to the bottom of the tin. This trick also works for nuts and chocolate chips.
Keep a little fruit reserved
When it's time to show off your hard work, you'll want to showcase your beautiful bakes at their finest. With that in mind, be sure to set aside some fruit for decoration. When making something like blueberry muffins, keep some of your weighed out blueberries and sprinkle them on top just before they go into the oven. This will add a little 'pop' on top!
This is the time of the year to get creative with your fruity bakes. Save all your gooey chocolate cakes for winter; now is the time to go a little bananas.
This fruity charlotte cake is a delicious show-stopping summer dessert. You can keep your leftover sponge to make fruity cake pops or a trifle or you can freeze the sponge for a later date.
This summer dessert is sure to impress at your next picnic. Its a super simple no-bake recipes that creates a rich, creamy  cheesecake that comes together in a flash in your blender or food processor. Pack in some extra fruit for your 1-in-5 a day!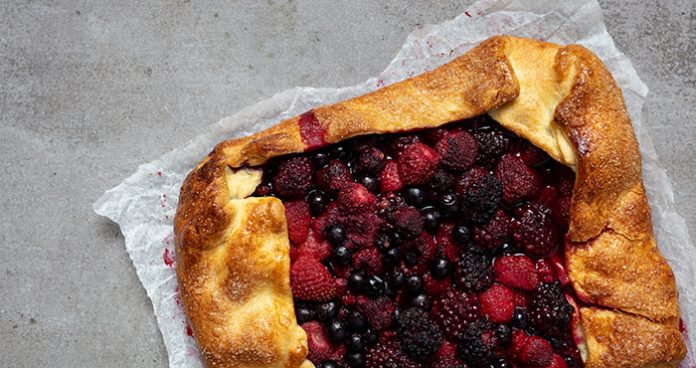 This gorgeous galette is as striking as it is easy to make. Mound those juicy berries in the centre of this dessert scooped up with some vanilla ice cream to cool you off on a hot summer's day.