Batch-cooking your potatoes cuts down on all of that prep time. To help with that, here are some of our favourite ways to love your leftovers:
Mashed
Make one batch of mash and eat it over a few days with different dinners. You can add different flavours to your portion each day to keep things interesting; try stirring in sautéed leeks and bacon, or roasted garlic and fresh thyme. Use leftover mash to top a pie, or make tasty pancakes, fish cakes or cheesy croquettes. Try placing in a baking dish and drizzling with a little oil, then baking it for a crispy golden topping. Mash also freezes well, so make a big batch and freeze in portions.
Baked or roasted
Chop up extra baked or roasted potatoes and add them to a casserole, stew, omelette or curry. Use them to make patatas bravas; toss them with a little cold-pressed rapeseed oil and use them as a chunky topping for a fish pie that'll get super crispy in the oven; or repurpose them into a speedy potato salad that's ideal for a side dish or packed lunch.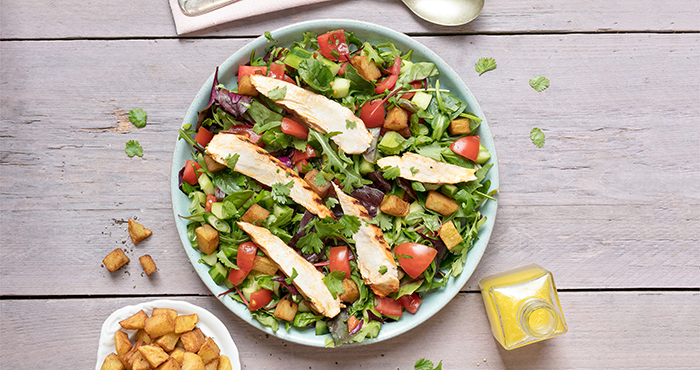 Boiled
A boiled potato is an extremely versatile thing. Traditionally, a dish of boiled potatoes would be left on the table for eating as needed and leftovers can be enjoyed in many other ways. Fried potatoes or potato salad might be the first thing that comes to mind, but try lightly crushing your boiled potatoes with the back of a fork, then placing on a baking tray and drizzling lightly with oil. Add a pinch of salt and pepper and bake at 220 ̊C/200 ̊C fan/gas mark 6 for 20-25 minutes or until gorgeously golden. Alternatively, use them in a hearty soup, add them to breakfast burritos, or slice thickly and layer over a hotpot before baking.
Baked
Baked potatoes are one of our favourite ways to make a complete meal with minimal effort. By adding different healthy toppings every time, you can keep things interesting while being sure to get all the goodness your body needs, whether for breakfast, lunch or dinner.
Speedy potato accompaniments
• Avocado + dash of spicy hot sauce • Non-fat Greek yoghurt mixed with curry powder
• Salsa + grated Cheddar
• Roasted red pepper hummus
• Cottage cheese + mixed chopped herbs
• Tomato relish
Top Tip: Save buckets of time by microwaving your spuds until tender, then transfer them to the oven at a high heat to get those all- important crispy skins. Just be sure to pierce the skins in a few places with a sharp knife or fork before you pop them in the microwave — otherwise they might explode!