Root vegetables are at their peak during these colder months, so why not make the most out of them? We've rounded up some hearty and wholesome recipes featuring these delicious and nutritious root veggies.
If you're looking for a scrumptious recipe which shines a tasty light on seasonal squash, then these spiced lentil and pumpkin pies are the way to go. From fresh ginger to ground cumin, and from chopped chillies to coriander and turmeric — this dish is a flavour sensation.
Nothing tastes as good on a miserable, dreary day than a big steaming bowl of homemade soup. This carrot and tomato recipe is the perfect midweek pick-me-up!
We love giving traditionally sweet recipes a savoury twist, which is why this delightful veg crumble is a firm favourite. Not to mention, it's great for clearing out your veg drawer at the end of the week!
Cooking the parsnips in the grease from the bacon, along with the rosemary and garlic gives this wholesome, comforting dish so much dimension. Plus, it takes just 30 minutes to prepare from start to finish.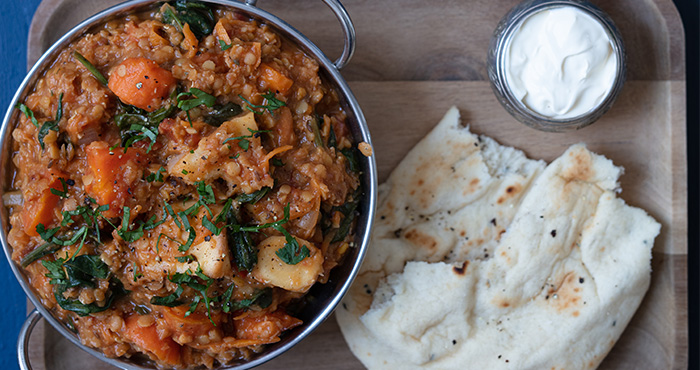 If you've got a mountain of veg leftover after the Sunday Roast, make sure to set them aside and whip up this veggie-friendly dhal the next day. It's sure to put a pep in your step on meat-free Mondays!
Hungry for more? Check out the rest of our veggie-friendly recipes, here.