Chilli, spice and everything nice — we cannot resist a good curry! Whether you need a speedy mid-week dinner for the family or a slow-cooked tender curry for your dinner party, these are our top five curry recipes you'll have to try.
We won't lie: sometimes, the best part of the curry is the warm, pull-apart naan that soaks up every last moreish bite. With these naan bowls, we've transformed that stellar side into the main vessel for whichever curry you fancy! We're big fans of this veggie curry, but feel free to add your favourites. Trust us, the bottom bit of naan — soaked in the delicious curry — is worth every bite!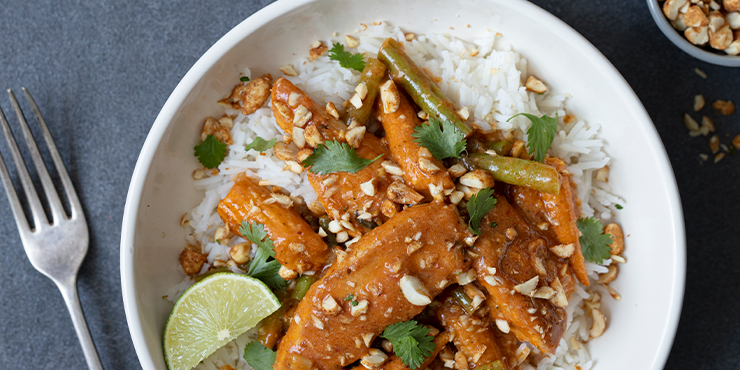 If you've never made your own Thai curry before, this red curry is for you. Packed with all of your favourite takeaway flavours, this will come together faster than it takes to wait for delivery. You'll be surprised at how healthy this is too; load it with your favourite veg and protein and you'll have your new go-to curry in a hurry.
The Japanese word "katsu" translates to "cutlet", so you know you'll be getting a crispy, meaty star of this saucy menu staple. While we used chicken, it's worth trying this with pork or even firm, pressed tofu for a new twist.
If you're a fan of green Thai curries, you'll love this twist with pork meatballs. The meatballs are fall-apart tender and make an unexpectedly luxurious accompaniment to steamed rice or noodles.
Let your slow cooker do the work in creating this rich, spicy curry filled with tender braised lamb pieces. Just add rice and naan for a filling, soul-warming meal.
Hungry for more? Check out our favourite chicken curries here.