This is a step-by-step guide to a crab and leek quiche, the full recipe for which can be found here. 
Lightly flour your work surface and place the thawed pastry on top.
Roll the pastry out and shape into a large circle.
Use the pastry to line a 23cm loose-based fluted tart tin. Use your fingertips to press the pastry firmly into the base and sides.
Trim away any excess pastry from the edges. Lightly prick the base of the tart all over using a fork. Place in the fridge for 30 minutes.
Preheat the oven to 200˚C/180˚C fan/gas mark 6. Line the pastry case with parchment paper and half fill with baking beans (or dry rice). Bake the case for 25 minutes.
Remove the baking beans and return the tart to the oven for a further 5-10 minutes or until light brown. Remove from the oven.
Reduce the oven to 180˚C/160˚C fan/gas mark 4. For the filling, melt a knob of butter in a pan over a medium-low heat. Cook 2 sliced leeks for 3-4 minutes until soft, stirring frequently. Remove from the heat and set aside.
Beat 3 eggs in a jug. Stir in 300ml crème fraîche, 3 tbsp chopped dill and a pinch of salt and black pepper.
Scatter the leeks over the pastry case.
Spread 50g brown crab meat and 150g white crab meat evenly over the leeks.
Pour over the egg mixture and sprinkle over 60g of grated Parmesan
Place on a baking tray and cook for 25 minutes or until golden-brown and just set, but still wobbles slightly in the centre.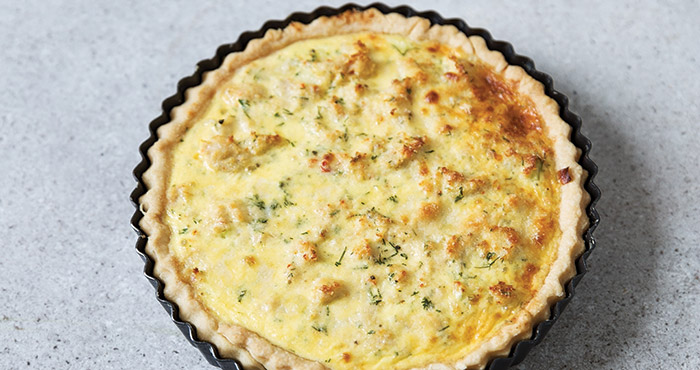 ---
TOP TIP
This method will work for any kind of quiche — simply adapt the fillings to your taste.