As foodies, we love nothing more than a good food movie! Drooling over the scenes and then become ridiculously hungry!
Here are some awesome food movies that you should see…
Ratatouille (2007)
Yes, it's a cartoon but it still makes us hungry. It may not change our minds about having rats in a kitchen but if they can cook like Remy can, we could be converted…
Julie & Julia (2009)
Definitely a top recommendation and drool worthy! All about the wonderful Julia Child and a woman's attempt to cook through her cookbook 'Mastering the Art of French Cooking'. "You can never have too much butter"… a philosophy to live by right there!
Why not master some French Cooking? Check out some of our French recipes!
Chef (2014)
A feel good movie about a chef who loses his temper and his job but goes back to his roots making sandwiches in a food truck with his son. Okay, we're not giving anything away but there's a scene when he makes a grilled cheese sandwich and well…GIVE US A GRILLED CHEESE SANDWICH RIGHT NOW!
No reservations
No shortage of cooking in this movie with a dash of romance. Life of a top female chef changes once she becomes the guardian of her young niece. There are some gorgeous shots of artistic food plating in this one.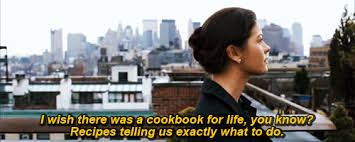 The Hundred Foot Journey (2014)
A true feel good movie about an Indian family that opens a restaurant in France, but soon find them selves in competition with a bistro next door. The perfect movie for the whole family to enjoy.
Willy Wonka and the Chocolate Factory (1971)
Chocolate rivers, lickable wallpaper, chocolate bars, its every sugar lovers dream! Most of the food isn't even real but even as adults, it still looks delicious.
Its Complicated (2009)
Okay, not a food movie, however Meryl Streep plays a divorced restaurateur and runs the most amazing bakery! Whilst on a date with Steve Martin they make chocolate croissants together… we've never wanted a croissant so bad!
Burnt (2015)
Well, it's Bradley Cooper as a chef… any more information needed? If you're not drooling over Bradley Cooper, you will drool over the incredible food being produced in this movie.
Big Night (1996)
Two Italian brothers move to America in the hopes of running a successful Italian restaurant. It's one of those great food movies, and yet it's so much more.
Cloudy with a Chance of Meatballs (2009)
An animated movie about a scientist that creates a machine to turn water into food but it doesn't exactly go to plan. It starts raining food… it's our dream come true!
What are some of your favourite food movies? Or are there any food movies that you've had to wipe away the drool after watching? Comment bellow, we'd love to know!