It's one of the busiest – and best- times of the year, but it can be definitely be stressful! We've gone around the Easy Food offices and collected tips and tricks which will help you have the best and easiest Christmas yet. Turns out, it's all in the planning!
Decorating the house
An easy decorating method is to pick one dominant colour, and work mainly with that and white.
If your colour scheme extends to your table setting, make sure you have all of the serving platters and wine glasses you'll need for parties or special meals, and buy more if necessary.
Buy extra Sellotape, gift tags, and more wrapping paper than you think you'll need. This ensures you won't run out of supplies with only half your gifts wrapped; are prepared for any unexpected visitors; and may even have some left for next year!
Planning the menu
Menu planning is vital in the weeks coming up to Christmas Day

Draw up menus for all meals you plan on making over the Christmas week. Make sure that at least half of the dishes can be made ahead of time in order to cut down on stress.

Use this information to write a cooking plan for the weeks and days leading up to Christmas, so that you're not swamped on the day itself.

Make everything you can ahead of time. Freezer-friendly foods can be made a month in advance, while many starters can be made a day or two before eating. There are more tips on cooking ahead here. 

Well ahead of time, batch-cook and freeze one or two easy family meal options for the busy days coming up to Christmas and the lazy days following it, meaning you can focus solely on the main event(s). An easy way to do this is to have a few days where you simply double every freezer-friendly family recipe you make.

Write a detailed plan for Christmas morning. Begin at whatever time you envisage dishing up, and work backwards to figure out when you need to get started. Remember to consider cooking times and how many things you can fit in the oven at once.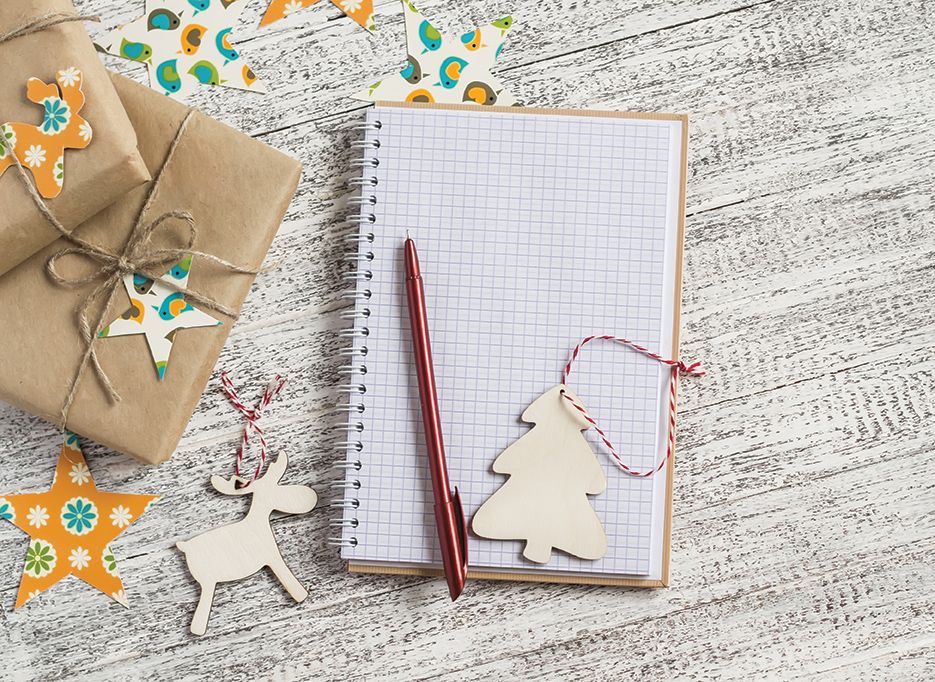 Hitting the shops
Once you have your menu plan ready, use this to write a detailed food shopping list.

Perhaps most importantly, remember to order your turkey well in advance!

We find it easier to do our food shopping in several runs, rather than one super-stressful shop. First, stock up on holiday drinks, including alcohol, soft drinks and juices.

Next, buy everything non-perishable, including larder staples like olive oil, sugar and stock cubes, as well as any meat or fish that can be frozen. Don't forget kitchen and toilet paper!

Think outside the dinner itself – what will you need to have in the house for a few days' worth of breakfasts, lunches and snacks? Make sure you remember tea, coffee, milk, butter, bread and any condiments on which you're running low.

Finally, brave the crowds for one last shopping trip in which you pick up all of the fresh produce you need.
Kitchen clear out
The week before Christmas, have as many nights eating out of the fridge and freezer as possible in order to make space for all of the Christmas food to be stored. This should also save you some money – always a help at this time of year!

Go through the contents of your fridge and throw out any old jars lurking in the background. Ask yourself honestly whether they'll be used in the future, and be ruthless. Not only will this help make more space for the silly season, but it's nice to start the New Year with a cleaned-out fridge.

For tips on what you should keep in the fridge, and what has enough chill, check out this guide.
On Christmas Day…
Share the stress:
Rather than running around like a headless chicken, enlist your guests to help with small tasks on the day. Ask one person to set the table; another to be in charge of getting people drinks. Kids or teenagers can help too – put them in charge of greeting guests at the door and taking their coats.
Placate the pooch:
A tired doggy is a lot less likely to jump up on guests or bark over-excitedly, so make sure they have had a long walk and some active playtime before people arrive. Our top tip? Invest in a Kong dog toy, fill it with peanut butter (one with no added salt or sugar), pop it in a bag and freeze it. Give it to your pup when people start to arrive and it will keep them occupied for hours!
Enjoy!
After all, it's Christmas!