Tick the ingredients you need to add your shopping list.
For the pastry:
For the filling:
For the pastry, combine the plain flour and cold butter in a food processor and pulse until the mixture resembles breadcrumbs.
Add the cold water and a pinch of salt and pulse again until the mixture starts to come together. Turn it out onto a work surface and gather it into a smooth ball. Wrap in cling film and refrigerate for 30-60 minutes.
Place the pastry onto a lightly floured surface and roll out to roughly 3-4mm in thickness. Fold the pastry over a rolling pan and gently transfer it to a 24cm loose bottomed, fluted tart tin. Ease the pastry into the base and press it up against the sides.
Trim the pastry edges so it sits slightly above the tin; this way, if it shrinks, it won't go below the level of the tin. Press the pastry into the flutes. Lightly prick the base with a fork, then refrigerate for 10-15 minutes.
Preheat the oven to 200˚C/180˚C fan/gas mark 6 and place a baking tray in the oven. Line the pastry case with parchment paper — shiny-side down — and fill with baking beans, dried beans or rice. Place on the hot baking tray and cook for 15 minutes
Remove the tin, then discard the paper and baking beans. Place the tin back in the oven and bake for another 5-10 minutes until the pastry is golden brown. Remove from the oven and set aside.
Cut each onion half into four wedges, so you end up with 16 wedges. Place on a tray, drizzle with oil and season with salt and pepper. Toss to coat and roast for 10-15 minutes until soft.
Beat together the yoghurt and eggs until well combined. Stir in the parsley and lemon zest and season with salt and pepper.
Reduce the oven temperature to 190˚C/170˚C fan/gas mark 5. Add the red onions, beetroot and mackerel to the pastry case.
Pour in the egg mixture, then bake for 25- 30 minutes until the quiche is golden and the filling has set.
Nutrition Facts
Per serving: 493kcals, 28.4g fat (15.4g saturated), 42.3g carbs, 8.5g sugars, 17g protein, 2.6g fibre, 0.259g sodium
Popular in Picnic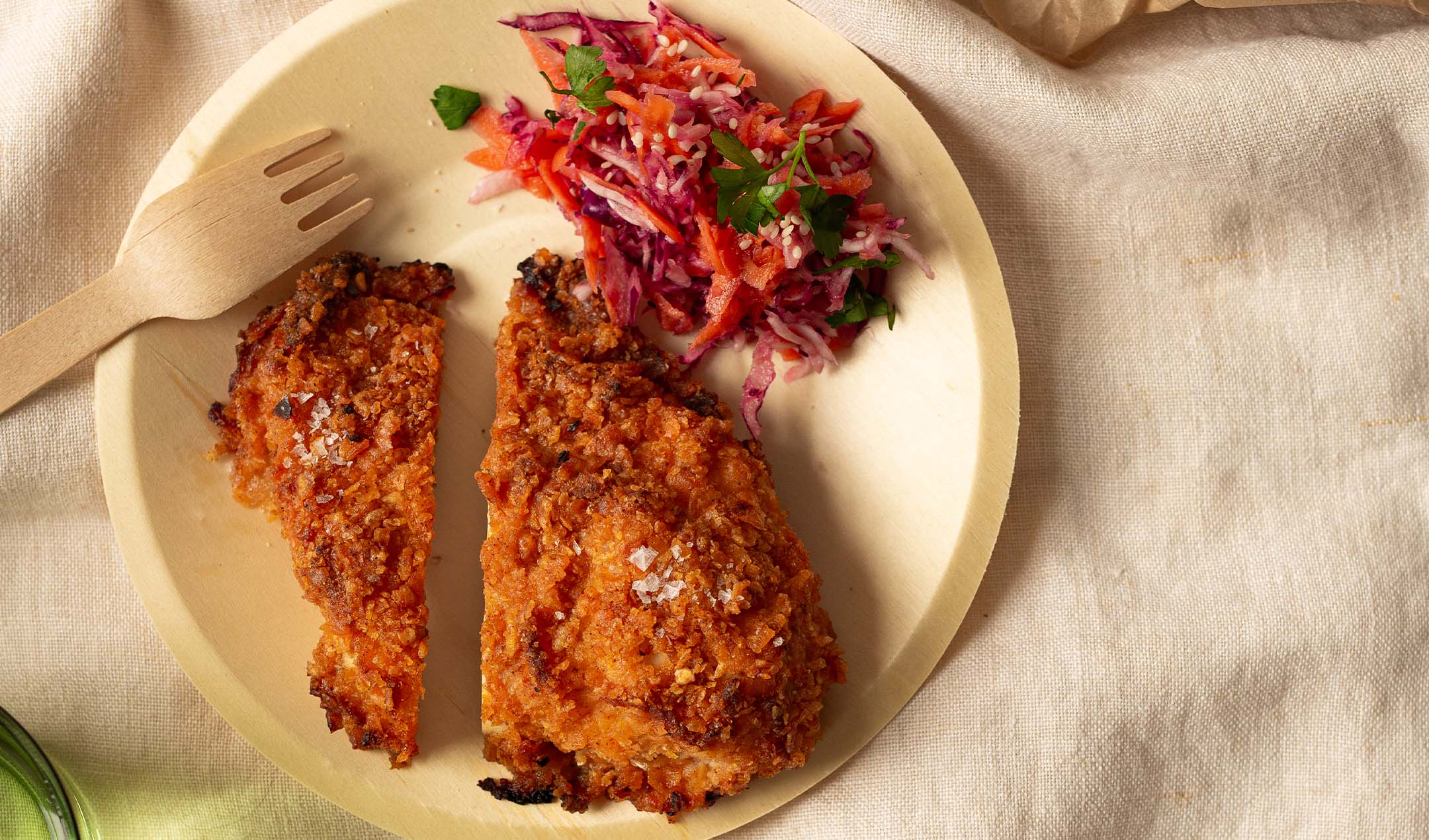 Easy fried chicken and asian slaw