Tick the ingredients you need to add your shopping list.
For the cauliflower cheese:
Remove the beef from the fridge around 45 minutes before cooking to allow it to come up to room temperature. Preheat the oven to 240°C/220˚C fan/gas mark 9.
Wash and roughly chop the vegetables – there's no need to peel them. Break the garlic bulb into cloves, leaving them unpeeled.
Pile all the vegetables, garlic and herbs into the middle of a large roasting tray and drizzle with oil.
Drizzle the beef with oil and season well with sea salt and black pepper, then rub all over the meat. Place the beef on top of the vegetables.
Roast in the centre of the oven for 20 minutes, then reduce the heat to 180˚C/160˚C fan/gas mark 4. Roast the beef for a further 12-15 minutes per 500g weight for medium/rare, or until cooked to your liking.
While the beef cooks, prepare the cauliflower cheese. Bring a large saucepan of water to the boil, then add the cauliflower and cook for five minutes until just tender. Drain the cauliflower, then tip into an ovenproof dish.
Put the saucepan back on the heat and add the milk, flour and butter. Keep whisking fast as the butter melts and the mixture comes to the boil – the flour will disappear and the sauce will begin to thicken. Whisk for two minutes while the sauce bubbles and becomes thick.
Turn off the heat and stir in most of the grated Cheddar until melted. Pour the sauce over the cauliflower and top with the remaining Cheddar.
Remove the beef from the oven and transfer to a board. Tent loosely with foil and allow to rest for 20 minutes before carving.
Increase the oven temperature to 200˚C/180˚C fan/gas mark 6. While the meat rests, place the cauliflower into the oven. Bake for 20 minutes until golden on top and bubbling at the sides.
Nutrition Facts
Per serving: 441kcals, 16.3g fat (10.1g saturated), 15.5g carbs (6.9g sugars), 10.5g protein, 2.6g fibre, 0.235g sodium
Popular in Beef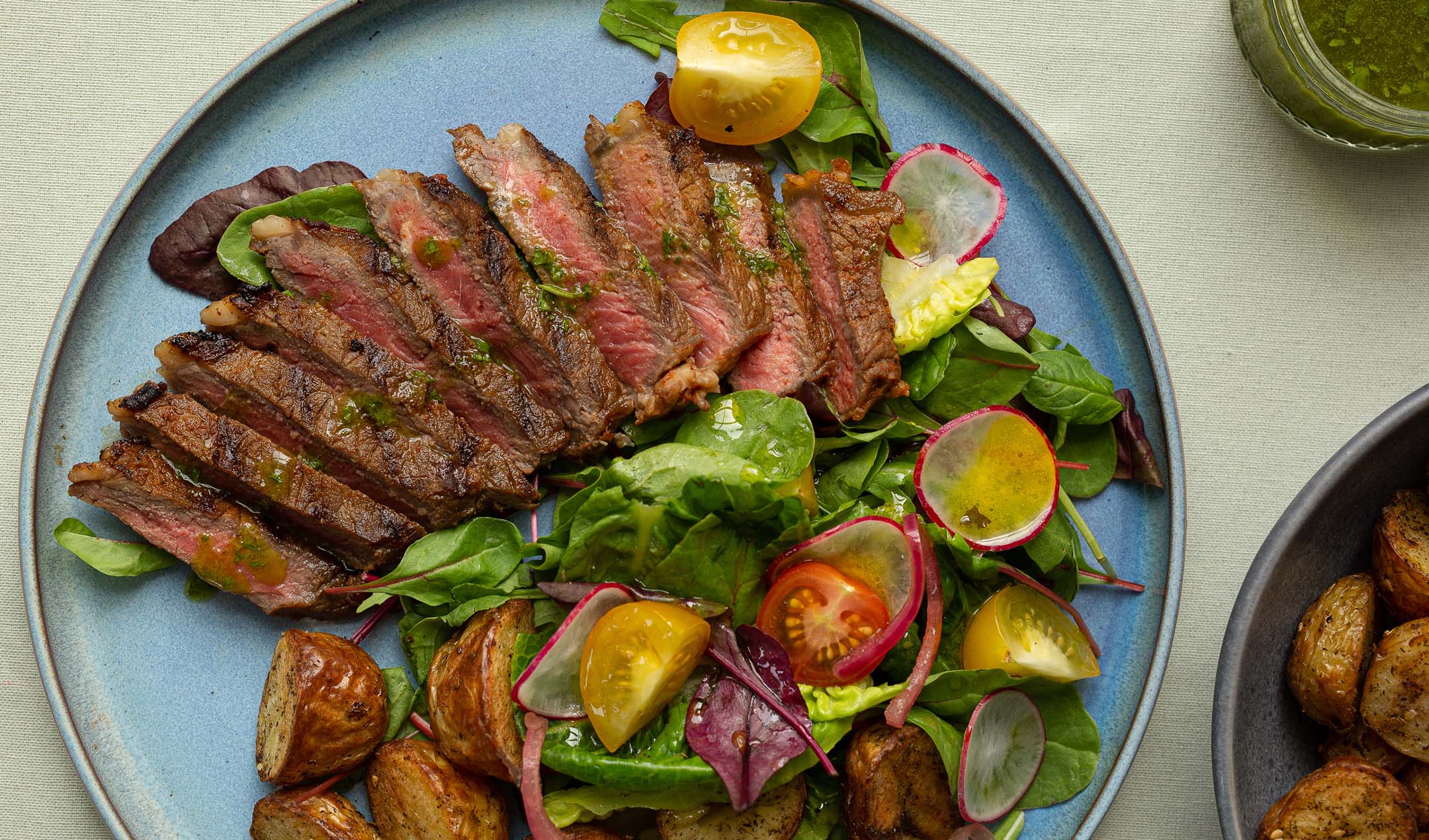 Steak salad, air fryer crispy potatoes and zingy coriander oil