Super-smooth hummus
Makes 400g
Open 1 x 400g tin of chickpeas in a mixing bowl. Add just enough of the chickpea liquid to cover the chickpeas. Add 3-4 peeled, halved garlic cloves and microwave on high for 3-4 minutes. Transfer the mixture to the bowl of a food processor or blender and add 50g tahini, the juice of 1 lemon, 1 tsp cumin, 3-4 drops of Tabasco and a generous pinch each of salt and black pepper. Whizz together, streaming in 2 tbsp extra-virgin olive oil while the machine is running. Keep whizzing until smooth and creamy. Taste and add more salt or pepper if needed. Top with a drizzle of olive oil and a pinch of paprika. Store in the fridge for up to a week. Enjoy on toast, pitta bread or crackers, or as a dip for crudités.
Smashed pea and mint dip
Makes about 160g
Mash 150g peas with 2 tbsp chopped fresh mint and 1 tbsp lemon juice. Crumble over 30g Feta. Serve with crackers for dipping.
Mini Caprese skewers
Serves 1
Thread mini Mozzarella balls (bocconcini) and cherry tomatoes onto toothpicks, alternating with fresh basil leaves. In a small tub, combine 1 tbsp olive oil with 1 tbsp balsamic vinegar. Dip the mini skewers into the oil and vinegar mixture and enjoy.
Strawberry Ricotta bagel
Serves 1
Spread ½ a toasted whole-grain bagel with 2 tbsp fresh Ricotta. Top with sliced strawberries and season to taste.
DIY instant noodle pot
Serves 1
In a Kilner jar, layer up the following: 1 peeled, finely sliced carrot; 2 sliced spring onions; 2 tbsp frozen petits pois; ½ a deseeded and chopped red chilli; 1 tsp finely grated fresh ginger; 1 grated garlic clove; 2 tsp soy sauce mixed with a pinch of brown sugar; ½ a chicken stock pot and 1 nest of quick-cook noodles. Pack a separate small pot containing ½ a lime and 2 tbsp chopped fresh coriander. When ready to eat, pour over boiling water until everything is just covered, pressing the ingredients down. Cover and leave for 8-10 minutes, stirring once or twice. Add the lime juice and coriander to taste, then enjoy.
Popular in Picnic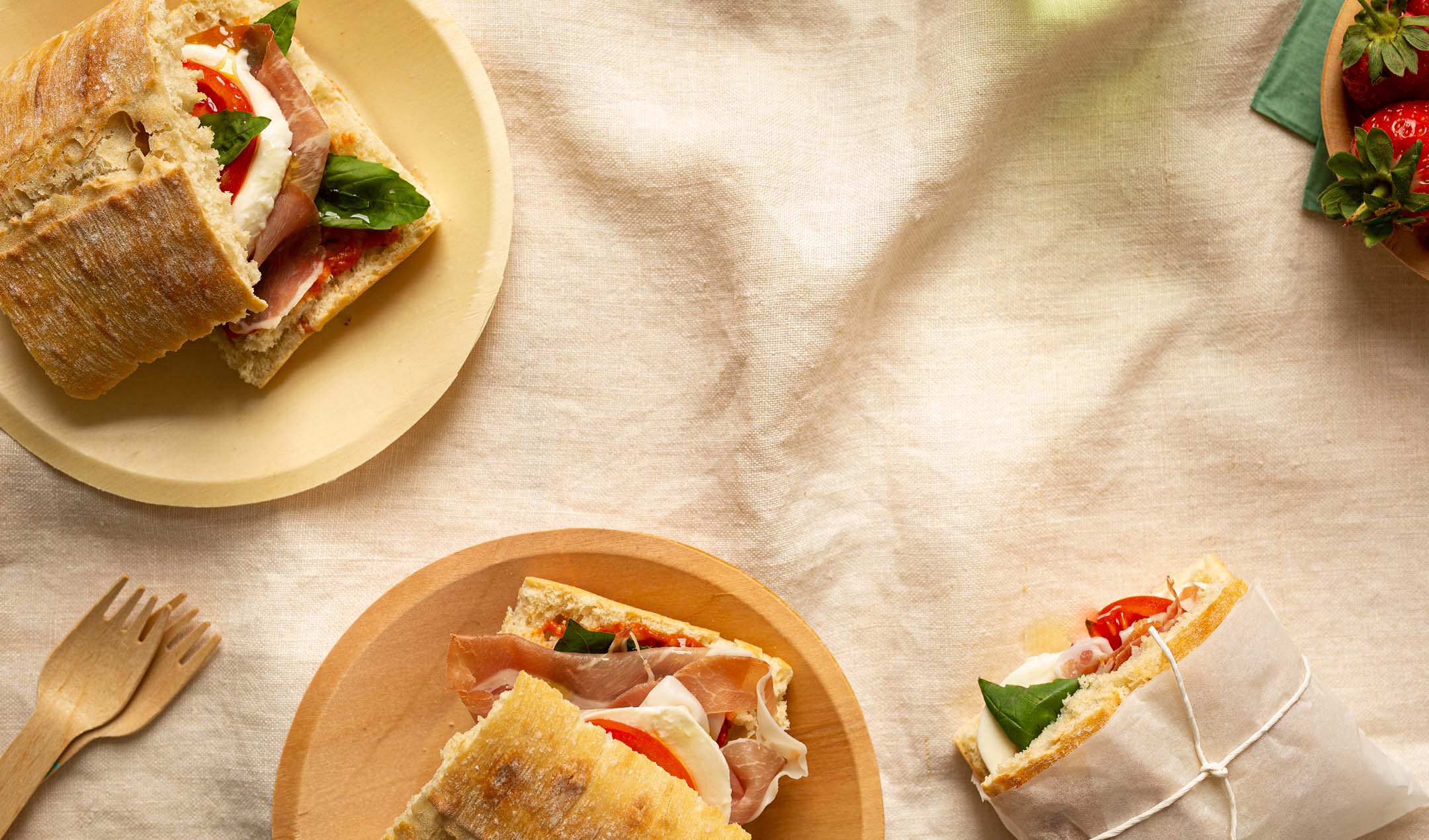 Mozzarella and prosciutto ciabatta sandwiches