Tick the ingredients you need to add your shopping list.
For the sponge:
For the cream cheese icing:
Topping:
Preheat the oven to 195°C/175°C fan/ gas mark 3. Grease and line three 20cm round cake tins.
Mix all dry ingredients but the caster sugar and nuts in a large bowl. In a stand mixer with a whisk attachment, beat the eggs and sugar together until pale. Add the oil and beat for another 30 seconds, until well combined. Add the carrots and mix. Gently fold in the dry ingredients. Add the walnuts and pistachios and mix again.
Divide the batter evenly between the cake tins. Bake for 25-28 minutes, or until a skewer inserted into the centre comes out clean. Once baked, transfer to a wire rack until completely cooled.
To make the cream cheese icing, whisk the cream cheese and butter until nice and smooth. Add the orange zest and vanilla extract and whisk until well combined. Sieve in the icing sugar, one third at a time, beating until smooth.
To assemble the cake, place one sponge layer onto a cake board or serving plate, smearing a teaspoon of icing on the board to help the cake stick. Spread more icing on top of the cake and add the next sponge on top. Repeat this step but stacking the last layer bottom-side up.
Using a palette knife or offset spatula, spread the icing over the top and sides of the cake, making sure to fill in any gaps. There will be crumbs in the icing, so place the cake into the fridge for 30 minutes to set.
Once set, spread more icing all over the cake to cover any crumbs. Don't worry if it looks messy, it adds to the look.
Finally, decorate with chopped walnuts and pistachios.
Nutrition Facts
Per serving: 967kcals, 62.3g fat (16.3g saturated), 94.7g carbs (67.5g sugars), 13.2g protein, 3.9g fibre, 0.132g sodium
Popular in Cakes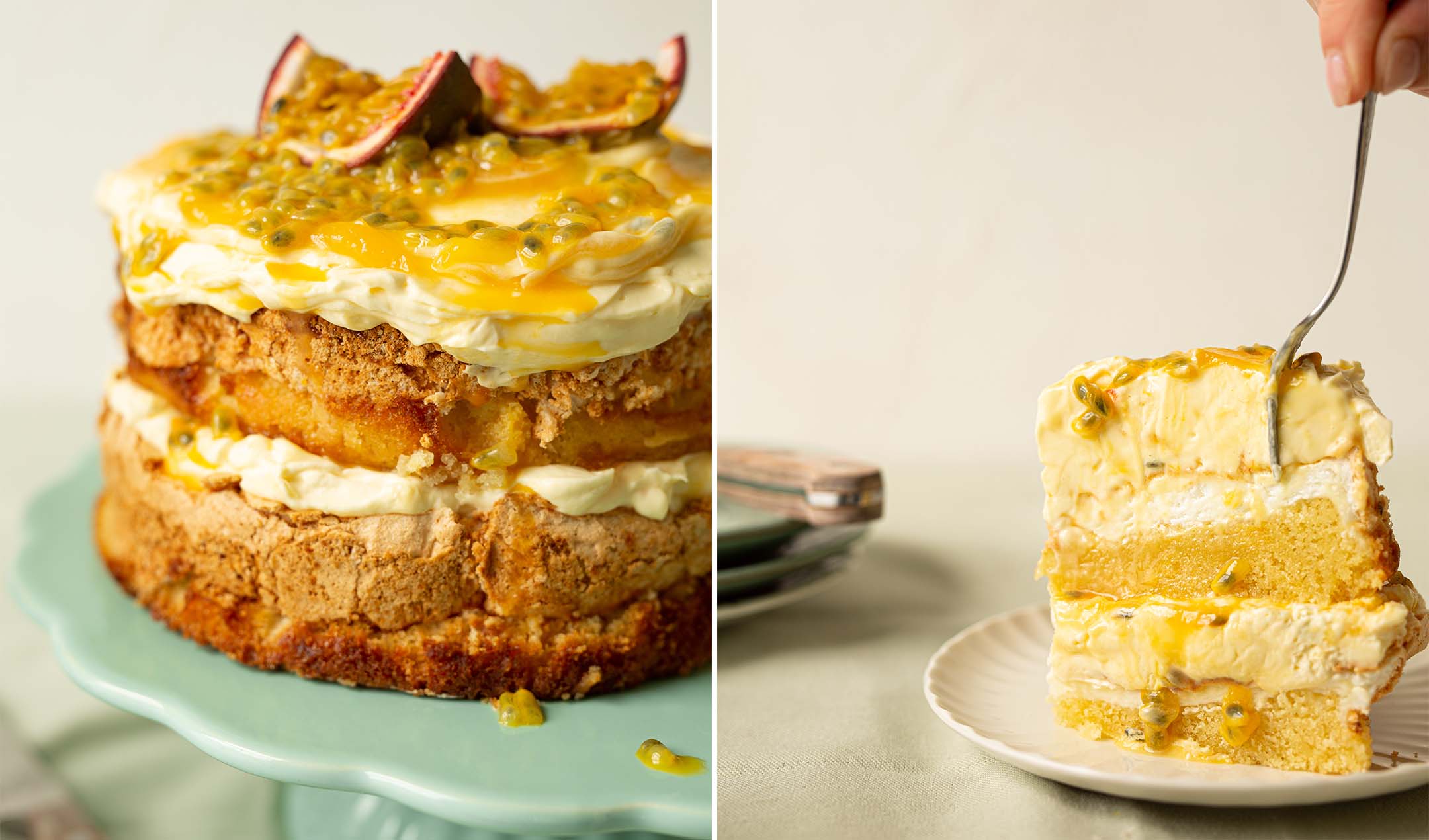 Passionfruit meringue gateaux