Tick the ingredients you need to add your shopping list.
For the dipping sauce
For the rolls
Add all ingredients for the dipping sauce — except for the sesame seeds — to a blender or food processor and blitz until combined. Set aside.

Soak the rice noodles in a bowl of hot water for 15 minutes, then drain well. Assemble all the prepared filling ingredients; once you start filling and rolling, you will need everything to hand. 

When you are ready to make the rolls, dip one of the rice papers in a bowl of hot water, moving it around for about 10-15 seconds until the whole wrapper is soft. Drain on a clean tea towel.

Place a rice paper wrapper on a board. At one edge of the wrapper, place some coriander leaves flat down first, this is just for a nice look at the end, so it isn't a strict step! Then, add a selection of your raw veggies and some noodles — we like to add a drizzle of dipping sauce to them before adding as they can be a little plain. Don't overfill or they will be hard to roll.

Lift the edge of the rice paper wrapper nearest to you over the filling and, holding the filling in position with your fingers, start rolling up tightly.

When you're about halfway, fold the ends of the rice paper in and over the filling so that it is completely enclosed.

Keep on rolling tightly until the whole rice paper wrapper is rolled up. To serve, cut the rolls in half on the diagonal and serve with the dipping sauce.
Test Kitchen Tip: The best part of these rolls is that you can use any fillings you like — the veggies here are a good guide, but feel free to use whatever you have on hand! We also love these with prawns and tofu for a boost of protein.
Nutrition Facts
Per serving: 98kcals, 5.9g fat (1.1g saturated), 8.7g carbs (2.7g sugars), 3.1g protein, 1g fibre, 0.454g sodium 
Popular in Dairy-free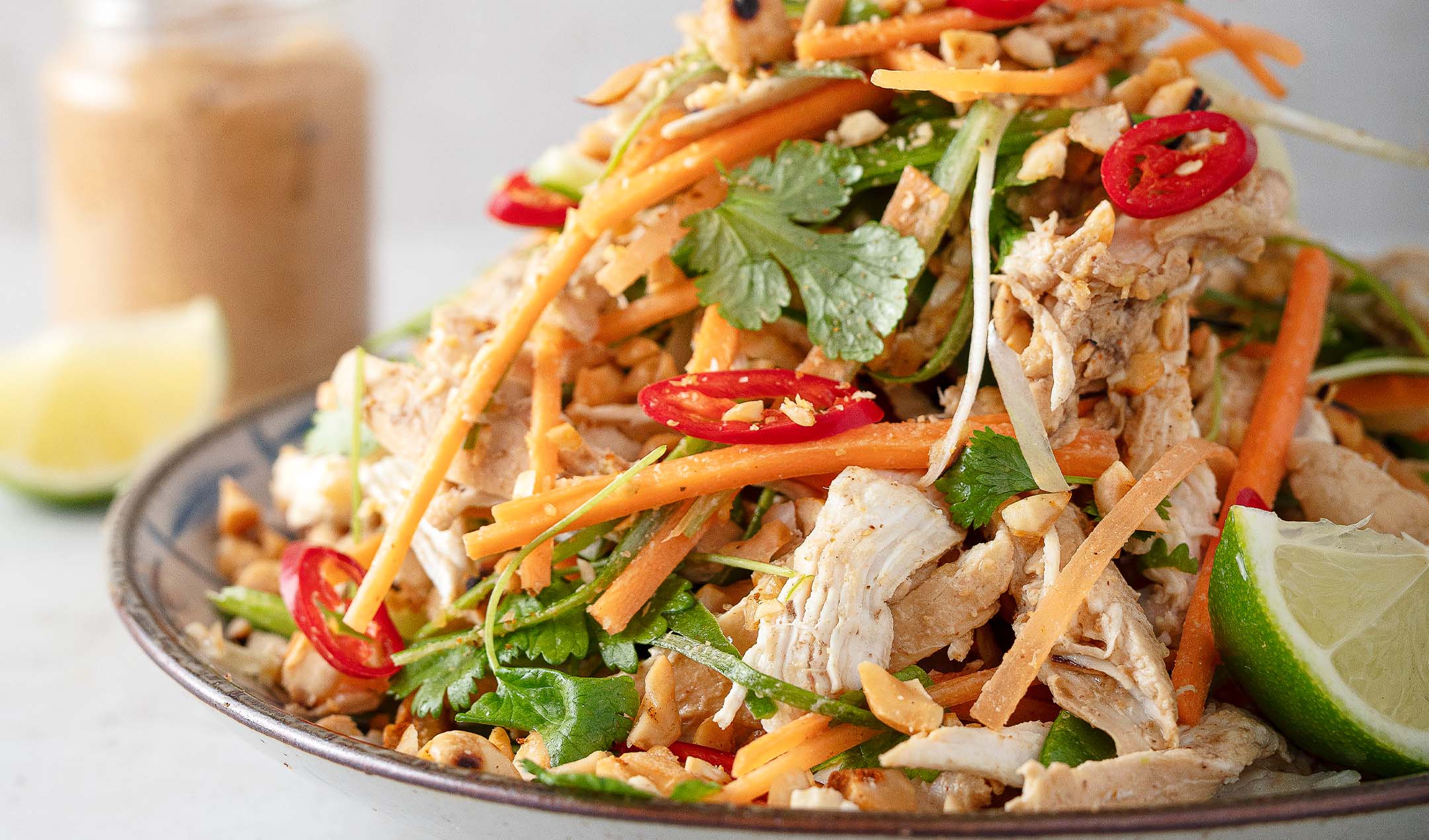 Peanut chicken salad