Tick the ingredients you need to add your shopping list.
For the caramelised onions:
For the burgers:
To serve:
Melt the butter and oil together in a large pan over a medium heat. Add the red onions and sprinkle with salt.
Cook for about five minutes until the onion is soft and the pan begins to dry out. Add the wine and allow to bubble, using a wooden spoon to scrape any sticky bits from the bottom of the pan. Turn the heat to low and cook for another 15 minutes. Whenever the pan gets dry, add a splash of water.
Add the vinegar and sugar and cook for another five minutes. The pan should be dry.
Transfer the onions to a bowl and set aside.
Place the beef mince in a large bowl. Add the Worcestershire sauce, a teaspoon of salt, and half a teaspoon of black pepper. Mix gently with your hands until just combined.
Wet your hands and shape the meat into eight equal patties around 1cm thick. Make a slight indentation in the centre of four of the patties to hold the cheese. Divide the blue cheese into four equal portions, shape into discs, and set a disc in each of the indentations.
Top the cheese with the remaining patties and gently but firmly seal the edges to encase the cheese. Place in the fridge for at least 30 minutes and up to 4 hours.
Cook the burgers on a hot grill, frying pan or barbecue until cooked to your liking. Place a burger in each of the four ciabattas and top each with two crispy streak rashers, some caramelised onions and a handful of rocket.
Nutrition Facts
Per serving: 946kcals, 39.5g fat (36.6g saturated), 51.9g carbs, 7.4g sugars, 79.6g protein, 2.7g fibre, 2.046g sodium
---
MAKE IT YOURS: If you're not a fan of blue cheese, you can substitute it with any good melting cheese you like! We like Mozzarella, Gruyère, goat's cheese or mature Cheddar.
Popular in Beef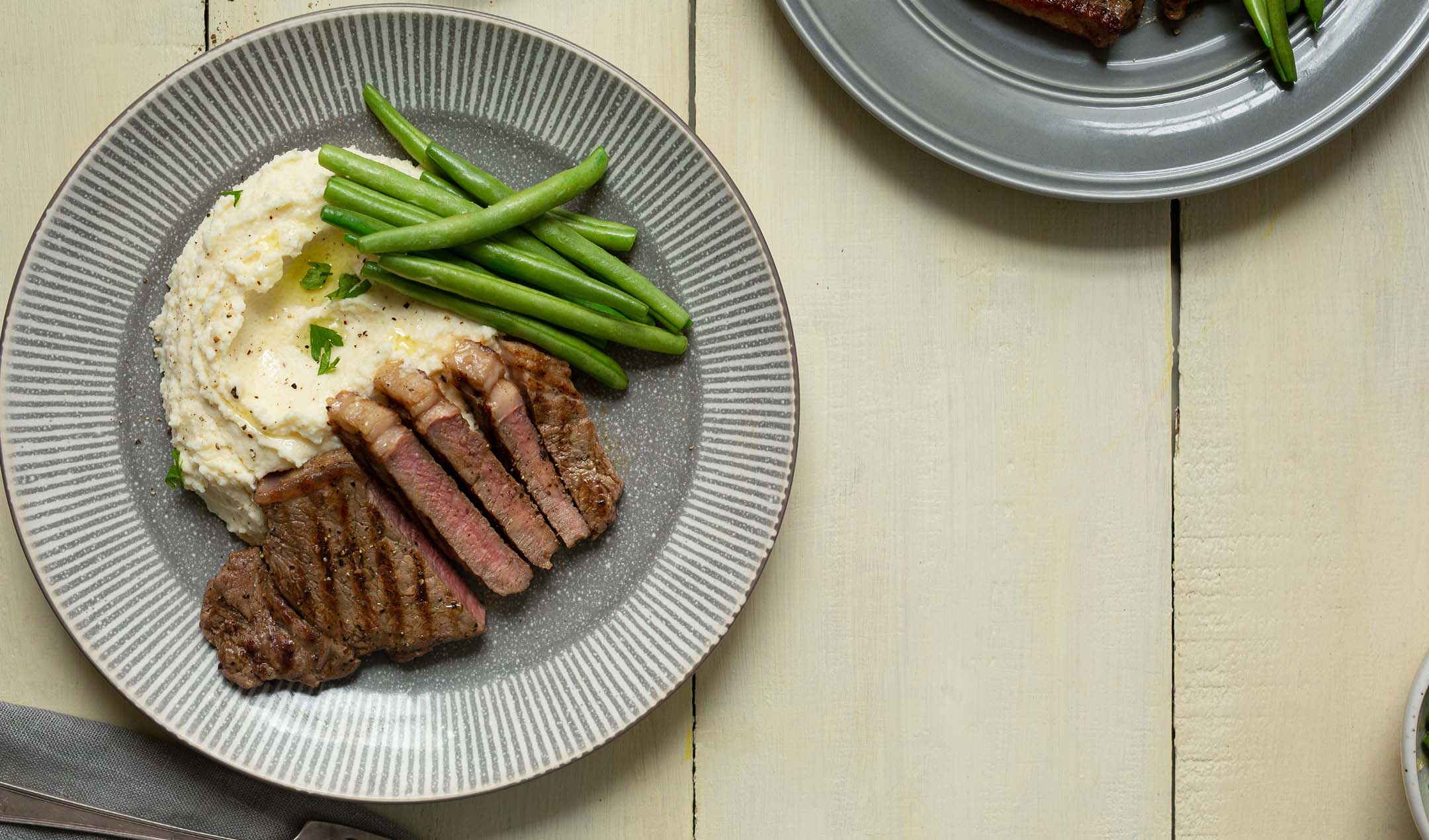 Steak with greens & celeriac mash