Tick the ingredients you need to add your shopping list.
---
In a bowl, combine the soy sauce, honey, sesame oil, garlic and ginger. Add 60ml water and whisk until the honey dissolves. Pour half of the mixture into a small bowl and add one sliced spring onion; set aside as a sauce for serving.

Place the steaks in the other half of the soy mixture and toss to coat. Leave to marinate for at least 30 minutes.

Rinse the rice in a sieve until the water runs clear. Place the rice in a small pot with 360ml water and bring to a boil. Cover, turn the heat to low and cook for about 15 minutes until the water is absorbed and the rice is tender. Cover and set aside.

Heat the oil in a large pan over a medium-high heat. Remove the steaks from their marinade and add to the pan. Cook for four minutes, turning once, until browned. Transfer to a plate, tent loosely with tin foil and rest for 8-10 minutes, then slice the steaks against the grain into ½cm-thick slices.

Slice the remaining spring onions into 4cm lengths. Add these to the pan along with the marinade and allow to bubble for one minute, using a wooden spoon to scrape up any sticky bits from the bottom.

Transfer the steak strips and spring onions to a bowl and top with the sesame seeds. Bring everything to the table. Assemble by filling each lettuce leaf with some rice and beef and drizzling some of the reserved sauce over the top.
Nutrition Facts
Per Serving 869kcals, 24.6g fat (6.8g saturated), 89.1g carbs, 19.3g sugars, 70.2g protein, 3.7g fibre, 1.050g sodium
---
MAKE IT YOURS:
You could also use chicken, pork or tofu to make these lettuce cups
Popular in Beef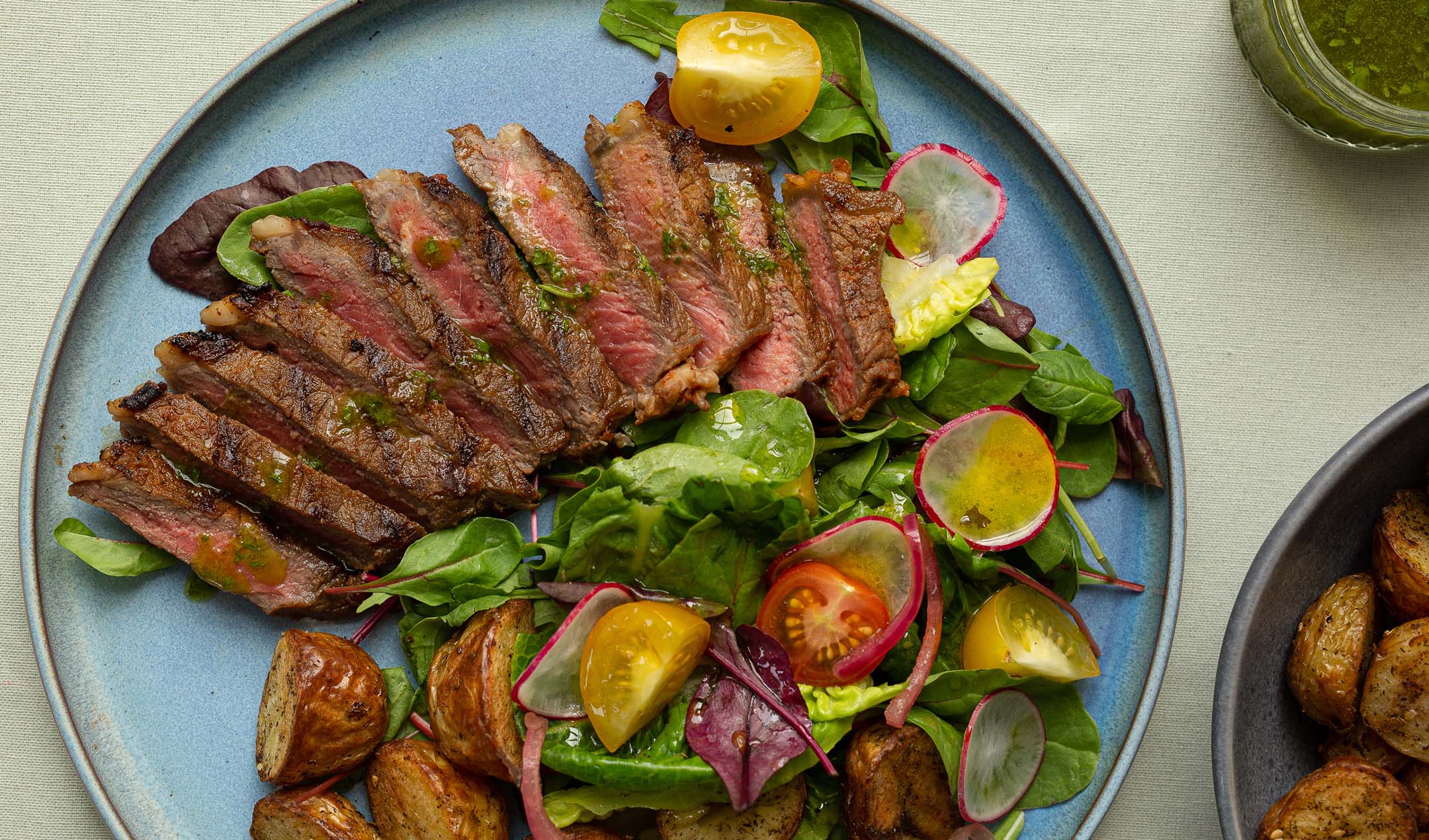 Steak salad, air fryer crispy potatoes and zingy coriander oil