Tick the ingredients you need to add your shopping list.
For the dukkah:
For the eggs:
Heat a large frying pan over a medium heat. Add the hazelnuts, almonds and coriander seeds and toast for five minutes or until fragrant, shaking the pan often to avoid them burning. Remove from the pan and set aside.

Add the sesame seeds, cumin seeds, peppercorns, fennel seeds and dried herbs to the same pan and toast for another five minutes, shaking the pan often. Combine both batches in a food processor and whizz briefly to chop; don't let it run for too long or it will become a paste.

For the eggs, heat the olive oil in a pan over a medium heat. Slice each egg in half lengthwise and place cut-side down in the pan.

Cook the eggs for 2-3 minutes until golden and crispy on the cut sides. Remove to a plate and sprinkle the seared sides of the eggs with the dukkah. Serve immediately.
Nutrition Facts
Per serving: 170kcals, 15g fat (2.1g saturated), 4.8g carbs, 0.8g sugars, 6.4g protein, 2.3g fibre, 0.33g sodium
TOP TIP
Dukkah is an Egyptian condiment consisting of a mixture of herbs, nuts, and spices. It is typically used as a dip with bread or fresh vegetables. Why not add some extra-virgin olive oil to the dukkah to make a healthy dip for crudités or pitta chips!
Popular in Eggs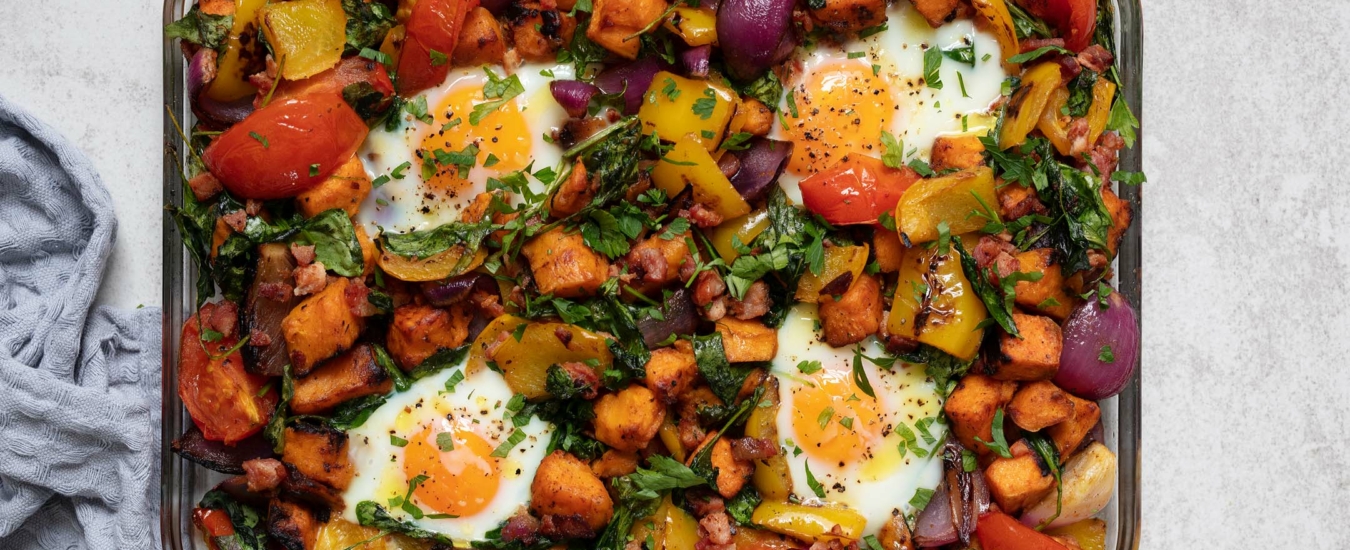 One-tray brunch bake