Tick the ingredients you need to add your shopping list.
For the salted caramel:
For the icing:
=Preheat the oven to 200°C/180˚C fan/gas mark 6 and line a 34 x 24cm Swiss roll tin with parchment paper.
Use an electric whisk to beat the eggs and sugar in a mixing bowl until thick and creamy.
Sift in the flour and cocoa. Add one tablespoon of hot water and gently fold in with a spoon.
Spoon the mixture into the prepared tin, smoothing gently into the corners, and bake for 10-12 minutes.
While still warm, turn the sponge out onto a clean piece of parchment paper. Peel off the parchment used to line the tin. Trim the edges of the sponge to neaten them if necessary. Roll the sponge and parchment up from one of the short ends and leave to cool.
For the caramel, combine the butter, icing sugar and 1-2 tablespoons of warm water in a bowl. Beat into an icing-type consistency.
Heat a heavy-based pan over a medium heat and pour in the caster sugar. Shake the pan gently as the sugar starts to melt. When dissolved, add the salt. Pour the sugar mixture into the butter mixture and stir to combine well.
To make the icing, melt the chocolate in a bowl set over a pan of simmering water. Remove from the heat and gently stir in the cream. Do not over-mix. Set the mixture aside for 10 minutes to cool and thicken.
Unroll the sponge and spread with the salted caramel mixture. Carefully roll it back up, this time without the parchment paper.
Spread the icing all over the roulade using a spatula or palette knife. Refrigerate for an hour or two, then top with extra dark chocolate shavings to serve.
Nutrition Facts
Per Serving 316kcals, 13.3g fat (8.1g saturated), 48.7g carbs, 42.3g sugars, 3.4g protein, 1.2g fibre, 0.227g sodium
Popular in Cakes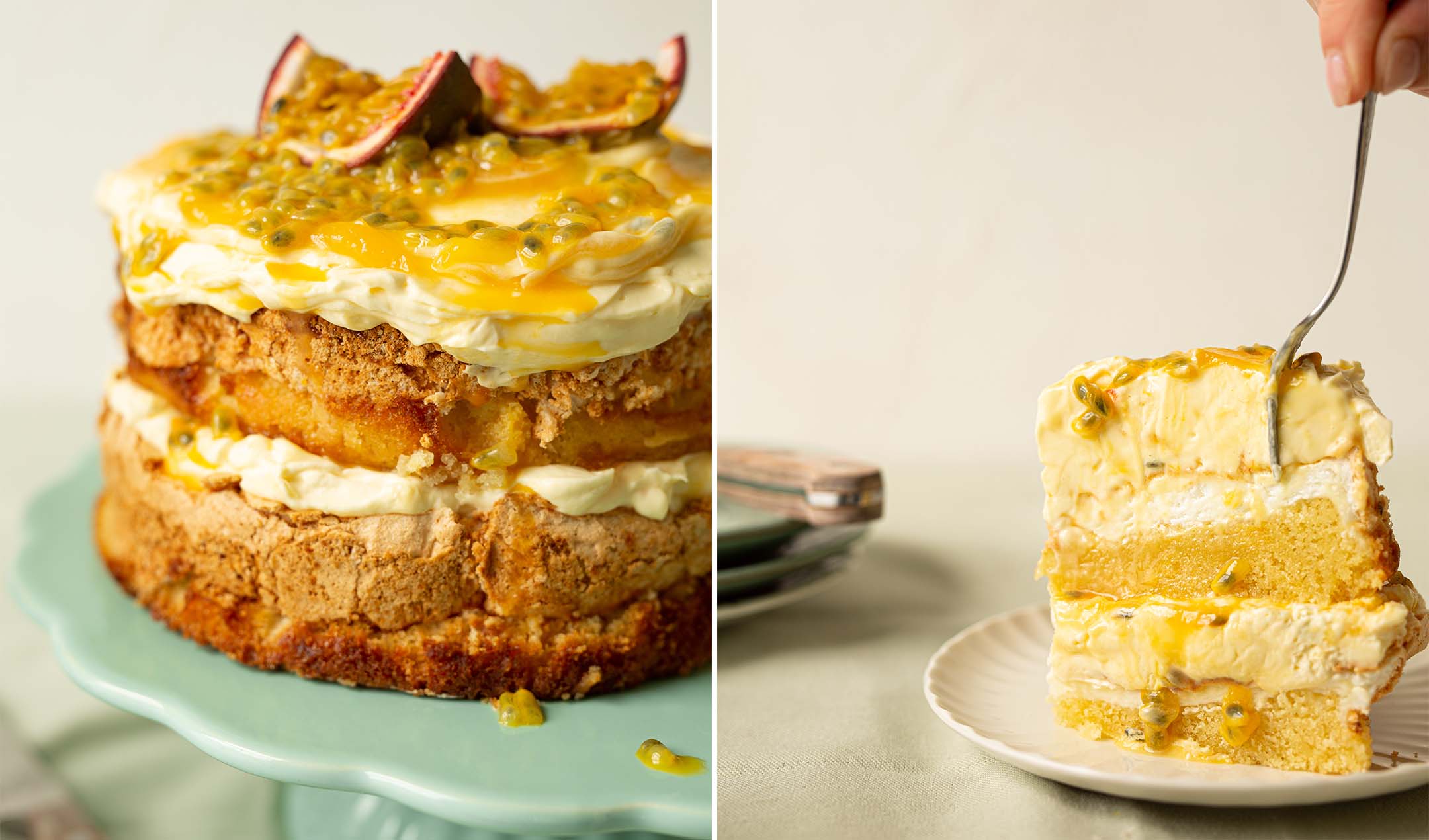 Passionfruit meringue gateaux