Lemon and balsamic roasted Brussels sprouts
Serves 4
---
Preheat the oven to 220 ̊C/200 ̊C fan/gas mark 7. Trim
650g Brussels sprouts
, remove any discoloured or damaged leaves and cut each sprout in half. Place in a roasting tin, drizzle with
2 tbsp olive oil
and season generously with salt and black pepper. Toss to coat evenly, then spread the sprouts out in an even layer with their cut sides facing down. Roast for 20-25 minutes until the sprouts are tender and golden-brown. Drizzle over
2 tsp balsamic vinegar
and add a squeeze of lemon juice. Add a pinch or two of
chilli flakes
, if desired, then toss to coat.
---
Buffalo Brussels sprouts
Serves 4-6
---
Bring a large pot of salted water to the boil over a high heat. Add
450g Brussels sprouts
and cook for 6-8 minutes until bright green and just barely tender. Drain and transfer to a bowl of ice-cold water. Place
120g plain flour
in one shallow bowl. Beat
1 egg
with
4 tbsp Buffalo sauce
in a second bowl, and pour
250g panko breadcrumbs
into a third. Pour vegetable oil into a deep pan to a depth of 3cm, then place over a medium-high heat until shimmering. Dredge the Brussels sprouts in the flour, then the egg mixture, then coat in the crumbs. Working in batches to avoid crowding the pan, fry the sprouts for two minutes per side until golden and crisp. Transfer to a plate lined with kitchen paper and season with salt and pepper. Serve with extra Buffalo sauce,
garlic mayo and/or blue cheese dip
.
---
Kung pao sprouts
Serves 6
---
Preheat the oven to 220 ̊C/200 ̊C fan/gas mark 7. Trim
650g Brussels sprouts
, remove any discoloured or damaged leaves and cut each sprout in half. Place in a roasting tin, drizzle with
2 tbsp olive oil
and season generously with salt and black pepper. Toss to coat evenly, then spread the sprouts out in an even layer with their cut sides facing down. Roast for 20-25 minutes until the sprouts are tender and golden-brown. Meanwhile, heat 1 tbsp sesame oil in a small pan over a medium heat and cook
2 crushed garlic cloves
for one minute. Stir in
1 tbsp cornflour
, then add
120ml soy sauce, 120ml water
,
2 tsp rice wine vinegar, 1 tbsp hoisin sauce, 2 tsp brown sugar
and
2 tsp sriracha
. Season with salt, pepper
and chilli flakes
, to taste. Bring mixture to a boil, then reduce heat and simmer for 3-4 minutes until thickened. Pour the sauce over the Brussels sprouts and toss to combine. Return to the oven for five minutes until glazed and sticky. Garnish with
sesame seeds
and
chopped spring onions
, then serve over
rice
.
---
Popular in Family meals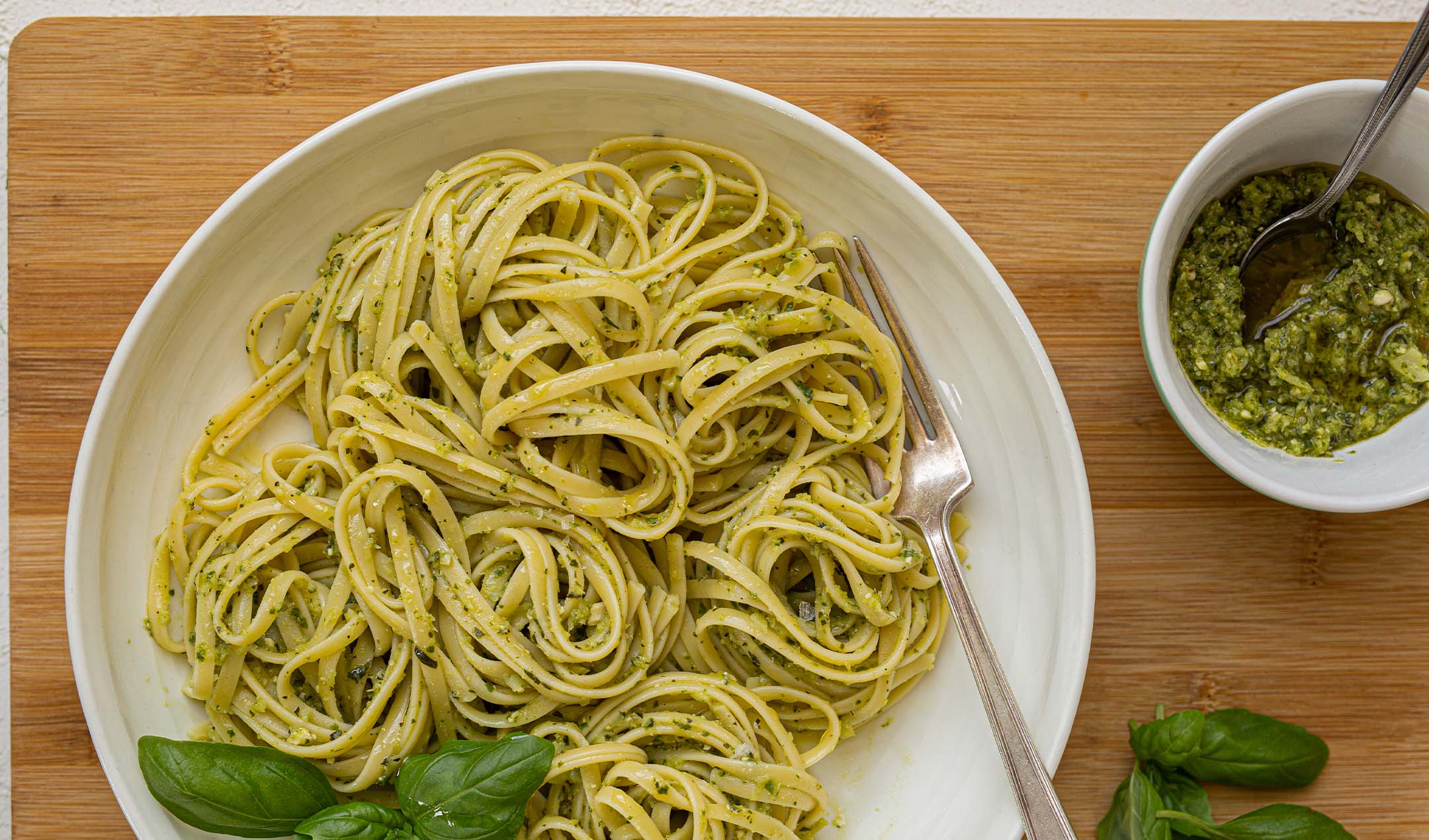 No-waste broccoli pesto pasta