Tick the ingredients you need to add your shopping list.
For the meringue layers:
For the pastry cream:
To assemble:
To decorate:
Preheat the oven to 190°C/170°C fan/ gas mark 5. Lightly grease two 20cm round cake tins and line the bases with greaseproof paper.
To make the meringue layers, add four egg whites to a large bowl and whisk until stiff. Add the sugar, a teaspoonful at a time, whisking well between each addition. Whisk until the mixture stands in peaks, and all the sugar has been added. Whisk in the vanilla extract and vinegar. Divide the mixture between the tins, adding one-third of the mixture into one tin, and two-thirds into the other. Level the surface with a palette knife.
Bake for 30–40 minutes, until the top of the meringue is crisp and the inside is soft and marshmallow-like. Remove the meringues from the tins and leave to cool on a wire rack.
To make the pastry cream, whisk together the sugar and five egg yolks in the bowl of a stand mixer for 1-2 minutes, until slightly fluffy. Add the cornflour, flour and vanilla until thoroughly incorporated and smooth.
Bring the milk to a boil in a small saucepan over medium heat. Remove from the heat as soon as it starts to bubble and slowly pour the warm milk over the egg yolk mixture while whisking vigorously.
Return the mixture back into the saucepan and cook on medium heat for a few minutes until it thickens. Keep whisking and the pastry cream will become smooth and glossy sweet things meringue.
Add the softened butter into the pastry cream, little by little, and mix after each addition until completely incorporated. Pour the cream into a shallow bowl and cover the surface with cling film to avoid a skin from forming on top. Set aside to cool.
Place the larger meringue layer into a springform cake tin, lined on the base and sides, roughly the same size as the cake, then arrange the strawberry halves on top of the sponge, sliced side facing out, placing them tightly together, around the edge of the tin. Fill a piping bag with the pastry cream and pipe cream on top of the sponge in an even layer, carefully and neatly, filling the gaps in between the strawberry halves. Smooth the top with an offset spatula, then top with the second cake layer.
Chill the cake in the fridge for at least four hours, or overnight for the cream to set.
Once fully set, carefully remove the cake from the tin. Decorate with freeze dried strawberries, and a dusting of icing sugar. Store in the fridge.
Nutrition Facts
Per serving: 445kcals, 24.5g fat (14.6g saturated), 53.4g carbs (47.7g sugars), 6.4g protein, 0.6g fibre, 0.196g sodium
Popular in Cakes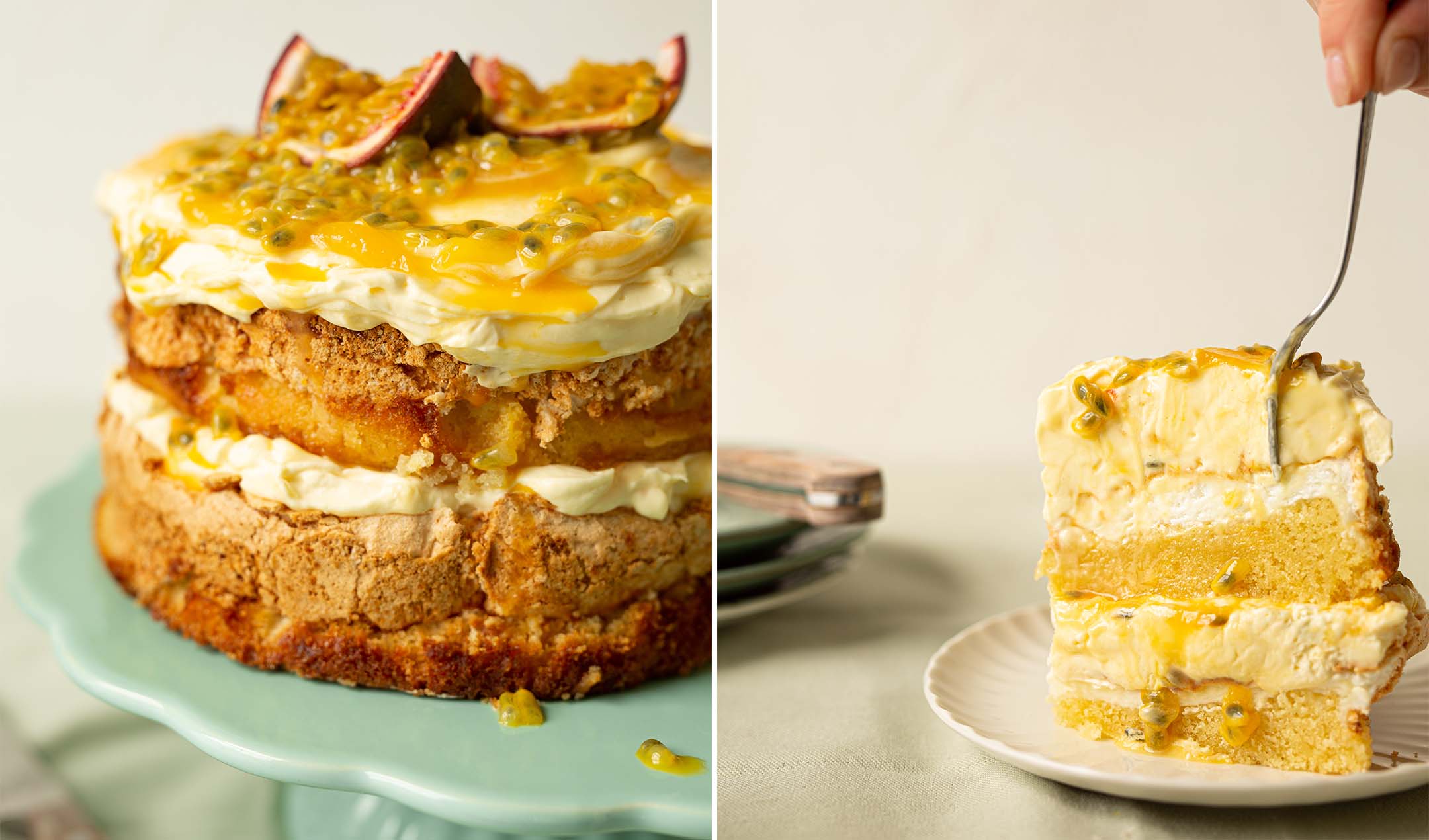 Passionfruit meringue gateaux