Tick the ingredients you need to add your shopping list.
For the 'cheese' sauce:
For the tortilla chips:
To serve:
---
In the bowl of a food processor, combine all of the ingredients for the 'cheese' sauce. Whizz until completely smooth, scraping down the sides if and when necessary.

Transfer half of the sauce to a saucepan and set aside. Place the remainder in the fridge for another use (see tip).

Preheat the oven to 200˚C/180˚C fan/gas mark 6.

Stack the tortillas and slice them into six triangles using a large knife.

In a coffee grinder, small blender or pestle and mortar, grind together the nutritional yeast, chilli powder, sea salt, turmeric, garlic powder, onion powder, and smoked paprika to form a fine powder. Transfer to a bowl and stir in the oil to create a paste.

Place the saucepan of 'cheese' sauce over a medium heat and warm gently, stirring regularly.

Brush each side of the tortilla chips with the paste, then place in a single layer on a baking tray.

Bake for three minutes per side until light brown and crispy, watching closely so they don't burn.

Remove from oven, transfer to a plate lined with kitchen paper and allow to cool for five minutes.

Place the tortilla chips on a serving platter and drizzle generously with the sauce. Add salsa, guacamole and/or jalapeños, to serve.
Note:
vegetable stock can be used as an alternative to chicken stock, if you wish.
Coconut oil can be used as an alternative to avocado oil, if you wish.
Nutrition Facts
Per serving: 237kcals, 8.7g fat (4g saturated), 31.2g carbs (3.4g sugars), 11.1g protein, 8g fibre, 1.243g sodium
---
TOP TIP
This recipe will make more "cheese" sauce than you need. Transfer half to a tub and store it in the fridge for up to a week. Use it in place of the béchamel in a lasagne, or drizzle over tacos, meatloaf, or burgers.
If you'd like to know about living lactose-free, we have an article for that!
Popular in Dairy-free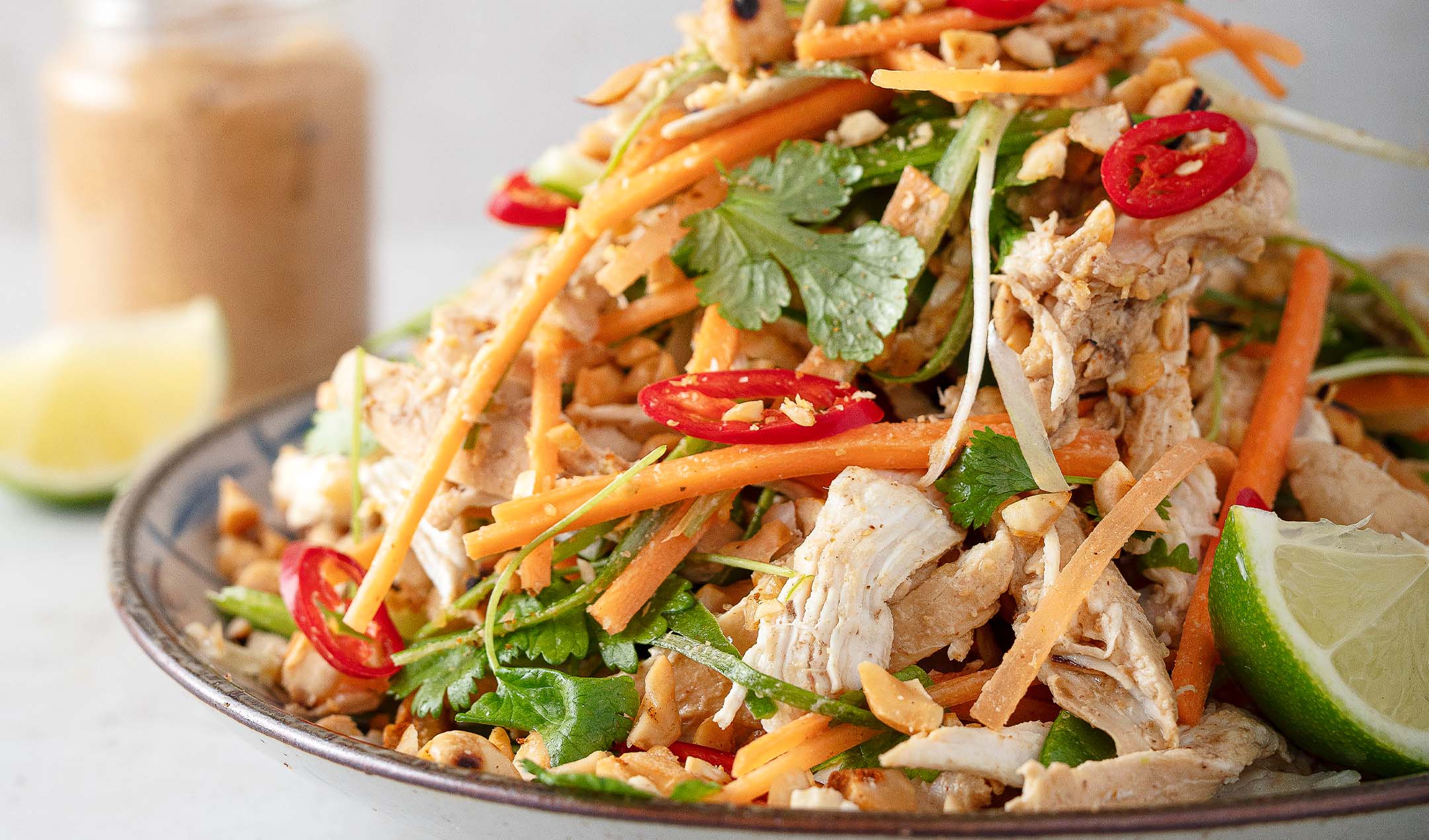 Peanut chicken salad