Tick the ingredients you need to add your shopping list.
To make the dressing, put all of the ingredients except salt and pepper in a high- powered blender or a food processor. Blend until combined, scraping down the sides as necessary. Season with salt and pepper. Store in an airtight container for up to two days—it will probably get a bit brown on the surface; just scrape this off or mix it in.
Put the quinoa in a fine-mesh sieve and run it under cold water to rinse for a minute. Add 200ml water to a small pot and bring to a boil. Add the quinoa, bring back to a simmer, cover, and cook for 17 minutes. Keep the lid on and let it steam for about five minutes. Fluff up with a fork, and then transfer to a rimmed baking sheet. Let cool and dry off (this will take about 30 minutes— really make sure it's dry!).
Meanwhile, get your grill or grill pan heating over high heat. Trim the ends from three heads of broccolini and toss in a couple of tablespoons olive oil and season with salt and pepper. Add the broccolini to the grill and cook until well charred and crisp-tender, about four minutes per side. Heat about 6mm neutral oil in a 25cm nonstick skillet. Set up a fine-mesh sieve over a heatproof bowl. Drop a piece of quinoa into the oil, and if it bubbles up like crazy, the oil is ready to go. Working in batches if necessary, carefully add some of the quinoa and push it around with a wooden spoon. Cook until golden brown, 4-5 minutes. Drain in the sieve, then transfer to a paper towel–lined rimmed baking sheet or plate. Season with salt.
Smear the green goddess dressing on a serving platter. Scatter the grilled broccolini on top, then sprinkle with the quinoa crisp. Serve with lemon wedges on the side.
This recipe is from the book 'Salad Freak: Recipes to Feed a Healthy Obsession' by Jess Damuck. Published by Abrams
Popular in Vegetarian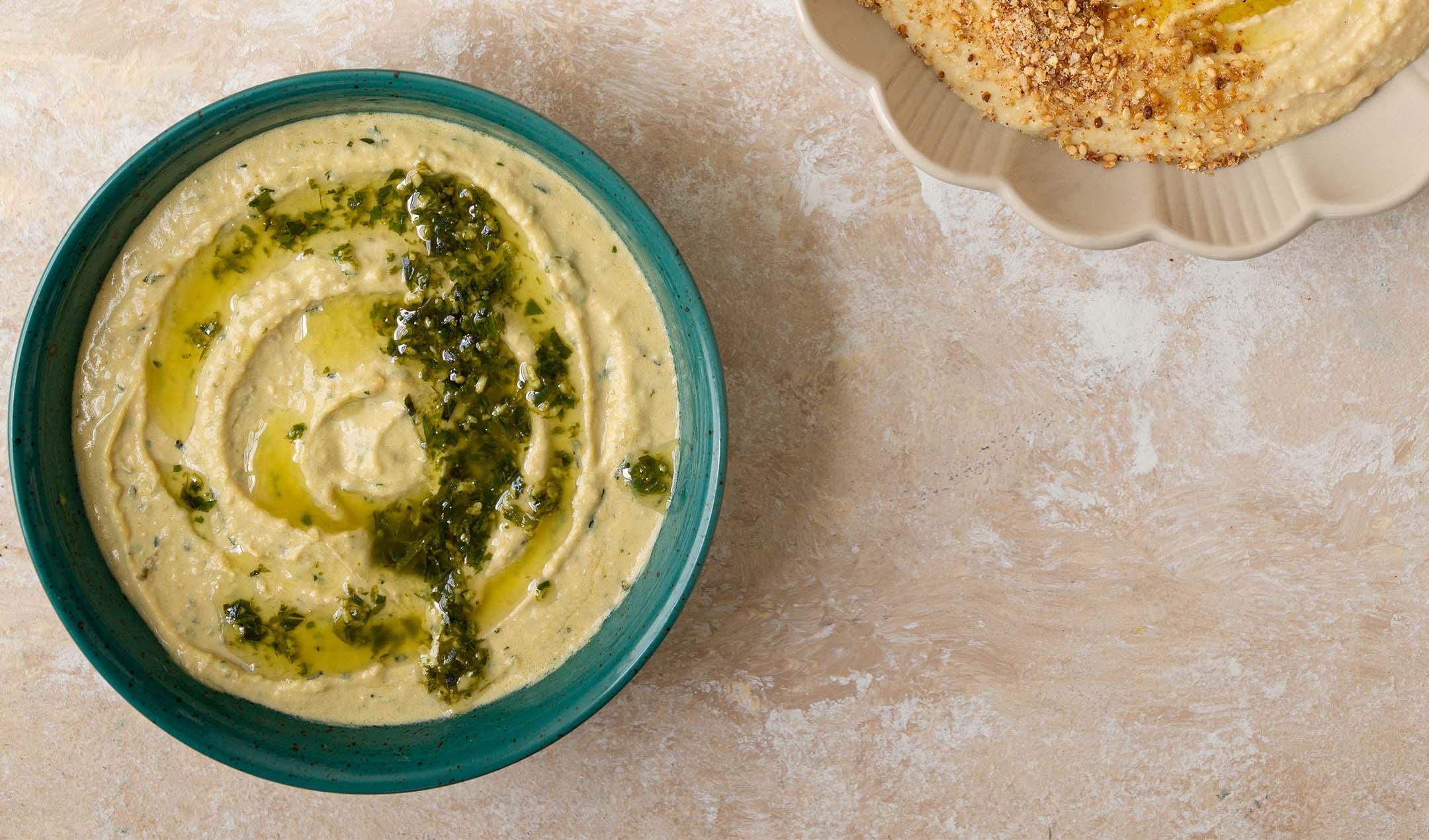 Pesto hummus