Tick the ingredients you need to add your shopping list.
For the chocolate cake:
For the fudgy buttercream:
For the decoration:
Preheat oven to 180˚C/160˚C fan/ gas 4. Line three 8" round tins with parchment paper.

In a bowl, whisk the cocoa powder and boiling water together until the cocoa has dissolved. Whisk in the stout and set aside to cool.
In a heatproof bowl, melt the chocolate over a pot of simmering water. Once melted, set aside to cool.
In a bowl, beat the butter, vanilla and both the sugars together until light and fluffy. Slowly stream in the eggs little by little, beating after each addition to avoid the mix from splitting.
Once all the eggs are added, spoon in the cooled melted chocolate and mix to combine.
In a separate bowl, sieve the flour, bicarbonate and salt together. Alternate adding the flour and stout mix to the butter in three stages, the mix will be very runny.
Divide the mix between the prepared tins and bake for 25-30 minutes. Once baked allow the sponges to cool in the tins for 10 minutes, then transfer to a wire rack to completely cool.
For the buttercream, place the chocolate and cream in heatproof bowl set over a pot of simmering water, stirring occasionally until the chocolate has melted and the mix is smooth.
Remove the bowl from the heat, whisk in the sour cream, vanilla and salt. Allow the mix to cool and whisk occasionally by hand (don't whisk too quickly or use an electric mixer). Place the buttercream in the fridge for an hour to thicken.
To assemble the cake, place one of the sponges on a cake board or cake stand and top with a layer of buttercream. Repeat this step for the other two layers.
Using a spatula or palette knife, spread half the remaining icing all over the cake; there will be small crumbs sticking to the icing. Refrigerate the cake for 30 minutes to help the icing set.
Spread the other half of the remaining icing over the cake so it is smooth and covers any rogue crumbs.
In a food processor, blitz the Oreos to a sandy texture; sprinkle over the top layer and around the bottom edge of the cake.
For the zombies, paint different faces using food colouring or edible pens onto the marshmallows. For the eyes, stick on the smarties using some of the remaining buttercream and scatter them over the top of the cake.
For the tombstones, melt the white chocolate in a bowl over a pot of simmering water. Dip a toothpick into the white chocolate to write RIP and different dates on a variety of biscuits. Allow the chocolate to set, and then push the biscuits down into the sponge to have them standing upright like gravestones.
Nutrition Facts
Per Serving: 371kcals, 16.9g fat (10.1g saturated), 49.5g carbs, 30.2g sugars, 5.1g protein, 3.3g fibre, 0.302g sodium
This recipe is sponsored by Siúcra 
Popular in Cakes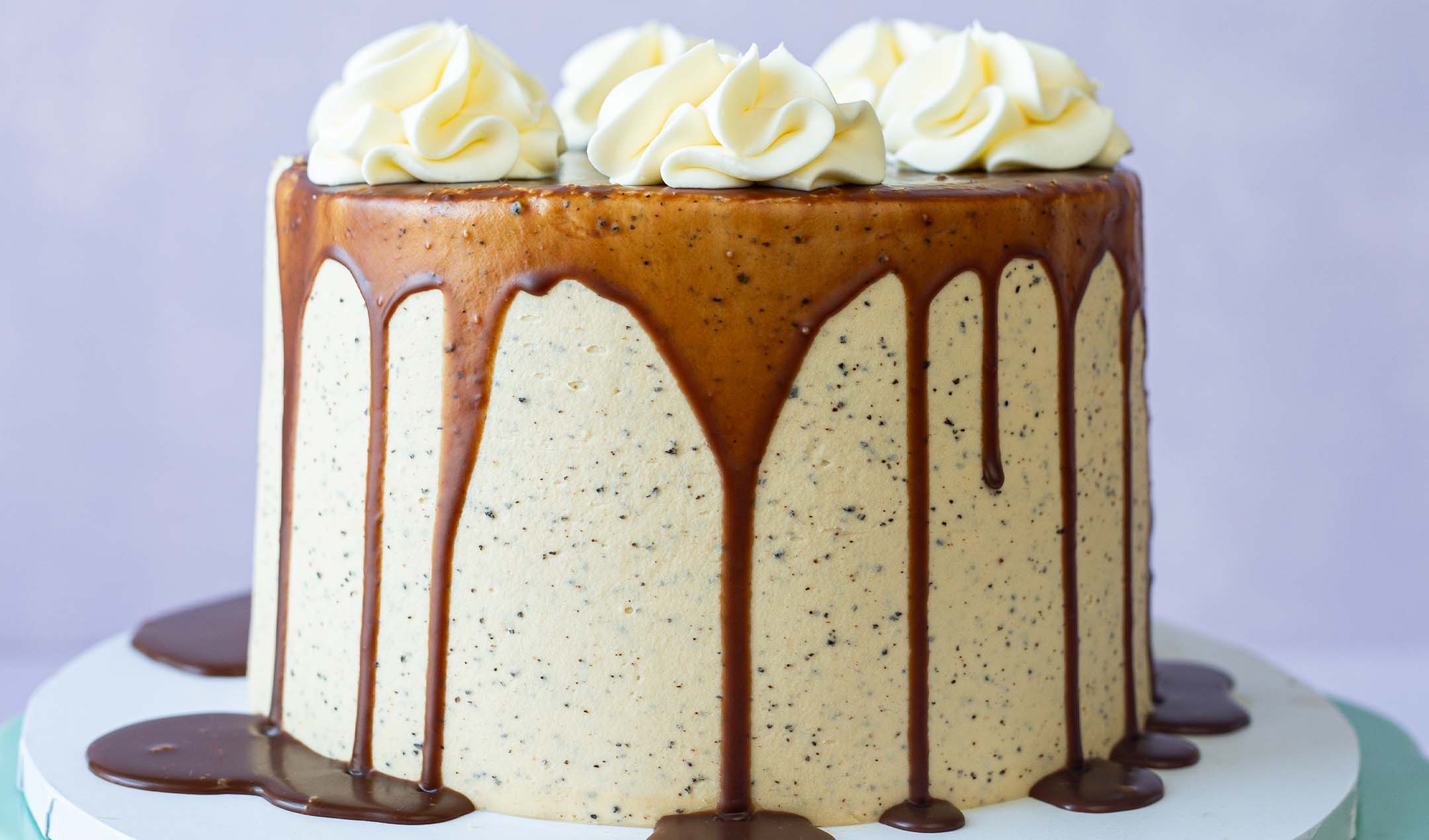 Chai tea cake