Serves
2
(with plenty of extra butter)
Tick the ingredients you need to add your shopping list.
For the café de Paris butter:
For the steaks:
To serve:
In a large bowl, beat the butter with a wooden spoon until slightly creamy texture.

In a blender or food processor, whizz the remaining ingredients for the Café de Paris butter into a smooth paste, then beat this paste into the whipped butter.
Spoon 2-3 tablespoons worth of butter onto a piece of cling film and roll up tightly into a small log. Repeat with the remaining butter. Store the butter in the freezer, removing a log at a time when needed.
Take the steaks out of the fridge 30 minutes before cooking and allow to come to room temperature. Pat dry with kitchen paper, then season on both sides with salt and pepper.
Heat a heavy pan over a high heat until very hot. Add a splash of rapeseed oil. Add the steaks and cook for 2-3 minutes per side for medium-rare or until cooked to your liking, turning to sear the rounded edges too.
As the steaks cook, unwrap one log of the café de Paris butter and cut into slices.
When the steaks are almost cooked, add a thick slice of the butter to the pan and allow to foam. Baste the steaks with the butter.
Transfer the steaks to a plate, tent loosely with foil and allow to rest for 8-10 minutes.
Serve the steaks with a slice of café de Paris butter on top and thick-cut jacket chips.
Nutrition Facts
Per Serving: 410kcals, 31.1g fat (9.9g saturated), 9.8g carbs (3.9g sugars), 24.6g protein, 4.3g fibre, 0.347g sodium
Popular in Beef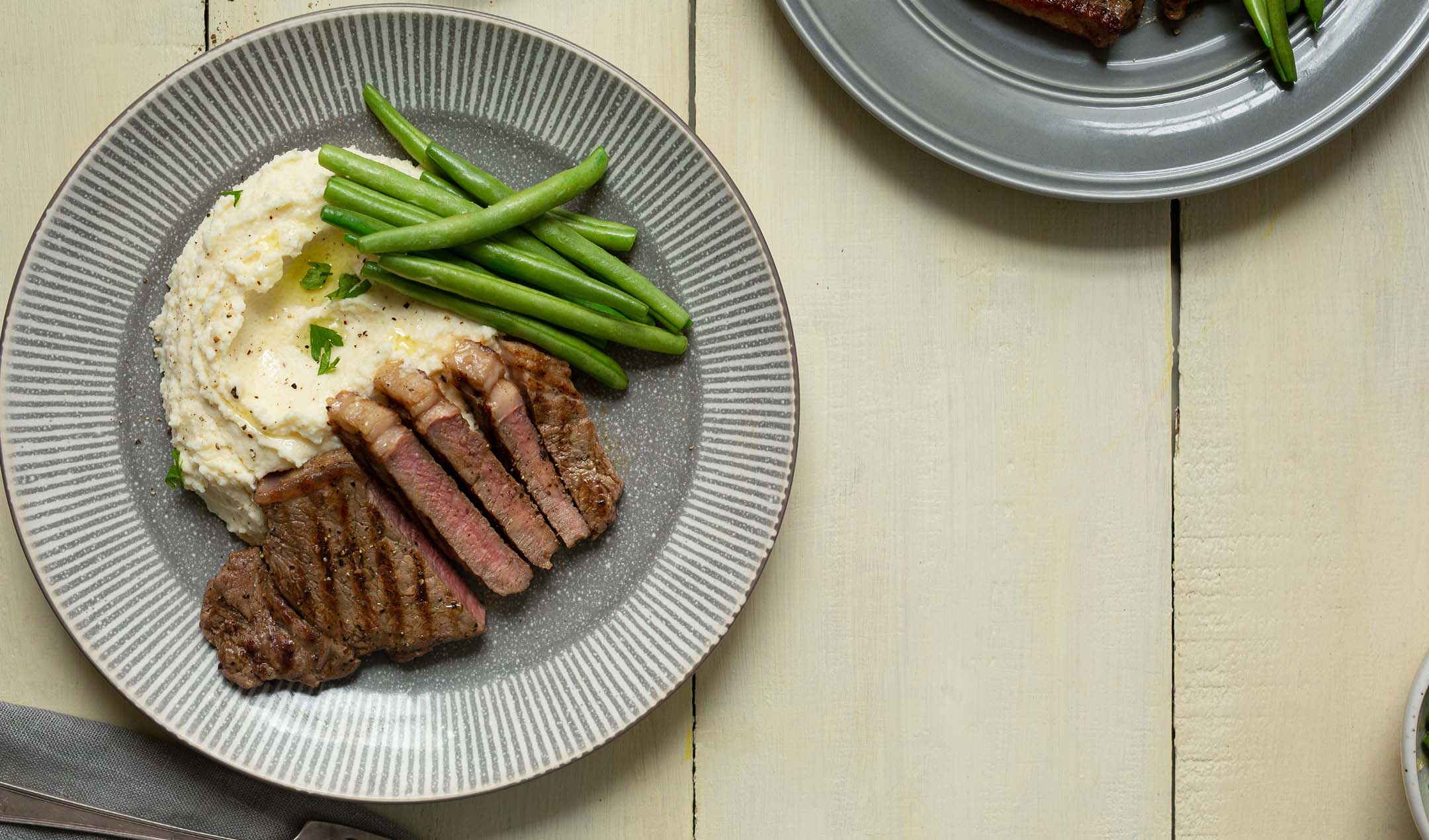 Steak with greens & celeriac mash