Tick the ingredients you need to add your shopping list.
For the spiced cake:
For the buttercream:
For the tree:
To decorate:
Preheat the oven to 180˚C/160˚C fan/gas mark 4. Line two deep 20cm cake tins with non-stick parchment paper.
To make the sponges, beat together the butter and sugars in a large bowl until light and fluffy. Add the eggs one at a time, beating after each addition.
Fold in the flour, cinnamon, baking powder and milk. Stir until just combined.
Divide the mixture evenly amongst the tins and bake for 25-30 minutes or until a skewer inserted in the centre comes out clean. Set the sponges aside and allow to cool completely.
To make the buttercream, beat together the icing sugar, cinnamon and unsalted butter until smooth. Add a little milk or hot water to loosen the buttecream to a spreadable consistency.
To assemble the cake, place the first sponge onto the centre of a 25cm cakeboard, using one teaspoon of the buttercream to help the cake stick.
Spread over some of the buttercream and add the second sponge on top.
Using a palette knife or offset spatula, spread the buttercream over the top and sides of the cake, filling any gaps.
There will be crumbs in the icing, so place the cake into the fridge for 30 minutes. Once set, spread over more buttercream to cover any crumbs and smooth out. Refrigerate the cake until set.
To cover the cake, knead the white fondant until elastic. Roll the fondant out on a surface dusted with cornflour or icing sugar, working quickly to stop it from drying out. Lift the fondant and drop it onto the cake.
Smooth the fondant around the top edge first, then stretch and pull the fondant around the edges until all the sides are smooth. Use a cake smoother to smooth the rest of the cake. Set aside.
To make the Christmas tree, melt the marshmallows in a saucepan over a medium-low heat, stirring occasionally to prevent burning.
Once melted, stir in the Rice Krispies. Allow the mix to cool slightly before shaping.
Coat your hands in some sunflower or vegetable oil. Take the Rice Krispie mixture and mould into a cone shape. You may need to keep oiling your hands, as it will be sticky! Allow the tree to set for five minutes before decorating.
---
Popular in Cakes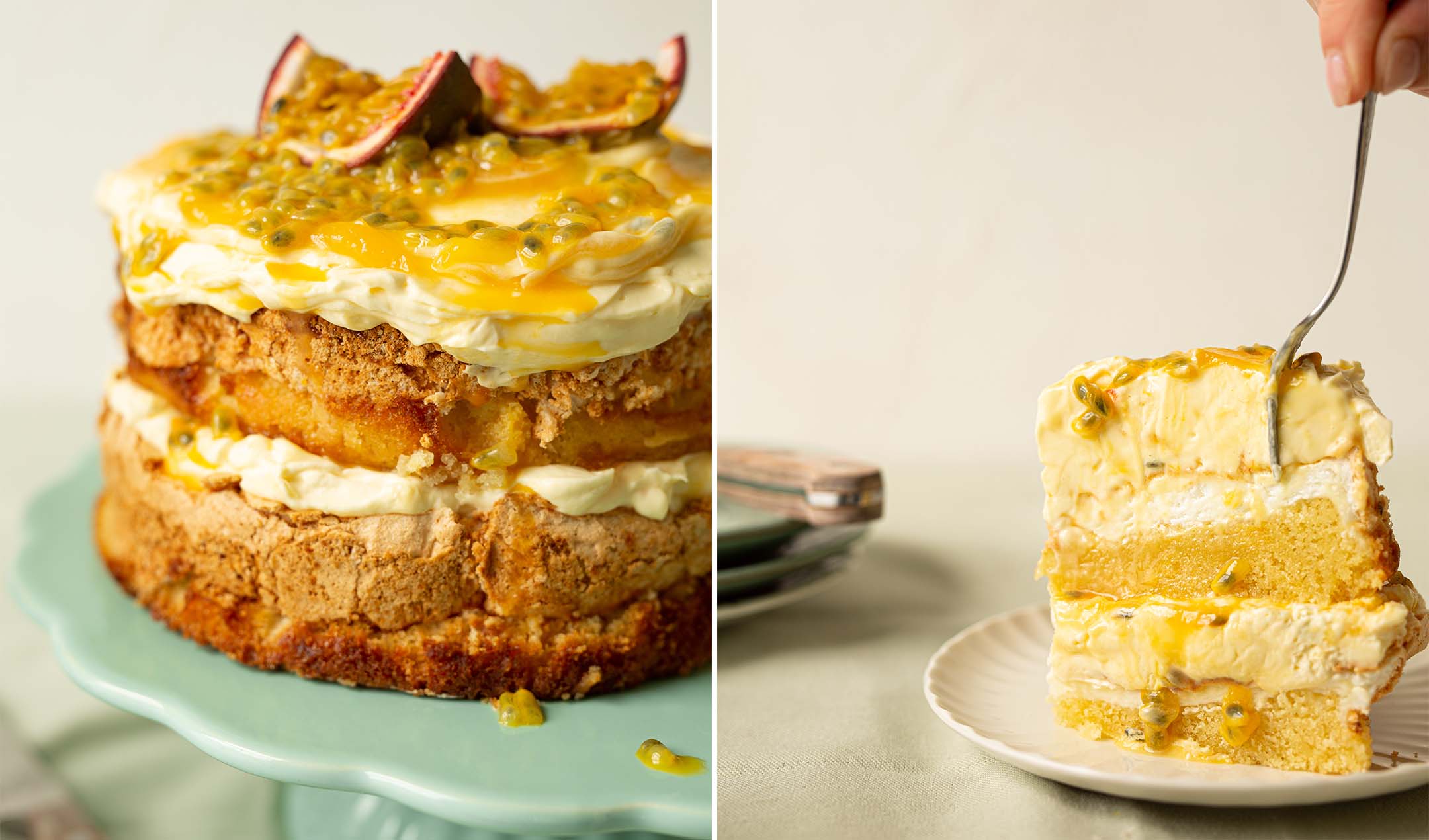 Passionfruit meringue gateaux