Tick the ingredients you need to add your shopping list.
For the chocolate cake:
For the peanut butter icing:
For the chocolate ganache:
Preheat the oven to 180˚C/160˚C fan/gas mark 4. Grease three 20cm round cake tins and line with parchment paper.
Sift the flour, sugar, cocoa powder, bicarbonate of soda and baking powder into a bowl.
Whisk the milk, oil, vanilla and eggs in a large mixing bowl. Gradually stir in the flour mixture.
Slowly add the hot water to the batter and mix until well combined.
Divide the batter evenly among the tins and bake for 22-25 minutes, or until a skewer inserted into the centre comes out with a few moist crumbs. Leave to cool slightly in the tins, then remove to a wire rack to cool completely.
Beat the butter and peanut butter for the icing for two minutes until well combined.
Add half of the icing sugar and mix until smooth. Add half of the water (or milk) and mix until smooth. Repeat until all of the icing sugar and water has been incorporated.
When the cakes have cooled, check if they are domed in the centre. If so, use a large serrated knife to carefully slice off the rounded tops until they are flat.
Place the first cake layer on a serving plate or cardboard cake circle and spread over some of the icing to make a smooth, even layer.
Add about half of the chopped Reese's and press into the icing. Spread a small amount of icing on top of the Reese's.
Repeat these layers again, then top with the final cake layer.
Spread half of the remaining icing over the top and sides of the cake; there will be small crumbs sticking to the icing. Refrigerate the cake for 30 minutes — this will help the icing set.
Spread half of the remaining icing over the cake so it is smooth and covers any of the crumbs.
Run a small or offset spatula around the sides of the cake until smooth.
Place the chocolate in a heatproof bowl. Microwave the cream until it starts to bubble, then pour over the chocolate. Leave for 2-3 minutes until the chocolate softens, then whisk until smooth.
Use a spoon to drizzle the chocolate around the edge of the cake. Smooth the rest of the chocolate over the cake to cover the top. Leave to sit and firm up for 10 minutes.
Add the rest of the peanut butter icing to a piping bag. Add small dollops to the top of the cake. Scatter over the halved and crumbled Reese's.
Refrigerate the cake until ready to serve, then remove from the fridge 30 minutes before serving so it can come to room temperature.
Note: milk can be used as an alternative to water, if you wish.
Nutrition Facts
Per Serving 871 kcals, 47.9g fat (21.4g saturated), 107.2g carbs, 89.8g sugars, 11/9g protein, 3.6g fibre, 0.70g sodium
Popular in Cakes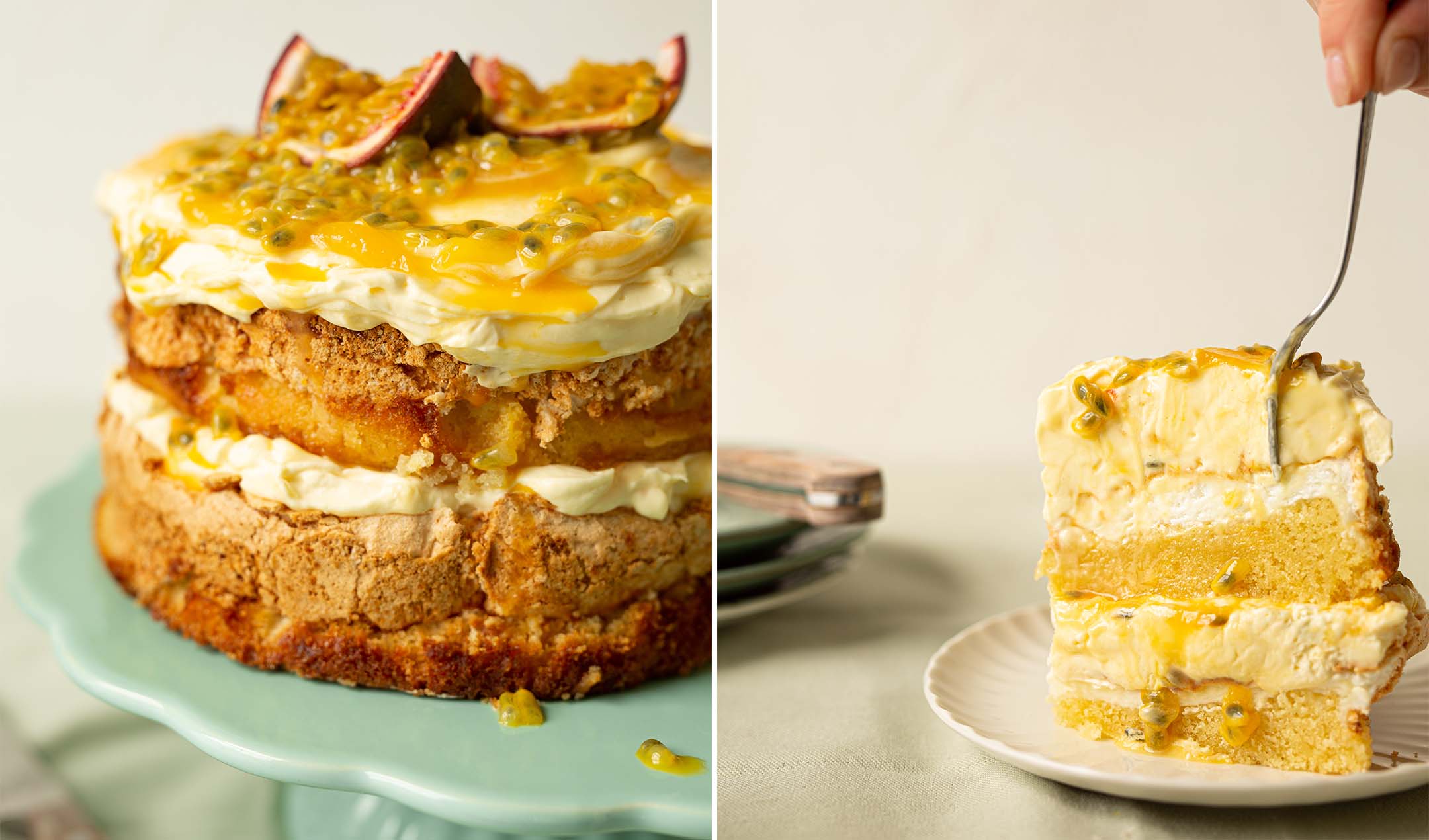 Passionfruit meringue gateaux