Tick the ingredients you need to add your shopping list.
1 Heat one tablespoon of the oil in a deep pot over a medium heat and cook the onion and pepper for 5-6 minutes until softened.
Add the garlic, half of the chilli powder and some black pepper and cook for 30 seconds, then stir in the stock and tomatoes. Simmer for 10-12 minutes until thickened, then whizz with a stick blender until smooth.
Meanwhile, heat the remaining oil in a large pan over a medium heat. Add the potatoes and sprinkle with the remaining chilli powder and some salt and pepper. Cook for 3-4 minutes until golden brown.
Pour in the sauce. Bring to a simmer and cook for 10 minutes until the potatoes are soft. Stir in the kale and allow to wilt slightly.
Use a spoon to make four wells in the sauce. One at a time, crack the eggs into a saucer, then slide one into each well. Turn the heat to low and cover with a lid. Cook for 10 minutes or until the eggs are just cooked to your liking, then remove from the heat.
Scatter over the goat's cheese and allow to sit with the lid on for 3-4 minutes longer or until the cheese has melted.
Serve immediately with some crusty bread for dipping, if desired.
Nutrition Facts
Per Serving: 628kcals, 33.4g fat (12.8g saturated), 46.3g carbs (3.3g sugars), 32.9g protein, 6.6g fibre, 0.648g sodium
Popular in Eggs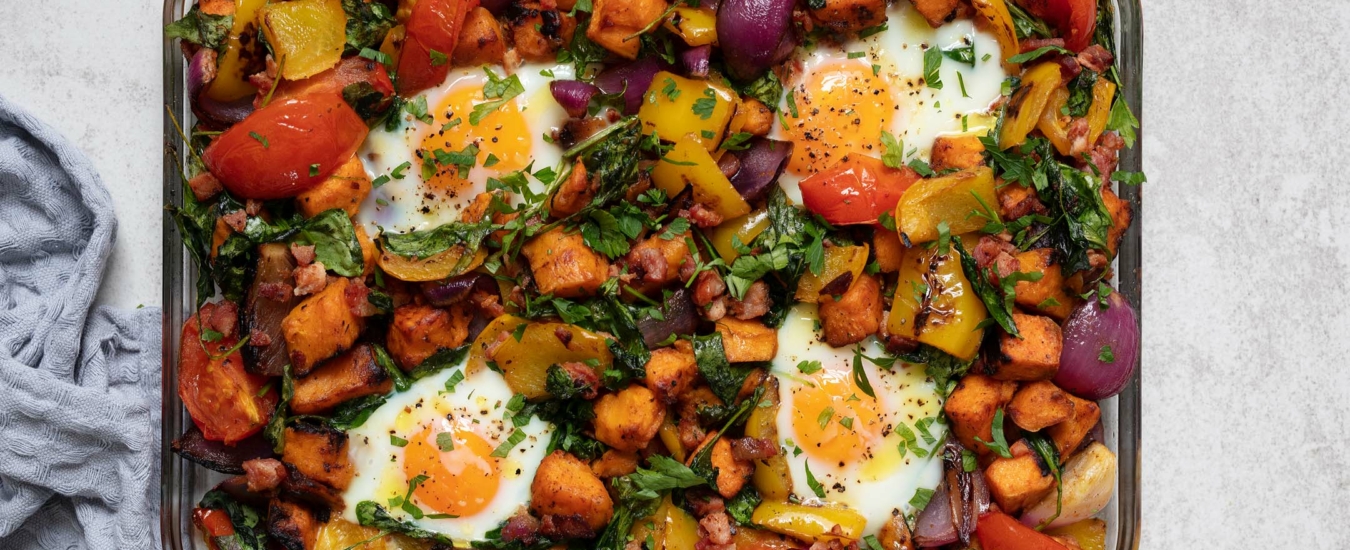 One-tray brunch bake