Tick the ingredients you need to add your shopping list.
Prick the potatoes 2-3 times with a fork or the tip of a sharp knife. Microwave for 3-4 minutes until just cooked, turning them over halfway through.
Preheat the oven to 200 ̊C/180 ̊C fan/gas mark 6.
Heat the olive oil in a 25-30cm ovenproof pan over a medium-high heat. Cook the onion and red pepper with the smoked paprika and some salt and black pepper for 5-6 minutes until softened.
When cool enough to handle, chop the potatoes into 1cm cubes. Add to the pan and turn the heat down to medium. Cover and cook for 4-5 minutes until the potatoes are tender. Add more salt and pepper to taste.
Beat the eggs in a jug with the thyme and some salt and pepper.
Scatter the pieces of Gouda over the potatoes and vegetables, then pour the eggs over the top. Shake and tilt the pan to make sure the eggs are evenly distributed.
Transfer the pan to the oven and bake for 8-10 minutes until the eggs are completely set and beginning to pull away from the sides and a knife inserted in the middle comes out clean. Allow to cool for 2-3 minutes, then slice into wedges.
Serve with a green salad and some crusty bread, if desired.
Nutrition Facts
Per Serving: 36kcals, 20.9g fat (8.6g saturated), 40.9g carbs (6.9g sugars), 22.9g protein, 6.6g fibre, 0.423g sodium
Popular in Eggs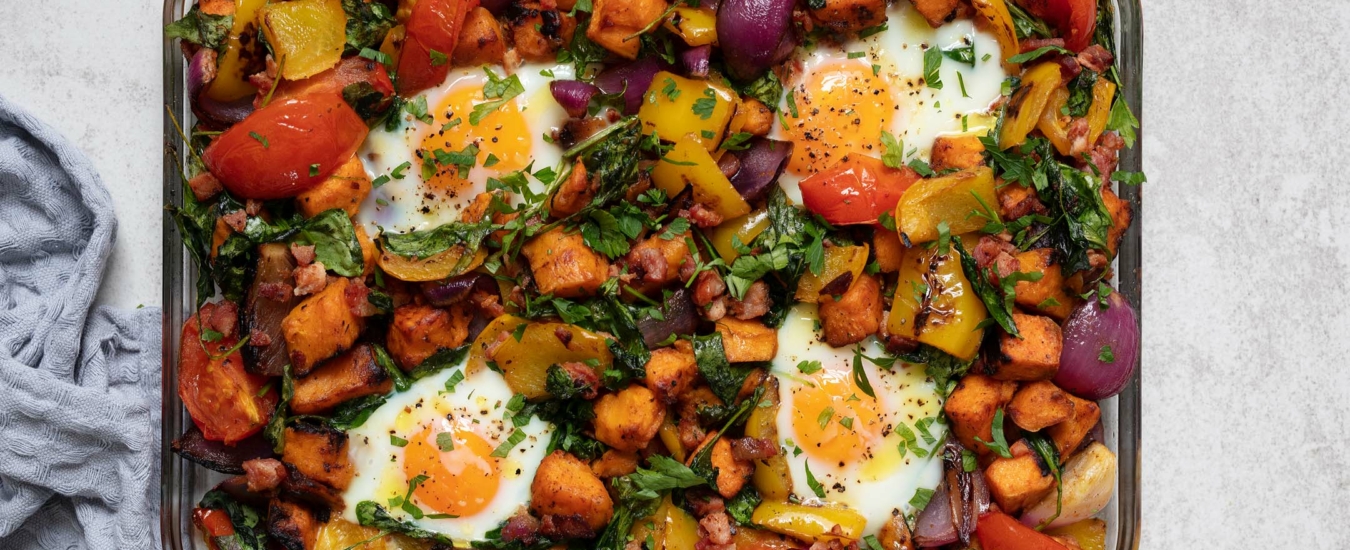 One-tray brunch bake