Tick the ingredients you need to add your shopping list.
Heat the olive oil in a large casserole dish over a medium heat. Add the chorizo and cook for 4-5 minutes until it is lightly golden and has released its oils. Use a slotted spoon to transfer to a plate and set aside, reserving the oil in the pan.
Add the onion, celery, green pepper and some salt and pepper and cook for 4-5 minutes until softened. Add the oregano, chilli flakes and garlic and cook for 30 seconds longer.
Return the chorizo to the pan, then add the white wine and the juice from the tins of tomatoes. Bring to a simmer and cook for 4-5 minutes until the liquid has reduced by half.
Add the tinned tomatoes and stock. Bring to a boil, then reduce the heat to medium-low and simmer for 15-20 minutes. Bread bowl fish & chorizo stew
Pat the fish dry with kitchen paper and season with salt and pepper. Gently stir the fish pieces into the stew. Bring to a gentle simmer and cook for five minutes.
Remove the casserole dish from the heat. Cover with a lid and allow to sit for another five minutes — the fish will finish cooking in the hot stew.
Slice a large round from the tops of the bread rolls and scoop out the centres.
Stir in the chopped parsley, then ladle the fish stew into the bread bowls. Serve with the bread bowl lids and pulled-out insides for dipping.
Note: vegetable stock can be used as an alternative to fish stock, if you wish.
Nutrition Facts
Per serving: 496kcals, 13.8g fat (4.9g saturated), 43.5g carbs (8.8g sugars), 46.1g protein, 2.5g fibre, 1.163g sodium
Popular in Dairy-free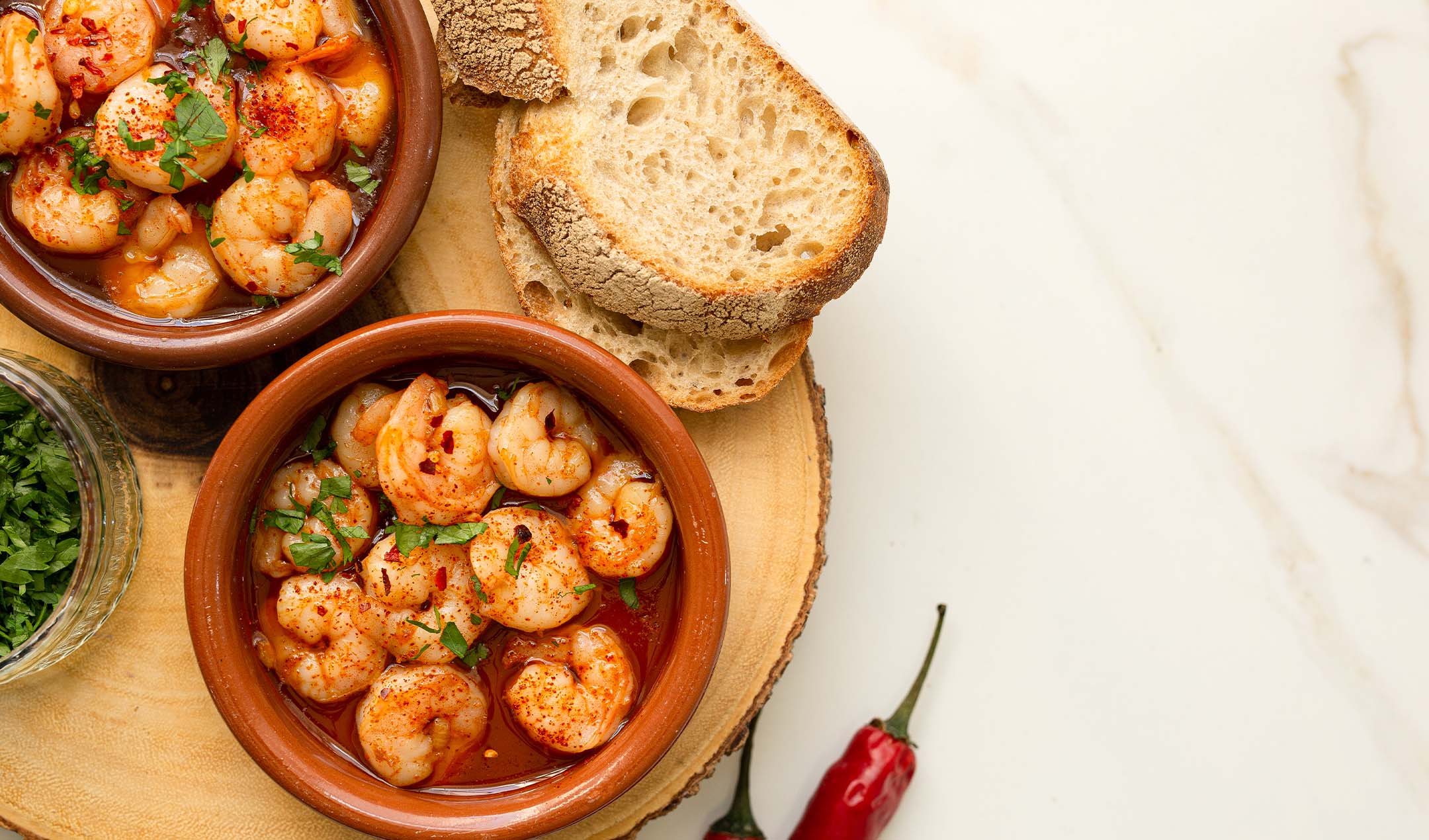 Gambas al ajillo