Tick the ingredients you need to add your shopping list.
For the garlic mayonnaise:
For the steak sandwiches:
To serve:
---
Make these homemade chips as the perfect accompaniment!
---
For the garlic mayonnaise, place the oils, egg yolks and lemon juice into a tall, narrow blending container. Place a stick blender at the bottom of the container and turn on. The mayonnaise will begin to emulsify and become thick at the bottom. Wait until most of the oil has been incorparted, then slowly and steadily move the blender up through the mixture.
Once the mixture is a mayonnaise consistency, stir in the garlic, salt and pepper. Set the mayonnaise aside.
Place the steak on a chopping board and cover with cling film. Bash it with a rolling pin to make it all roughly the same thickness.
Put the butter, olive oil and sugar into a large non-stick pan over a medium heat. Once the butter has melted, add the onions and cook for five minutes.
Add the vinegar and cover with a lid. Turn the heat to low and cook for 25-30 minutes or until caramelised. Stir the onions every ten minutes or so, adding a splash of water to loosen them if they begin to stick to the bottom.
Season the steak with salt and black pepper.
Place a large, non-stick pan over a high heat until very hot. Rub the steak with olive oil, then place in the pan. Cook for three minutes on each side for medium, or to your liking.
Remove the steak to a plate, cover with tin foil and rest for 4-5 minutes. Slice the steak against the grain into 1cm-thick slices. Pour the steak juices over the onions and stir to combine.
Split open the toasted ciabattas. On the bottom halves, spread on some garlic mayonnaise, then layer over the caramelised onions, steak and some rocket. Add some Parmesan shavings, then add the top halves of the ciabattas and press down lightly.
Nutrition Facts
Per serving: 945kcals, 55.3g fat (29.7g saturated), 69g carbs, 22.4g sugars, 46.6g protein, 3.8g fibre, 0.748g sodium
---
TOP TIP: For the mayonnaise, it's important that all ingredients are at room temperature before you begin.
Popular in Beef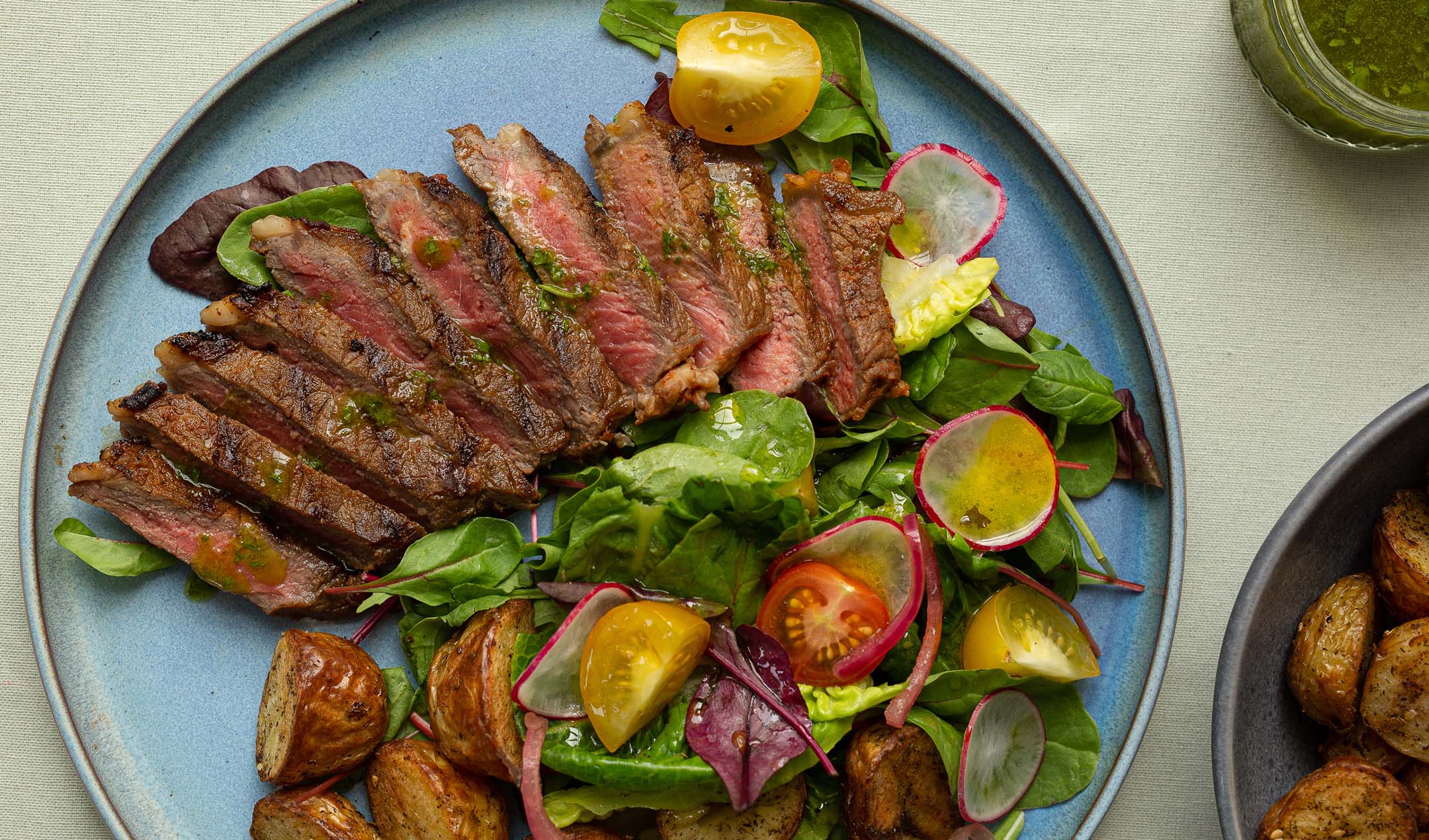 Steak salad, air fryer crispy potatoes and zingy coriander oil