Tick the ingredients you need to add your shopping list.
Slice the goats cheese into equal

pieces, about one heaping teaspoon

in size. Roll each piece of goat cheese

into a small, round ball. It helps to wear

disposable kitchen gloves to keep the

balls neat and hands clean.

Add the  flour, egg and breadcrumbs to three separate bowls. Line a plate or

small tray with parchment paper.

Roll each goats cheese ball in the flour until coated, then in the egg and finally in

the breadcrumbs. Place on the plate and repeat with the remaining cheese balls.

Place the plate in the freezer for 20 minutes; don't skip this step or the goats

cheese balls may fall apart in the oil!

Preheat the oven to 180 ̊C/160 ̊C fan/gas mark 4. Arrange the pecans in an even layer on a baking tray. Roast in the oven for five minutes until toasty; they may need another minute but be sure to keep an eye on them. When you are happy with them, remove from the oven and immediately pour over the maple syrup. Stir quickly to coat and leave t

o cool.

Add the quartered beetroot, oil and vinegar to a baking tray. Season with salt

and pepper and toss to coat. Roast in the oven for 10-15 minutes, tossing once or twice as they cook. Remove from the oven and set aside.

Heat some vegetable oil in a saucepan until it reaches a temperature of 190 ̊C. When hot, carefully lower 4-5 goat cheese balls into the oil. Fry for 1-2 minutes, turning halfway through, until light golden brown on all sides.

Carefully lift out the fried cheese and transfer to a cooling rack lined with

kitchen paper. Sprinkle with flaky sea salt.

Dress the lettuce leaves in a dash of olive oil, add to plates and layer up with roast beetroot, sliced cucumbers, pickled onions, toasted pecans and warm goats cheese balls. Drizzle with lots of beetroot dressing and enjoy right away.
Test kitchen tip: We sometimes find it difficult to judge when pecans are done toasting, as they're quite dark in colour anyway. It helps to remove one, let it cool slightly and then taste to check if it's done.
Nutrition Facts
Per serving: 501kcals, 35g fat (9.2g saturated), 29g carbs (12g sugars), 13.8g protein, 4.4g fibre, 0.195g
Popular in Diabetic-friendly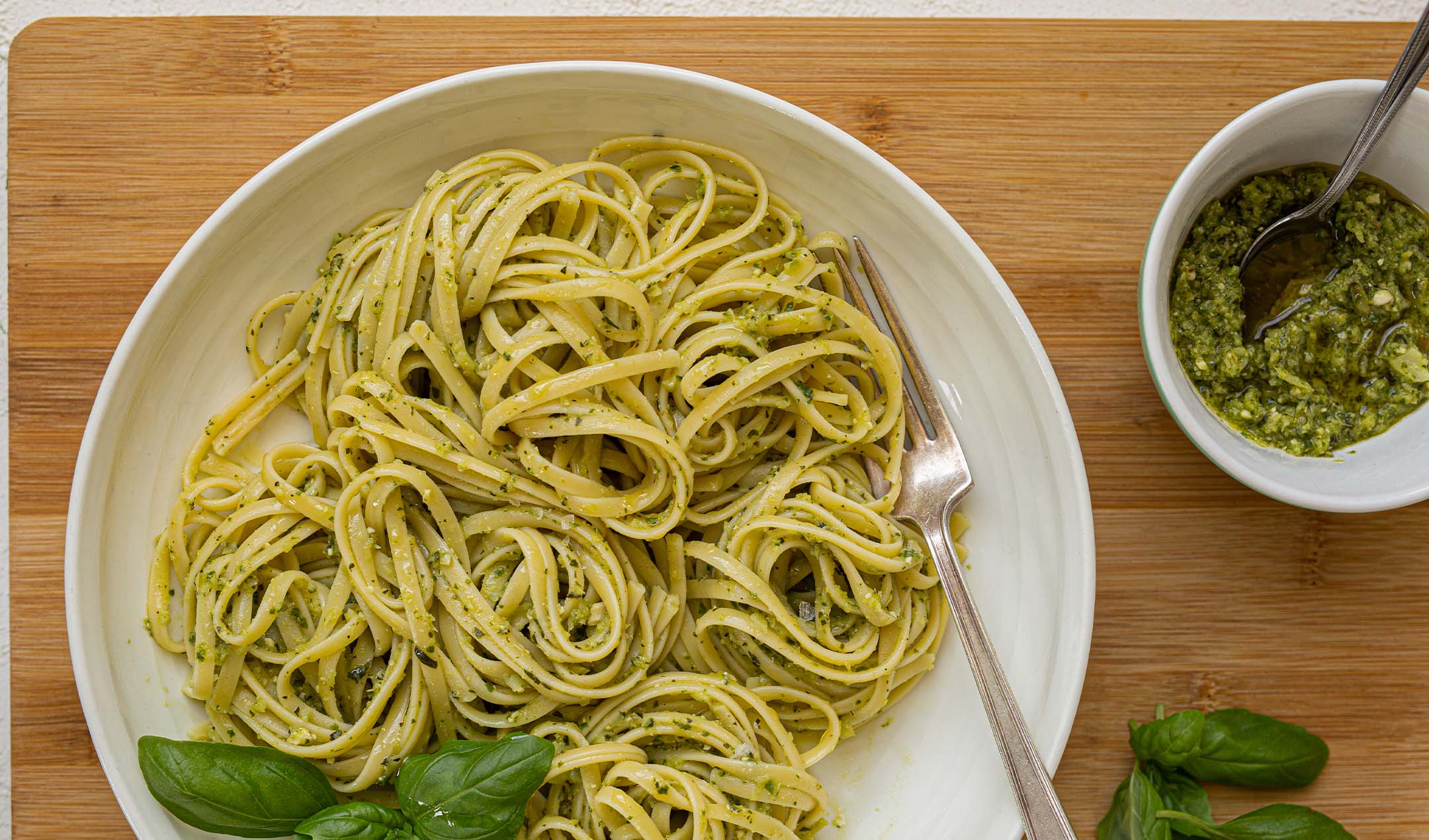 No-waste broccoli pesto pasta