Tick the ingredients you need to add your shopping list.
Pierce the potatoes all over with a fork and cook in the microwave until very soft when pierced with a knife. Set aside until cool enough to handle, then cut in half and scoop out the flesh into a large bowl.
Preheat the oven to 200°C/180°C fan/gas mark 6.
Season the fish with salt and pepper. Melt the butter in a large pan over a medium-high heat. Add half of the fish and cook for 4-5 minutes until just cooked through but not coloured. Transfer to a plate and set aside. Repeat with the remaining fish.
Add the garlic and spring onions to the same pan and cook for one minute. Scrape the mixture into the bowl with the potato, including all of the butter from the pan.
 Add the parsley and some salt and pepper. Use a potato masher or the back of a fork to lightly crush the potato, but be sure to leave it chunky.
Gently stir through the fish, breaking it up a little but leaving it quite chunky.
Divide the mixture into 12 equal portions and use damp hands to form them into small patties around 2cm thick.
Place the flour in one bowl, beat the egg in a second and pour the breadcrumbs into a third. One at a time, dredge the fishcakes in flour, then turn to coat in the beaten egg, then coat in breadcrumbs, pressing them on gently to coat completely.
Pour vegetable oil into a pan to a depth of 1cm and heat over a medium-high heat. Working in batches to avoid crowding the pan, cook the fish cakes for 1½ minutes per side until golden, then transfer to a plate lined with kitchen paper.
 Transfer the fish cakes to a baking tray and bake for 10 minutes.
 Serve with lemon wedges, green veg and tartare sauce.
Note: Sunflower oil can be used as an alternative to vegetable oil, if you wish.
Nutrition Facts
Per 2 fishcake portion (per serving): 527kcals, 25.8g fat (8.9g saturated), 40.5g carbs (1.9g sugars), 21.9g protein, 4g fibre, 0.175g sodium
Popular in Dairy-free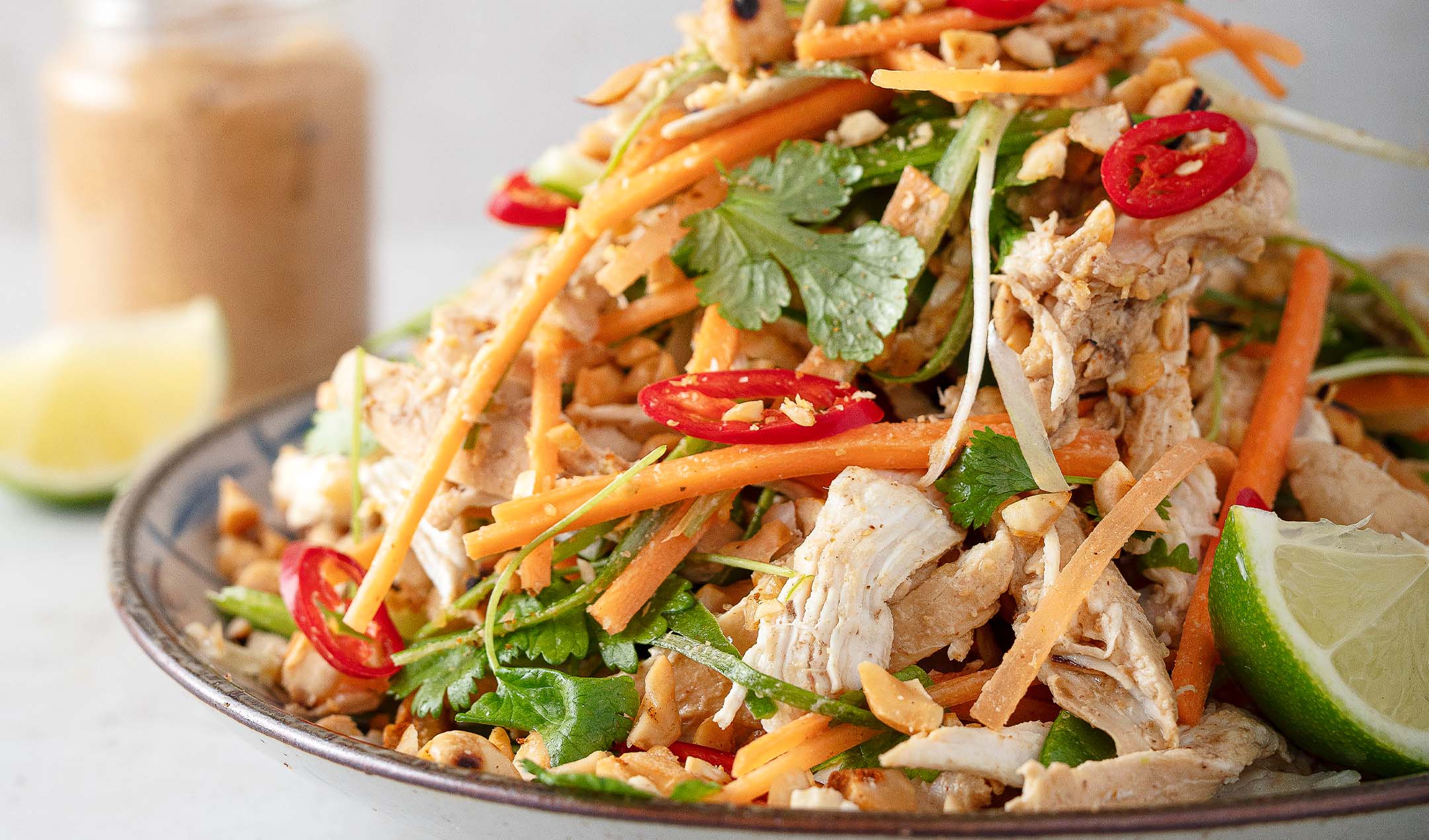 Peanut chicken salad