Tick the ingredients you need to add your shopping list.
For the marinade/dressing:
For the steaks:
For the salad:
In a jug, whisk together all the ingredients for the salad dressing until well combined.
Measure out 60ml of the mixture, pour it into a sealable bag and add the steaks, setting the rest of the mixture aside. Seal the bag and rub the marinade all around the steaks. Place in the fridge for 30 minutes.
Remove the steaks from the bag and allow to sit at room temperature for 20 minutes.
Melt the butter with the oil and garlic in a heavy-based pan over a high heat.
Add the steaks and cook for 3-4 minutes per side or until cooked to your liking. Transfer to a plate, tent loosely with foil and allow to rest for 10 minutes.
In a large salad bowl, combine the mixed leaves, red onion, avocado, cherry tomatoes and cucumber. Drizzle over most of the reserved dressing and toss to coat. Divide the salad between serving plates.
Slice the steaks against the grain and arrange over the salad. Crumble over the blue cheese, then drizzle with the remaining dressing to serve.
Note: Rapeseed oil can be used as an alternative to Olive oil, if you wish.
Nutrition Facts
Per serving: 408kcals, 37.4g fat (10.2g saturated), 11.1g carbs (3.8g sugars), 32.4g protein, 4.98g fibre, 1.417g sodium
---
TOP TIP: When cooking steak, make sure the pan is as hot as possible before adding the steak. This ensures a proper sear, adding a lovely colour and rich flavour.
Popular in Beef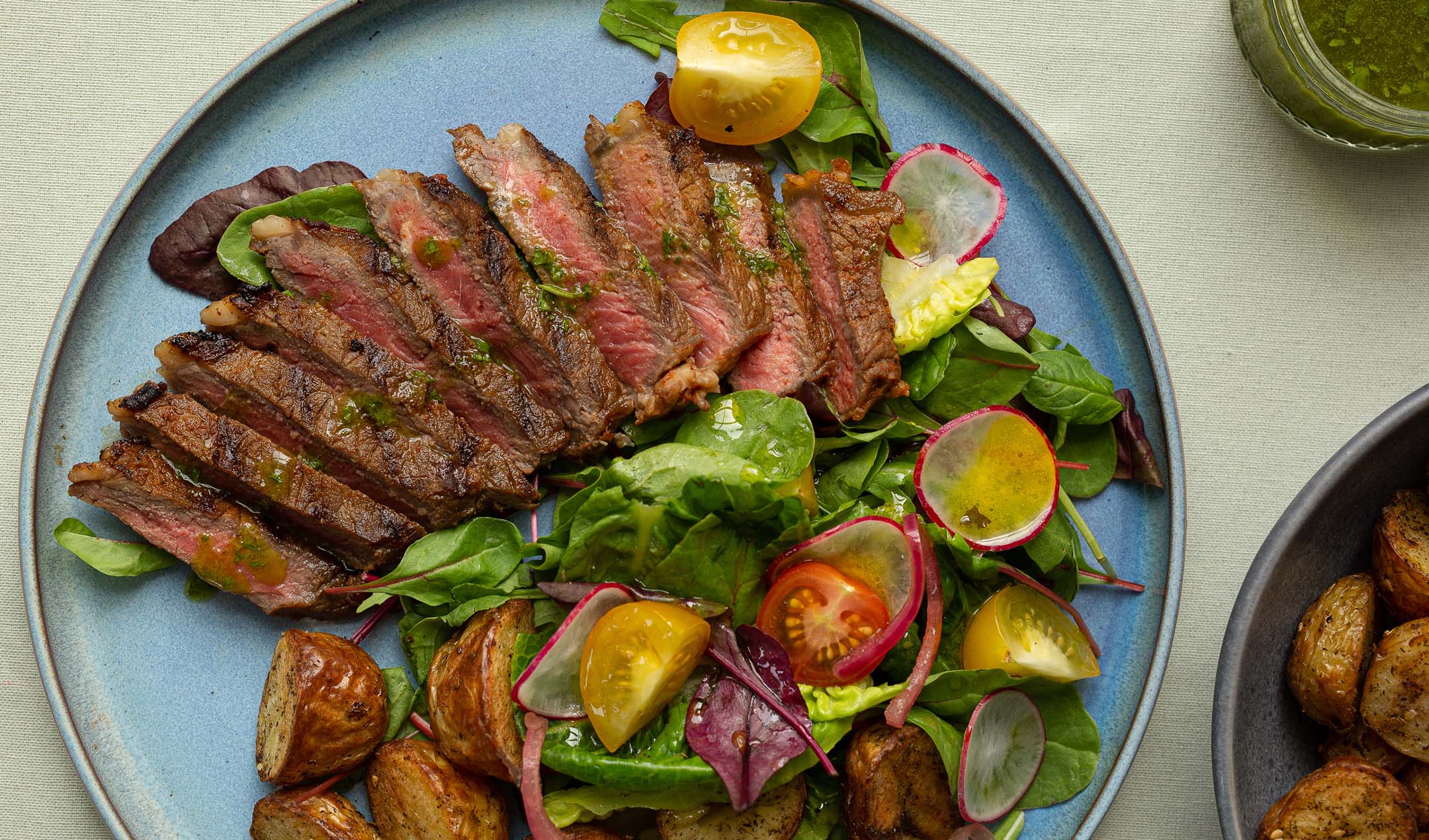 Steak salad, air fryer crispy potatoes and zingy coriander oil