Tick the ingredients you need to add your shopping list.
For the pastry:
For the meringue:
For the filling:
Preheat the oven to 180˚C/160˚C fan/gas mark 4. Grease six 10cm round tart tins and line the bases with parchment paper
In a large bowl, sieve together the flour and icing sugar. Use your fingers to rub in the butter until the mixture resembles breadcrumbs.
Mix in the egg yolk and enough water to form a soft dough. Turn the pastry onto a floured surface and lightly knead until the dough comes together. Wrap the pastry in cling film and refrigerate for at least one hour.
On a floured surface, roll the dough to about 4mm thick and cut into six equal pieces. Lift the pastry into the prepared tins, pushing it into the sides. Trim away any excess.
Line the pastry with some parchment paper and fill with baking beans. Bake the pastry blind for about 15-20 minutes or until the sides of the pastry are a pale golden colour. Remove the paper and the beans and bake for a further five minutes. Remove from the oven and allow to cool completely.
In a large saucepan over a medium heat, combine the chopped apples, sugar, water and cinnamon. Allow the apples to stew slowly until soft but still with some chunks. Stir in the raisins. Spoon the stewed apple into the tart tin and set aside.
For the meringue, put the sugar and the water into a small saucepan over a medium heat. Attach a sugar thermometer to the side of the pot.
Slowly start to whisk the egg with using an electric beater or a free standing mixer with a whisk attachment. Mix until the egg white starts to foam.
Allow the sugar to reach 121˚C, then slowly stream the hot sugar into the egg white. Turn the mixer to full speed and whisk until the egg whites have cooled to room temperature.
Remove the tart from the fridge. Pipe the meringue on top and toast using a blow torch or under the grill. Sprinkle with a little cinnamon and serve.
Nutrition Facts
Per serving: 344kcals, 12g fat (7g saturated), 58.2g carbs (37.7g sugars), 4.1g protein, 2.9g fibre, 0.086g sodium
Popular in Meringue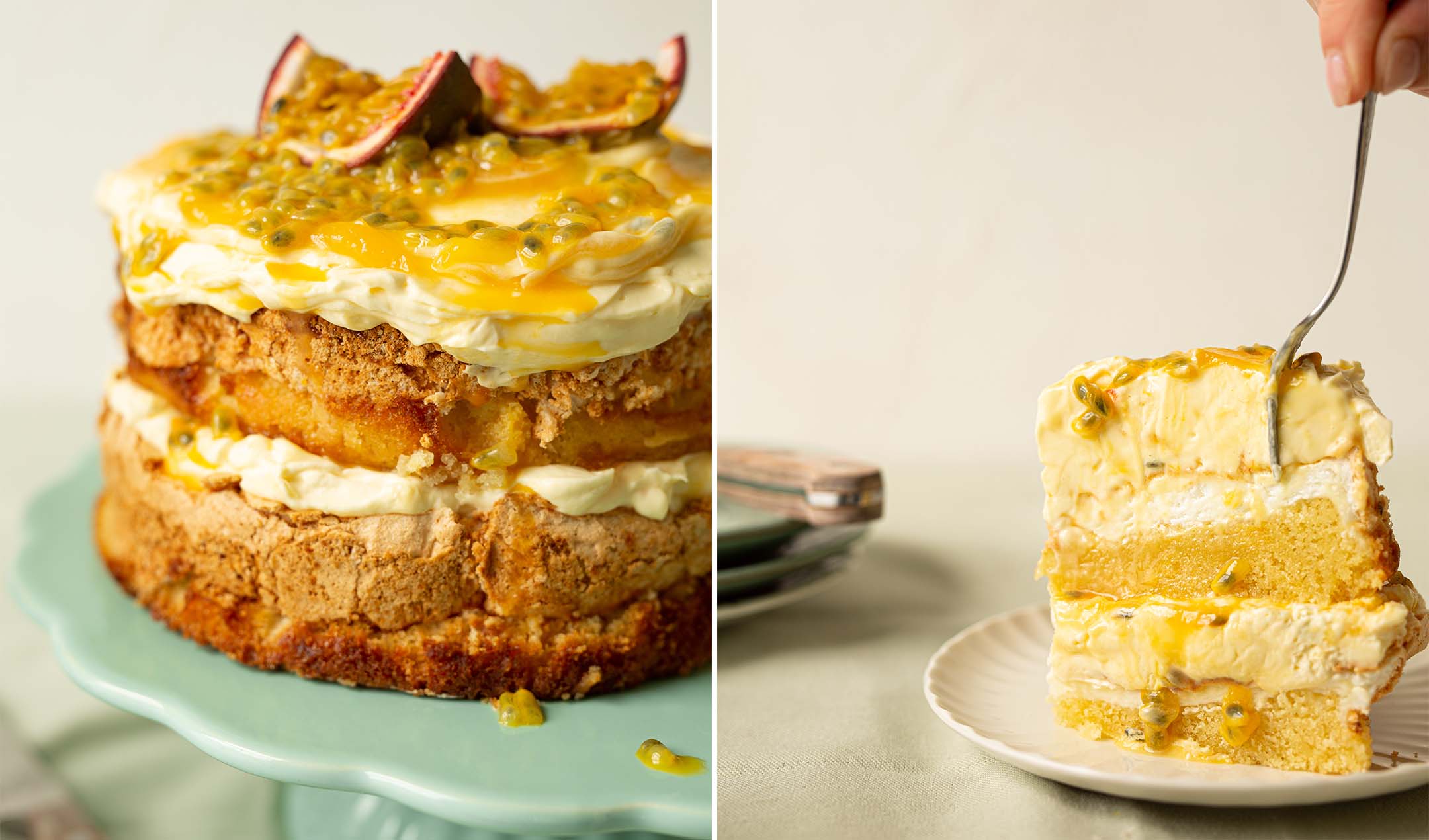 Passionfruit meringue gateaux