Leek carbonara
Serves 2
---
Cook
80g pancetta
in a pan over a medium heat for 5-10 minutes or until the fat has rendered and the pancetta is crisp. Transfer to a plate using a slotted spoon. Melt a
knob of butter
in the same pan and add
2 washed, trimmed and thinly sliced leeks
. Turn the heat to medium- low and cook gently for 15-20 minutes or until the leeks are very soft. Return the pancetta to the pan. Meanwhile, bring a large pan of salted boiling water to the boil over a high heat and cook
160g spaghetti
according to package instructions. In a bowl, beat
3 egg yolks
together with
70g Parmesan
and
2 tsp freshly ground black pepper
. Use a pair of tongs to transfer the spaghetti straight from the water to the pan with the leeks. Add 2 tbsp of the pasta cooking water, then reduce the heat to very low and stir for one minute. Scrape in the egg mixture and use the tongs to gently toss everything together for 1-2 minutes until the sauce thickens and clings to the spaghetti. Divide between two bowls and serve.
---
Buttery leeks with crunchy breadcumbs
Serves 4 as a side
---
Wash and trim
3 large leeks
, then cut in half lengthways and slice on the diagonal into 2-3cm pieces. Melt
80g butter
in a large pan with a lid. Add the leeks and stir to coat in the butter. Season generously, cover with a lid and cook gently for 25-30 minutes or until very soft, stirring occasionally and adding a splash of water if the leeks start to catch. Meanwhile, in a small bowl, stir
together 50g breadcrumbs, 1 tbsp chopped rosemary or thyme leaves
and some
salt and black pepper
. Heat
1 tbsp olive oil
in a pan over a medium heat and cook
1 crushed garlic clove
for two minutes. Add the breadcrumb mixture and cook for 3-4 minutes until golden and crunchy. Place the buttery leeks in a serving dish and sprinkle over the breadcrumbs.
---
Leek and pea broth with tortellini
Serves 2
---
Heat
2 tbsp olive oil
in a pan over a medium heat and add
2 washed, trimmed and chopped leeks
. Season with
salt and pepper
and cook for 6-8 minutes until soft. Add
1.2L chicken or vegetable stock
and simmer for 10 minutes. Stir in
1 x 400g pack of spinach and ricotta tortellini
and
100g peas
. Simmer for 8-10 minutes or until the tortellini are just cooked. Stir in a handful of chopped fresh dill, then ladle into two warm serving bowls and top with a crack of black pepper and some grated
Parmesan.
Popular in Family meals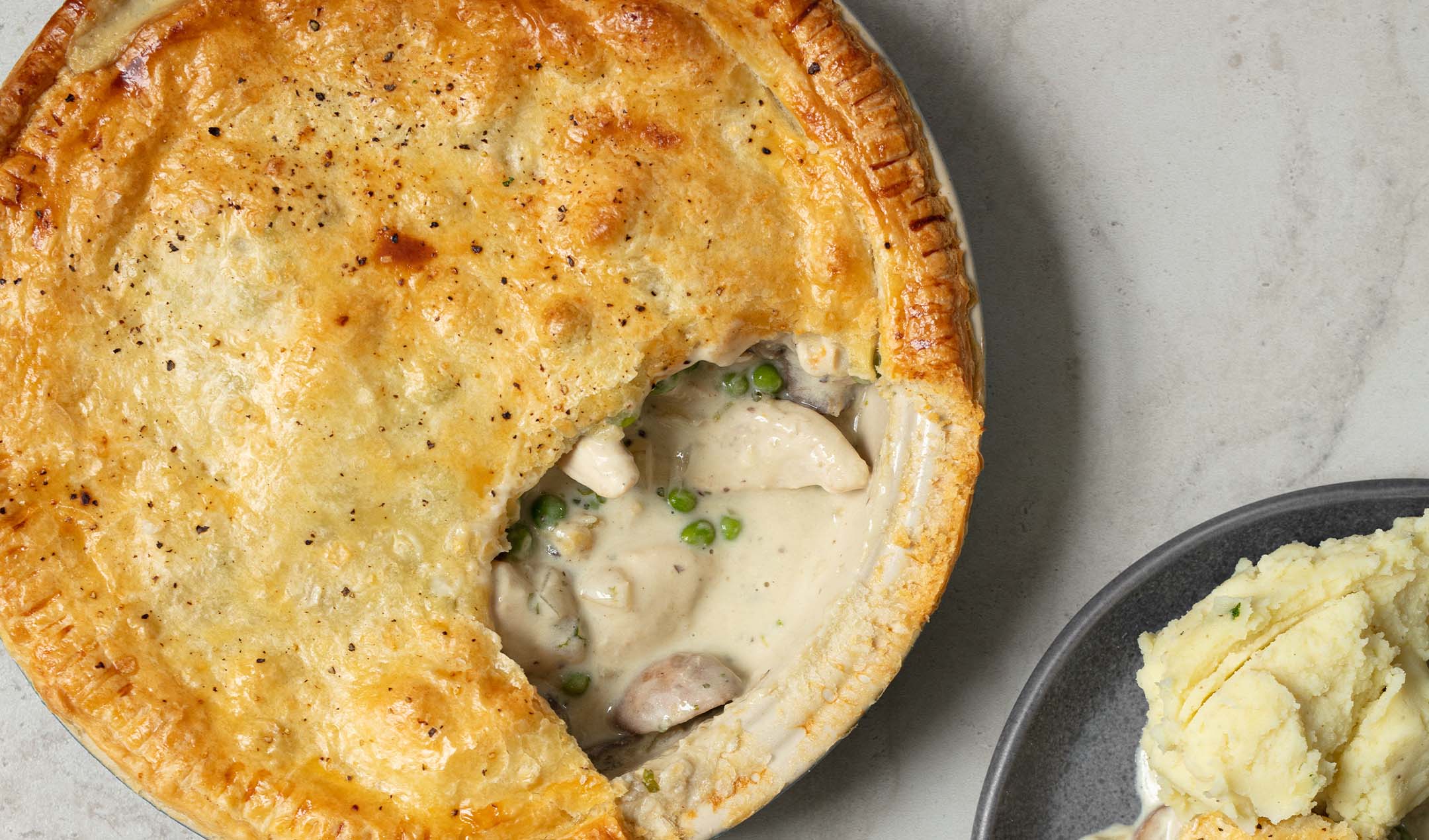 Chicken and mushroom pie