Kale and chorizo hash
Serves 2
---
Heat
1 tbsp rapeseed oil
in a pan, over a medium heat. Cook
80g chopped spicy chorizo, 1 deseeded and chopped red pepper
and
1 chopped onion
for 7-8 minutes until the chorizo is golden and the vegetables have softened. Turn the heat to high and stir
in 400g cooked, chopped leftover potatoes
and some
salt and black pepper
. Cook for 4-5 minutes or until the potatoes are hot through. Add
100g chopped kale leaves
and cook for one minute until wilting. Serve the hash as is, or top with
1-2 fried or poached eggs
per person.
---
Cheesy kale gratin
Serves 6-8 as a side
---
Preheat the oven to 180 ̊C/160 ̊C fan/gas mark 4 and coat a large baking dish with
cooking spray
. Using your hands, massage
400g kale
for 2-3 minutes to break down its fibres.
In a jug, stir together
200ml double cream, 50ml milk, 1 tsp Italian seasoning
and
1 tbsp wholegrain mustard
. Place the kale in the prepared dish and pour over the cream mixture. Season with some
salt and black pepper
and gently toss to coat. Scatter over
130g grated Gouda or mature Cheddar
and bake for 20-25 minutes or until the kale has wilted down and the cheese has melted. Serve immediately.
---
Kale and roasted sweet potato salad
Serves 4
---
Preheat oven to 200 ̊C/ ̊C fan/gas mark 6. Peel
500g sweet potato
, chop into 2cm cubes and place in a roasting tin. Drizzle with
1 tbsp olive oil
and season generously with
salt and black pepper
. Roast for 25-30 minutes until slightly golden and cooked through. Set aside to cool. Place
250g washed and finely shredded kale
into a serving bowl. Add
1 finely sliced small red onion
. In a jug, combine
4 tbsp extra-virgin olive oil, 11⁄2 tbsp lemon juice, 1 tsp Dijon mustard, 1 tsp honey
and some
salt and black pepper.
Stir to combine very well. Pour the dressing over the kale and top with the roasted sweet potato. Toss to combine, then scatter over
40g flaked almonds
. If desired, crumble over
60g goat's cheese or feta
before serving.
Popular in Family meals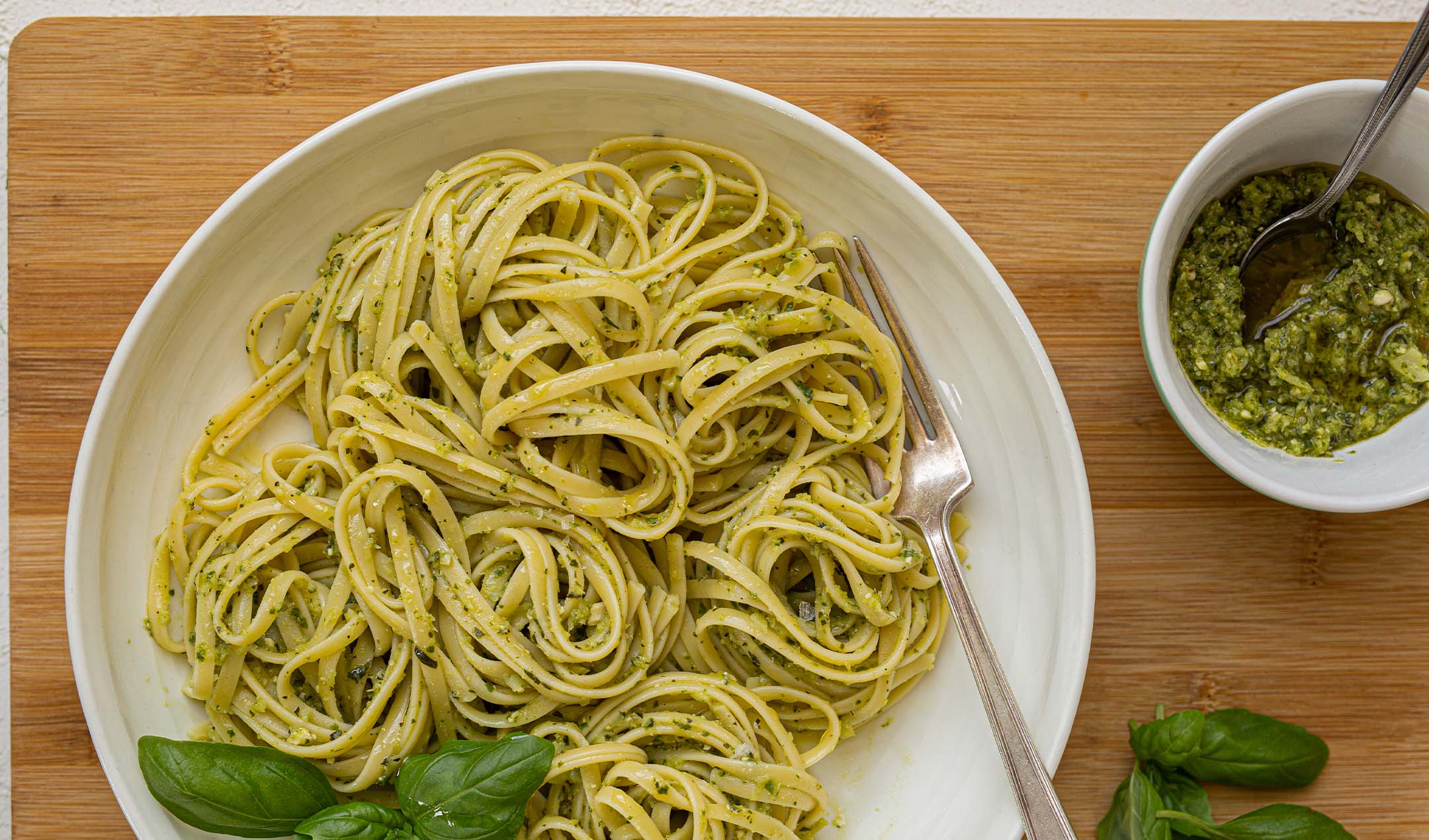 No-waste broccoli pesto pasta