Tick the ingredients you need to add your shopping list.
For the garlic mashed potatoes:
Preheat the oven to 160˚C/140˚C fan/gas mark 3. Heat half of the oil in a large, heavy pot over a medium-high heat. Cook the bacon lardons for 5-7 minutes until browned. Remove from the pan and set aside.
Season the beef with salt and pepper. Add to the pot in batches and cook for a few minutes until brown on all sides. Remove from the pan and set aside with the lardons.
Heat the rest of the oil and the butter in the pot and add the onions. Cook for 10 minutes until browned on all sides.
Add the mushrooms and carrot and cook for 5-7 minutes until browned. Stir in the garlic.
Return the beef and lardons to the pot, then stir in the tomato purée. Stir in the flour to coat.
Add the wine, stock, thyme and bay leaves. Stir to combine, then cover the pot with a lid and cook in the oven for about three hours until the sauce is thick and the meat is tender.
Meanwhile, slice the top off the head of garlic, so that you can see the insides of all the garlic cloves. Place it on a sheet of foil and drizzle over the oil, then season with salt and pepper. Wrap up the foil and place in the oven for 30 minutes until soft.
Place the potatoes in a large pot and cover with water. Season with salt, then bring to a boil for 15-20 minutes until tender. Drain, then return the pan to the heat for a minute to steam dry.
Squeeze the roasted garlic out from the head into the potatoes, then add the butter and milk. Mash until smooth, then stir in the parsley. Season to taste.
Add some garlic mashed potatoes to a serving bowl and ladle over some of the beef bourguignon to serve.
Note: Pearl Onions can be used as an alternative to Shallots, if you wish.
Nutrition Facts
Per serving: 668kcals, 32.1g fat (14g saturated), 32.4g carbs, 3.8g sugars, 47.8g protein, 3.9g fibre, 0.619g sodium
Popular in Beef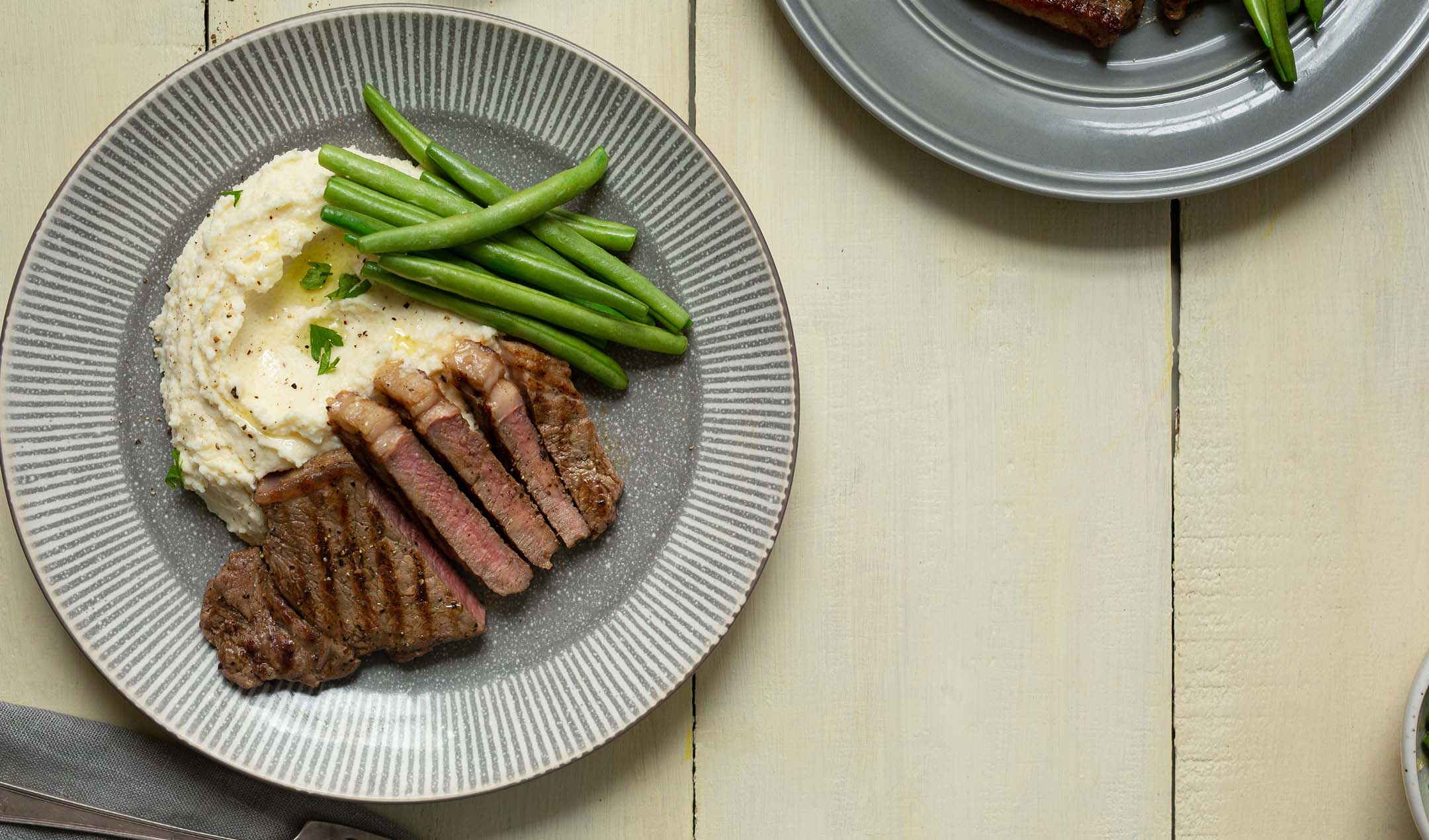 Steak with greens & celeriac mash