Tick the ingredients you need to add your shopping list.
For the meringue:
To serve:
Preheat the oven to 180°C/160°C fan/gas mark 4. Grease a 23cm loose-bottomed fluted tart tin.
In a food processor, pulse the Nice biscuits into fine crumbs. You can also do this with a zip-lock bag and a rolling pin. Drizzle in the melted butter until sandy in texture and mix in the icing sugar. Press the mixture firmly into the bottom and sides of the prepared tin. Bake for 10 minutes or until golden brown. Leave to cool completely.
In a medium saucepan, whisk together the double cream, 100ml of milk, coconut milk and sugar. Bring to a simmer, until the sugar dissolves. Add in the chocolate chips and stir until fully melted.
In a small bowl, whisk together the egg yolks and slowly add about four tablespoons of the hot milk mixture to the eggs, bringing them up to temperature. Do this until about 100ml of the milk is added. Whisk the egg yolks back into the saucepan with the rest of the warm milk mixture.
In another small bowl, whisk together the remaining 80ml of milk and cornflour. Slowly whisk this into the saucepan along with the vanilla extract. Bring to a simmer and stir sweet things meringue for 4-5 minutes, until thickened. Add in the desiccated coconut, stir until combined and then remove from the heat.
Cool for about 10 minutes and then pour into the prepared crust. Chill for five hours, or overnight.
To make the meringue, add the egg whites to a large clean bowl. Whisk to soft peaks, then add half of the caster sugar, a spoonful at a time, whisking between each addition without overbeating. Whisk in the cornflour, then add the remaining sugar, as before, until smooth and thick.
Preheat the oven again to 200°C/180°C fan/ gas mark 6. Once the pie has set, carefully add spoonfuls of meringue on top of the coconut custard filling, spreading it around evenly and swirling it with the back of a spoon.
Bake for 12-15 minutes until the meringue is crisp and slightly coloured. You can also do this with a kitchen blowtorch. Leave to cool fully for at least 30 minutes before sprinkling toasted coconut over the top, and tucking in.
Nutrition Facts
Per serving: 854kcals, 63.4g fat (40.8g saturated), 63.1g carbs (39.5g sugars), 11.5g protein, 2.7g fibre, 0.120g sodium
Popular in Meringue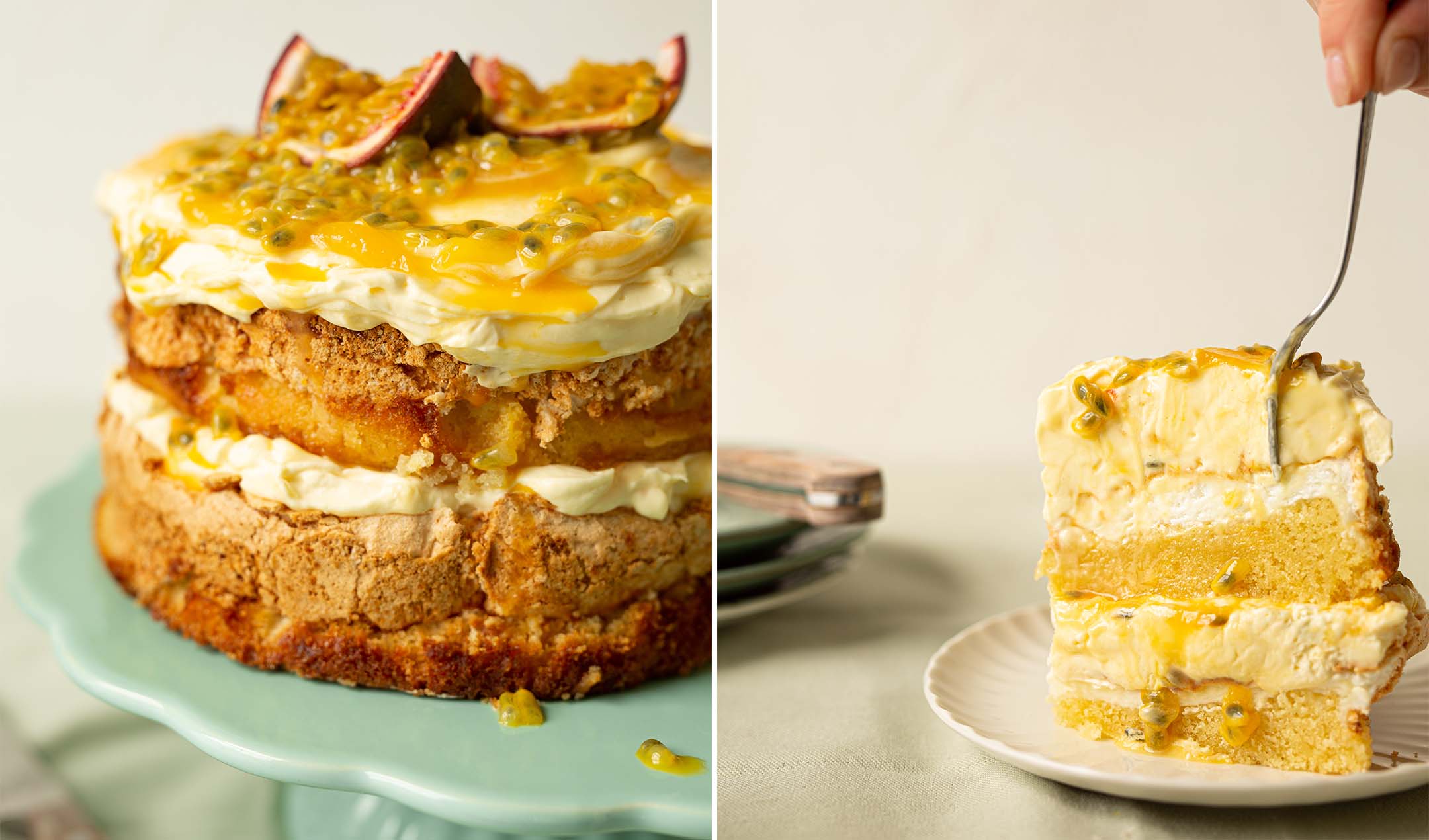 Passionfruit meringue gateaux