Tick the ingredients you need to add your shopping list.
---
Preheat the oven to 180˚C/160˚C fan/gas mark 4.
Place the potatoes on a baking tray. Prick the potatoes in a few places with the tines of a fork, or run the tip of a sharp knife around the perimeter to ensure even cooking.
Bake for 1½-2 hours until tender when pierced with a fork, checking after one hour and then every 15 minutes.
Arrange the chicken fillets in a single layer in the bottom of a stockpot. Sprinkle with one teaspoon of salt and add the garlic cloves, bay leaves and a few black peppercorns. Pour in enough cool water to cover the chicken by about 3cm.
Place over a medium-high heat and bring to a boil. Immediately reduce the heat to low, cover the pot and allow to simmer for 12-15 minutes or until the chicken is completely opaque throughout.
Remove the pot from the heat and allow the chicken to sit in the hot water for another 5-10 minutes. Remove the chicken from the poaching liquid and transfer to a cutting board. Shred using two forks.
When they're cooked, remove the potatoes from the oven (leaving the oven on) and cut them in half horizontally. Scoop out the flesh of the potatoes into a large bowl, leaving about ½cm of flesh inside the skins to form a sturdy shell. Add the butter to the bowl and mix until melted and well combined. Season with salt and black pepper.
Stir in the shredded chicken, about two-thirds of the Kilmeaden Mature Cheddar cheese and the Buffalo sauce. Mix well to combine. Spoon the filling back into the potato skins, mounding it over the top. Sprinkle with the remaining Kilmeaden.
Bake for 20 minutes or until the filling is hot throughout and the cheese is melted. Sprinkle with chives, to serve.
Nutrition Facts
Per serving:
580kcals, 22.1g fat (11.4g saturated), 16.3g carbs (0.8g sugars), 32.1g protein, 1.2g fibre, 1.769g sodium
Popular in Chicken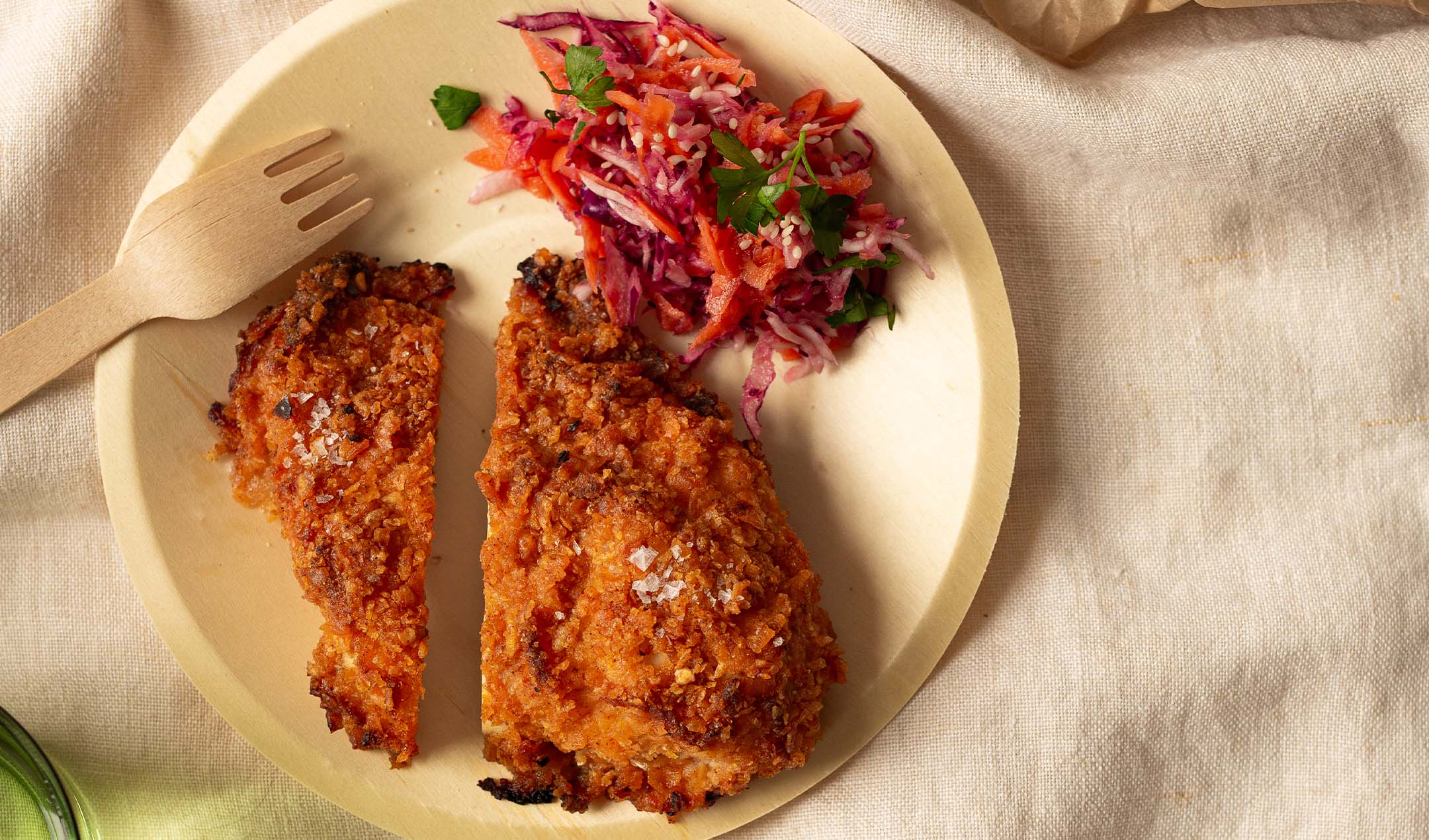 Easy fried chicken and asian slaw